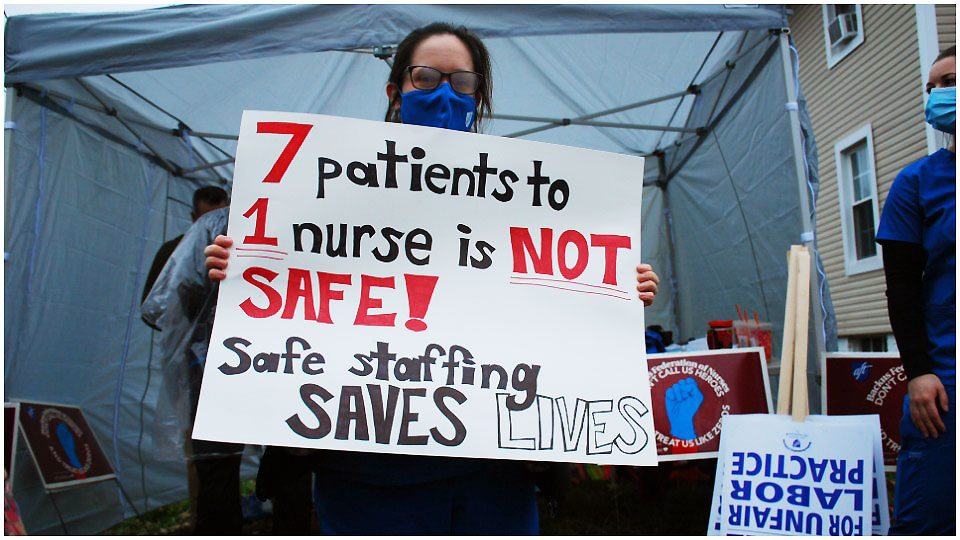 NORWICH, Conn.—Three days after over 400 unionized nurses at Backus Hospital carried out a two-day strike, a tentative four-year contract was reached with the nurses gaining improvements in staffing levels and wages.
The Oct. 13-15 strike was protesting unfair labor practices by Hartford HealthCare bosses, which included intimidating and threatening nurses for union activities and dragging out contract negotiations.
The membership will vote on the new contract this Wednesday.
The theme of the strike was: "We walk for ourselves, our families, and our patients."
The nurses, members of the Backus Federation of Nurses, AFT-Connecticut, vowed to continue fighting for a fair contract that would address adequate supplies of personal protective equipment, safe staffing levels, and wages that would be competitive with other hospitals in Eastern Connecticut.
They are fighting for an agreement that serves the safety and economic needs of the nurses and their families while also protecting the health of patients and community members.
The two-day strike began Oct. 13 at the start of the 7:00 am shift with nurses leaving Backus and joining the loud and militant picket line with other union members. Nurses and supporters from other unions and the community booed as buses brought in scabs. Striking nurses were not alone in their struggle.
A rally during a heavy rainstorm early Tuesday morning heard from Randi Weingarten, AFT National President, Sal Luciano, Connecticut AFL-CIO President, and U.S. Rep. Joe Courtney, D-Conn.
Their spirited speeches were joined by those of AFT Connecticut President Jan Hochadel, AFT-Connecticut Vice President John Brady, who founded the nurse's union at Backus, State Sen. Cathy Osten, and Backus Federation of Nurses President Sherri Dayton, who expressed the militant commitment of the nurses on the picket line. Several Backus nurses spoke about their experiences at the hospital.
This strike shows the commitment of Backus nurses for a fair contract that would benefit them and the community as well as the unity needed to achieve their goals.
During the rally, AFT-Connecticut President Jan Hochadel stated that the nurses did not want to be on the picket line, but they had to be there. She said, "This is not just about a paycheck, but about quality healthcare. Backus has a nursing staffing shortage affecting nurse's families and patients."
Hochadel pointed out the unity among the striking nurses and their families, the negotiating team, AFT National, and AFT-Connecticut. Federal and state legislators and representatives of other unions stood in solidarity with the striking nurses.
AFT National President Randi Weingarten took time from a 33-day get-out-the-vote bus tour to 16 states to speak at the Backus rally. She complimented the nurses on their commitment to struggle for safe working conditions, competitive pay, and respect on the job.
She shared with the workers that in 1985 she "walked a picket line with nurses in New York City. The demands were similar to today's issues." But she said, "One difference is the Norwich strike is occurring during a pandemic!"
She declared, "There is no way that Backus Hospital can take care of patients without nurses. This is a strike not only for issues around wages but also for everyday respect for nurses in the middle of a pandemic. Nurses put their lives on the line every day to care for patients."
Weingarten pledged to the Backus nurses that AFT National stands behind them in every way possible. She commented, "This Union is backing you up—from the National to the Local—with action to make sure you get a fair contract."
She talked about the multiple crises facing the United States: a health care crisis, an economic crisis, and a social justice crisis. Weingarten declared, "All these crises are tied together and unity is needed to fight them."
John Brady, AFT-Connecticut vice president and a founder of the Backus Federation of Nurses in 2011, commented that Backus has become a business, not a community hospital. "The nurses in 2011 fought for a first contract for a year and have created a militant union," he said.
Next at the podium was U.S. Rep. Joe Courtney from the Second District. He thanked John Brady calling him "a giant in Eastern Connecticut's labor movement."
Courtney commented that nurses have played a central role in fighting the COVID-19 pandemic in Eastern Connecticut and around the country. "During the current spike in COVID in the Norwich area," he said, "Backus Hospital has not worked to create a fair contract."
Courtney is working in Congress for local aid to fight the pandemic and assist communities in addressing economic impacts.
The Connecticut AFL-CIO was represented by President Sal Luciano. He discussed Dr. Martin Luther King, Jr.'s view that the moral arc of the universe moves toward Justice, but, he said, "It takes a struggle, and that is why we are here today."
He denounced Hartford HealthCare's rejection of the union's proposal for adequate PPE, proper staffing levels, and rooms for nursing mothers to pump milk for their babies. Hartford "HealthCare needs to treat the nurses with the respect they deserve," Luciano said. "The community respects nurses, but they do not trust the greedy corporations."
Donna Perry, a nurse at Backus who was actually born in the hospital and has most of her career there, shared her experiences at the rally. She called for a safe environment for patients and nurses and the highest level of quality care for the community.
She said, "Nurses are leaving Backus for better paying jobs at nearby hospitals." Nursing staff levels have declined since Hartford HealthCare took over Backus. "Instead of negotiating a fair contract and paying nurses decent wages, Hartford HealthCare spent money on a union-busting firm," Perry said.
Upon hearing Perry's condemnation of the company, nurses in the crowd took up the chant: "If nurses are on the outside, there's something wrong on the inside!"
State Sen. Cathy Osten, who organized her fellow state workers into a union, then spoke. She was blunt in her assessment of the situation, saying, "It is a disgrace that Backus is the most profitable hospital in Connecticut and cannot agree to a fair contract."
Continuing, Osten said, "The hospital's CEO receives a multi-million-dollar salary while nurses have to strike to fight for a living wage. The corporate CEOs do not deserve the pay they get while nurses deserve a decent wage."
Several unions and community organizations were present supporting the nurses, including the Norwich NAACP chapter, nurses locals from Danbury and New London, and state-wide unions.
Shannon, a nurse at Backus, described the nightmare of working at the hospital under existing conditions, which are common around the country. She said, "The nurses are striking to obtain safe patient care."
A rousing welcome greeted Sherri Dayton, president of the Backus Federation of Nurses, AFT-Connecticut. She spoke about the high level of community support for the nurses and said, "Nurses stand together to take care of their patients." She talked about the change from a community hospital to a corporate-owned hospital more concerned with CEO pay than decent health care.
"During negotiating sessions, Hartford HealthCare negotiators' favorite word was 'No'!" she shared with picketers.
The rally finished with Connecticut's labor troubadour, Danielle Dufour, a third-year nurse at Backus, leading the strikers in singing the workers' anthem, "Solidarity Forever."
Dufour told the crowd her favorite verse of "Solidarity Forever" is:
They have taken untold millions that they never have toiled to earn.
But without our brain and muscle, not a single wheel can turn.
We can break their haughty power, gain our freedom when we learn
That the union makes us strong!
She rounded out her performance with the declaration, "It is time for Hartford HealthCare to put patients before profits, put nurses before profits."