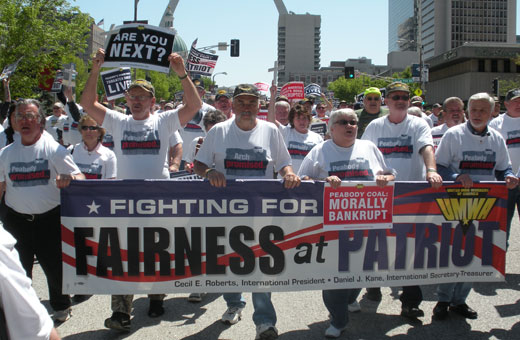 TRIANGLE, Va. (PAI) – Workers at Patriot Coal Co., which is now undergoing bankruptcy reorganization, will have to prepare for a strike authorization vote after firm managers walked out of talks on a settlement on June 12, the Mine Workers said. The company also canceled future bargaining sessions.
The two sides did not reach agreement on outstanding issues, but were close on money issues, Mine Workers President Cecil Roberts said. But the firm refused to give up the huge bonuses it wants to distribute to top executives, he added.
"We have repeatedly said we are willing to make the sacrifices needed to keep this company operating," Roberts said. "We are working to preserve these jobs and preserve retiree health care. We also believe that those sacrifices should be shared by all, and that once the company gets through the short-term cash problem it has and begins to make money again in a few years, our sacrifices should be recognized.
"If we're going to share the pain, we should share the gain," Roberts said. "That's only reasonable. But Patriot refuses to make that commitment to the people who actually mine the coal."
Management's walkout means Patriot can implement its scheme to yank health care from 23,000 retirees and dependents on July 1 and deny future retiree health care to thousands of present miners. But the strike authorization vote may come first.
"The company now says it will implement the terms and conditions approved by the bankruptcy judge," Roberts said. "I have consistently made it clear to management I could not recommend to our membership they work under those terms, because the sacrifices they require from our active and retired members are too great."
Besides the health care cuts for both current retirees and long-time current workers, the firm's bankruptcy plan lets it tear up its union contracts, cut pay and benefits and paid time off. It wants to cut $450 million in costs, and Roberts said the union had offered an alternative plan that would have saved the firm $400 million. The bankruptcy judge turned that down, but the union brought it to the bargaining table.
The difference at the end was $35 million, with all but $10 million of that earmarked for executive bonuses, Roberts said.
"I can only conclude at this point that there is no end to the depths of sacrifices our members and retirees are expected to make, even while hundreds of managers and executives are thinking about how they will spend the bonus money they'll be getting in their bank accounts," he added.
Photo: PW/ Tony Pecinovsky
Photo: Tony Pecinovsky/PW