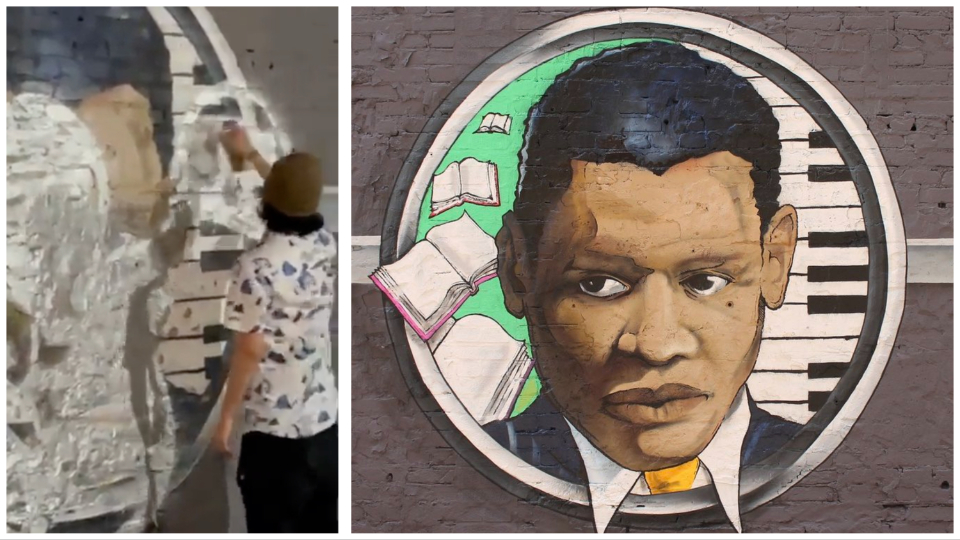 WASHINGTON—On the late evening of Sunday, April 16, bypassers caught a young white graffiti artist tagging and defacing the Paul Robeson mural on the historic U St. corridor in northwest D.C.
A video was widely shared on social media by the Washingtonian Problems account on Instagram and Twitter originally sharing that it was the Duke Ellington mural and later being corrected by the Claudia Jones School for Political Education that it was actually the Paul Robeson mural that the person defaced.
The D.C. community on social media was extremely upset, with most accounts being surprised that the artist did not get attacked by locals who appreciated the mural and the historic contributions of Robeson. The person who recorded the vandalizer, Jason Taylor, said when he confronted the person, he wanted to catch his face on camera and did not want to have a violent encounter due to concerns of arrest or potential weapons being used.
The Paul Robeson mural was painted in 2015 by local artist Cory Lee Stowers, a founder of the street art organization named Art B.L.O.C. While being interviewed by several news outlets, Stowers said the mural has been defaced repeatedly and that this represents a wider problem of artists not having enough public space for their artistic expressions.
Many members of the community in D.C. seem to think this was a targeted attack. The Congressional repeal of D.C. laws, the rise of reaction in the country, the attacks on Black studies and Critical Race Theory, the attacks on voting rights and on transgender youth—all seem to correlate with the defacing of a civil rights leader and hero like Robeson. The vandalism also came just days after Robeson's 125th birthday.
Dante O'Hara, an organizer with the Claudia Jones School for Political Education, said, "This is not only an attack on Black Washingtonians, but a manifestation of the white supremacist attacks on democracy and the reaction to the George Floyd Rebellion of 2020.
"Paul Robeson represents the culmination of movements for justice, freedom, and for a new society built on equality for all, free of exploitation and oppression."
While it is unknown whether the vandalizer held white supremacist and/or fascist views—or whether he knew who Robeson was—the Claudia Jones School views the incident as an opportunity to educate the D.C. community on who Robeson was and to support local mural artists.
Robeson was a stellar human being, with the ability to speak over ten languages, artistic talents such as a baritone voice, theater performance, acting, and was also an all-star athlete in football. Robeson was influenced by the Communist Party in the United States, maintaining deep relationships with party leaders such as William L. Patterson and Ben Davis, Jr.
He was also heavily inspired by the Russian Revolution and the advances of the Soviet Union, specifically in regard to its policies related to racial and national discrimination against oppressed peoples in the former Czarist colonies.
Robeson put a target on his back when he spoke at an international meeting stating that Black people would not fight in any war against the Soviet Union. He also spoke out against the Korean War and the broader conflicts that the U.S. was involving itself with after the war against fascism.
The U.S. ruling class ended up taking away Robeson's passport, costing him much of his income in the years to come. Essentially blacklisted at home, he had earned a significant part of his living by performing abroad.
This came after years of fighting in the courts against the McCarthyite House on Un-American Activities (HUAC), where Robeson defended his actions in showing solidarity with peoples all around the world and his struggle against Jim Crow apartheid in the U.S. South.
We hope you appreciated this article. Before you go, please support great working-class and pro-people journalism by donating to People's World.

We are not neutral. Our mission is to be a voice for truth, democracy, the environment, and socialism. We believe in people before profits. So, we take sides. Yours!

We are part of the pro-democracy media contesting the vast right-wing media propaganda ecosystem brainwashing tens of millions and putting democracy at risk.

Our journalism is free of corporate influence and paywalls because we are totally reader supported. At People's World, we believe news and information should be free and accessible to all.

But we need your help. It takes money—a lot of it—to produce and cover unique stories you see in our pages. Only you, our readers and supporters, make this possible. If you enjoy reading People's World and the stories we bring you, support our work by donating or becoming a monthly sustainer today.