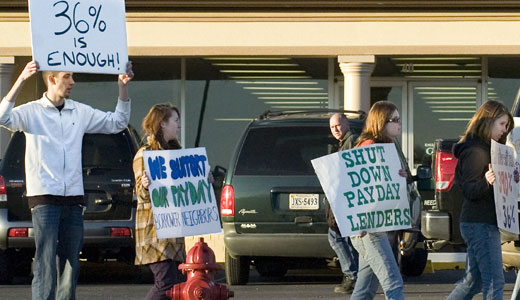 WASHINGTON — In their constant quest for ever-larger profits, at least five of the nation's leading banks – including Wells Fargo, notorious several years ago for financing a union-busting steel firm – have entered the sleazy, unscrupulous, and usurious field of payday lending, the Center for Responsible Lending reports.
That consumer group Lending, marshaled 250 other groups and individuals, including the AFL-CIO and the labor-backed Americans for Financial Reform, to demand the new federal Consumer Financial Protection Bureau probe the banks' exploitation of the needy through their ultra-high-interest payday loans.
"Payday loans erode the assets of bank customers and, rather than promote savings, make checking accounts unsafe for many customers. They lead to uncollected debt, bank account closures, and greater numbers of unbanked Americans," they wrote.
The bureau plans to regulate the "traditional" payday lenders, who often exploit low-income and minority communities with annual interest rates of up to 417 percent. It has yet to take a position on the banks' payday lending, which the groups say occurs at a rate of $10 for every $100 borrowed, and annual rates of up to 365 percent.
Payday lending is the practice of short-term advance loans given to hurting consumers at outlandish and enormous interest rates. If the consumer does not repay the loan – which is tied to a paycheck – by the next pay period, it rolls over, at ever-higher interest, trapping consumers in mountains of debt.
The big banks offering the short-term loans – Wells Fargo, U.S. Bank, Regions Bank, Guaranty Bank, and Fifth Third Bank among them — don't call them payday loans, of course, the center says. But in terms of high interest rates, constant "flipping" of loans, rising interest, increasing payments unless consumers pay everything back and targeting of low-income consumers, the effect is the same, the center and its allies add.
The banks added a new twist that even notorious payday lenders don't use, the consumer coalition adds: They grab the cash right from consumers' checking accounts.
"Like payday loans, the banks' advance loans are typically made for two weeks or a month," the coalition explains on its website. "But instead of using a post-dated check or accessing a consumer's banking information to retrieve payments like payday lenders do, the bank pays itself back directly from the customer's checking account when they receive their next recurring direct deposit."
So when the consumer goes to his or her checking account for ordinary expenses, such as food and rent, counting on the money from the latest paycheck, it isn't there. So the consumer must take out another "advance" loan at high interest rates from the bank, the groups told the federal agency.
The banks justify the "advance loans" by saying they need to make money. They have searched for new profit sources ever since Congress, after intensive lobbying by labor, consumer groups, the Americans for Financial Reform, and their allies, passed the Dodd-Frank financial sector regulation law.
That law directly responded to the financial finagling, abuses, and outright frauds that the banks and other financial firms used to run up their profits – and then to dump the U.S. and the world into the Great Recession.
But entering payday lending is going a bit too far, even for a bank such as Wells Fargo, which funded CF&I Steel several years ago when that firm tried to bust its Steelworkers local in a mine in Colorado through a forced strike and lockout.
That's what AFL-CIO Executive Vice President Arlene Holt Baker told the bank's officials last year. The letter to the bureau, from the coalition, sent in February, shows Wells Fargo and the other banks have apparently turned a deaf ear.
After a hearing in Atlanta last September, she said that leaders from the faith community, labor and the local area met with Wells Fargo officials "to ask for fair treatment for homeowners struggling to stave off foreclosure" — and also to stop its payday lending practices.
"We asked because fair treatment is not too much to want. We also asked that those representatives of one of our nation's largest and most profitable bank make other changes in the name of fairness. We asked them to lower interest rates on payday loans. Some people get stuck with 300 percent interest," she said.
"At times, one person's vulnerability becomes another's opportunity. Between equals, that's not necessarily a justice issue. But when opportunity becomes predatory, locking victims into cycles of deeper and deeper poverty, it becomes injustice," Holt Baker declared.
Some 12 million consumers are forced to take out payday loans every year, the center reports, while 17 states, plus Washington, D.C., have enacted interest rate caps – of up to 36 percent annually – on the payday lenders. "If a typical payday loan of $325 is flipped eight times, the borrower will owe $468 in interest. To fully repay the loan and principal, the borrower will need to pay $793," the center reported, before sending its letter to the federal agency.
Photo: Virginia demonstrators protest payday lending. Nikki Fox/AP, Daily News-Record