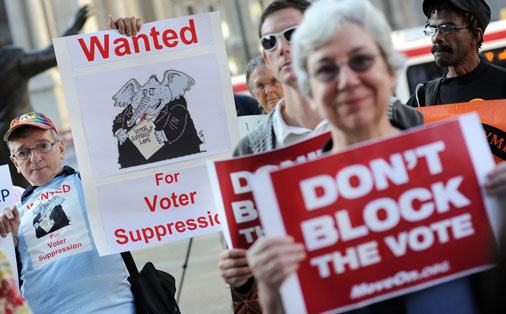 HARRISBURG, Pa. – The Pennsylvania AFL-CIO is cheering a judge's ruling bouncing the state's GOP-passed "voter ID" law, but the story isn't over yet.
That's because the Republican-run state government may well appeal Commonwealth Court Judge Bernard McGinley's ruling to the state Supreme Court.
The Pennsylvania law, enacted in mid-2012, is one of many voter ID laws that GOP-run state governments pushed through after 2010. A Pennsylvania Republican legislative leader boasted the voter ID law would help GOP presidential nominee Mitt Romney carry the state in 2012. Romney lost Pennsylvania, as well as the election.
All the voter ID laws make it tougher for minorities, women, students, the elderly and unionists to vote, by imposing rigorous and often expensive "voter identification" requirements, restricting voting hours and days, curbing voter registration or all of the above. Doing that violates the Pennsylvania constitution, McGinley ruled.
"It is no surprise this law has been ruled unconstitutional," said state AFL-CIO president Rick Bloomingdale. His federation filed a friend-of-the-court brief urging McGinley to toss the law. The NAACP and civil liberties groups had sued to overturn it.
"Our voting laws are supposed to protect our rights and assure free and fair elections. The Voter ID law, on the other hand, was a thinly veiled attempt by the extreme right-wing groups to disenfranchise hundreds of thousands of voters who don't agree with their unpopular agenda. This ruling is another important step in protecting the right to vote for all citizens," Bloomingdale added.
"It is unfortunate that so many voters have already been disenfranchised due to the confusion caused by this unconstitutional attack on voting rights. This law was always a solution in search of a problem that doesn't exist," added AFL-CIO secretary-treasurer Frank Snyder. "We urge the Commonwealth to abandon any appeals."
Pennsylvania judges stalled the 2012 law that year, so it didn't apply then, but did not toss it out. They said state officials did not give voters enough time or methods to obey it. This time, McGinley bounced it on state constitutional grounds, even though his ruling did not say the voter ID law discriminates against particular groups.
"The burdens the Voter ID law entails are unnecessary and not narrowly tailored to serve a compelling governmental interest. And the record is rife with testimony from numerous Pennsylvania voters whose right to vote will be – and indeed already has been – denied or substantially and unnecessarily burdened by the Voter ID law," McGinley ruled. The judge said the law violates a state constitutional ban on any interference "to prevent the free exercise of the right to suffrage."
Photo: Pennsylvanians protest the Voter ID law. AP