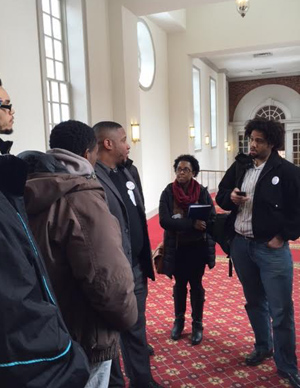 BALTIMORE – In a sign of the effectiveness of protests that have occurred here – as well as nationwide – against police killings of unarmed African Americans, more than ten bills that increase police accountability are pending now in the Maryland General Assembly.
On Feb. 26, 15 people boarded a bus at Pleasant Hope Baptist Church here, heading for Maryland's capital, Annapolis, to support one of those bills – a measure which would amend the "Law Enforcement Officers Bill of Rights" which was enacted more than forty years ago.
As they rode the bus the citizen lobbyists pinned "Police Accountability NOW" buttons onto their coats and discussed the upcoming testimony, knowing that the Fraternal Order of Police and various police and municipal agencies would be lining up against any changes to the current law.
Senate Bill 566 would repair some of what civil and human rights activists say are the worst provisions of the Law Enforcement Officers' Bill of Rights. It allows for the inclusion of community members in investigations, removes the requirement that a complaint be filed under oath (extremely difficult when an actual victim of police crime has been killed) and it allows for the suspension without pay of an officer who has been charged, removing the stain of embarrassment that arises in cases where a police officer guilty of a crime continues on the force.
Hearings on the bill, which arguably had the most number of people converging on Maryland's capitol that day, were rescheduled at the last minute to take place after hearings on 14 other bills. Police were not testifying on any of those 14 other bills so if there is a goal of saving money in a cash-strapped state, putting police on overtime until a hearing on the bill on which they would testify, until 7 p.m., was fiscally irresponsible.
In addition – breaking custom for hearings – the police testimony against the bill was scheduled first. Traditionally, the pro-forces always testify first. Lawrence Grandpre, an activist and debate coach with Leaders of a Beautiful Struggle (LBS), tweeted: "Switching SB 566 to the bottom of the agenda can't stop our activism."
The rescheduling forced some who had travelled to Annapolis to stretch their time beyond what they felt they should have, many having other responsibilities including the care of children or dependent adults.
Then came the final blow – Democratic State Sen. Robert (Bobby) Zirkin, who was in charge of the hearing, halted the proceedings for an event (possibly a dinner) in the State House that he wanted the senators to attend. There was no word of whether the hearings would resume after the event. At that point, some of those who had come on the bus from Pleasant Hope Baptist Church boarded the vehicle and returned home.
Adam Jackson, CEO of Leaders of a Beautiful Struggle, Dayvon Love, the groups' director of research and public policy and Towanda Jones, sister of Tyrone West who was killed by five police officers in Baltimore stayed and testified.
In the next morning's Baltimore Sun, David Rocah, a lawyer with the ACLU, called Maryland's "Law Enforcement Officer's Bill of Rights" one of the "most protective of police in the country." He told lawmakers it was "hindering investigations of civilians' complaints and fueling public mistrust." The bill backed by the people testifying in Annapolis would eliminate its provision barring the ars questioning of a police officer accused of misconduct for 10 days after an incident.
As the testimony of CASA de Maryland, Inc., the largest immigrants' rights organization in the state, pointed out: "Maryland has not been a stranger to police brutality and misconduct. From the critical Washington Post reporting about police misconduct in Prince George's County to the Baltimore Sun's investigatory series analyzing cases and payouts due to the city's police force (undue force), Maryland faces a well-documented crisis in police misconduct that has resulted in multiple Department of Justice investigations."
Hoping to keep SB 566 from being buried, supporters are calling Zirkin's office and using social media to push for a positive vote out of committee. Plans are in place for travelling to Annapolis again, if the House of Delegates takes up the bill on Mar. 12. As Leo Burroughs, one of the bill's supporters, put it, "We are going to need to do this for a long time, if we want to survive."
Photo: Cindy Farquhar