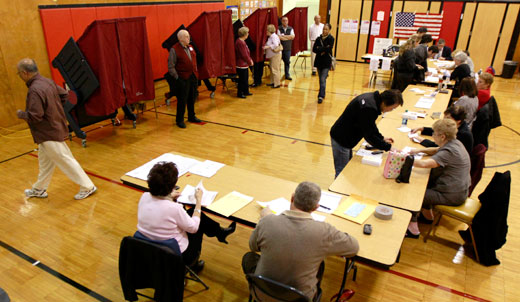 JERSEY CITY, N.J. – New Jersey voters dealt the tea party a resounding defeat in state elections November 8. Elections for the state Assembly ended with an increase of one to a majority of 48-32 for the Democrats and the maintenance of a 24-16 majority in the Senate.
Prior to the elections, the state chairman of the Republican Party, Sam Raia, said: "New Jerseyans are turning their back on President Obama and at the same time voters are flocking to Governor Christie." But the election was a smashing defeat for GOP Gov. Chris Christie and a rejection of his program to destroy public education, wreck the public worker unions, layoff thousands of public workers and privatize and/or eliminate public services. Christie's program is similar to those of the governors of Ohio, Wisconsin, Michigan and Florida.
He is the darling of the national Republican Party and was a favorite to be their candidate for president in 2012. Christie traveled across the country raising millions of dollars for Republican candidates.
In New Jersey he targeted 35 races and lost every one. Most significant was his targeting of two of the most pro-labor state senators, Robert Gordon from Bergen County and Linda Greenstein from Middlesex and Mercer, both of whom won overwhelmingly.
The New Jersey AFL-CIO and the New Jersey Education Association also focused on these two races, doing labor walks, phone banking and rallies. This was a head-to-head fight between Christie and the people's forces and the people won. Sen. Gordon said at his victory rally: "We stood strong, we stood firm and today we are standing in victory."
Gordon and Greenstein were key leaders in the unsuccessful struggle earlier this year to stop Christie's gutting of public workers collective bargaining, pensions and health care.
Since the elections, the Democrat majority in the legislature has expressed new determination to block any erosion of public education, including destruction of tenure, privatization and the increase of charter schools. Christie had already cut over $1billion out of public education His hatred of public education is most clearly expressed in his attack on the New Jersey Education Association – he called them the "National Extortion Association" when he was running for governor two years ago.
The labor movement says it is determined to continue adding to the growing number of trade unionists who have been elected to public office in New Jersey. Thirty-four additional union members were elected Nov. 8, bringing the total to 684. Among those elected on Tuesday were eight mayors, as well as city/town council members and county freeholders.
A post-election statement by the N.J. AFL-CIO stated: "Tonight was a great victory for working families. Our success comes as a result of the outstanding effort put forth by thousands of union members and community allies working together to educate and engage voters in this election. The leaders we elected to the New Jersey State Legislature are committed to standing up for working families during these tough economic times and will make job creation our state's number one priority."
There were two important victories in local referenda in this election. One dealt with the consolidation of two cities – Princeton Township and Princeton Borough. The people voted to amalgamate which will reduce administrative and other costs and will save an estimated $3.2 million each year. New Jersey is burdened with 566 municipalities with their redundant and repetitive costs. The second referendum upheld Hoboken's rent control law. Rent control has been under attack by Hoboken landlords and real estate operators for years.
Photo: In a polling place at Paramus High School in Paramus, N.J., during Election Day, Nov. 8. (Julio Cortez/AP)