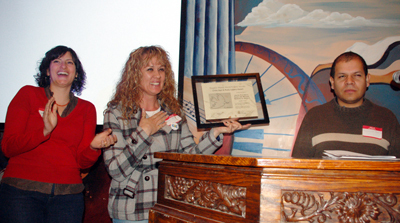 CHICAGO – Over a 100 friends, supporters and staff of this newspaper celebrated the heroic efforts made by local election activists in the historic campaign of President Obama at the Parthenon restaurant here on Jan. 11, during the 21st Annual Banquet of the People's Weekly World under the theme "Yes We Did it!"
The event, also coined, "The Dawn of a New Era" highlighted numerous victories, big and small, in 2008 that culminated in the election of the country's first African American president, Barack Obama.
James Thindwa, executive director of Chicago Jobs with Justice was the event's keynote. Thindwa spoke about the fight for living wages, ending the war in Iraq, cutting the military budget and supporting Congress and the Obama administration to pass legislation that guarantees union rights and healthcare. Thindwa added that what working families need, in the midst of a financial crisis, is a people's bailout that would put people back to work and stimulate the economy.
Teresa Albano, editor of the PWW saluted each honoree and all activists who helped make change, unity, hope and history a reality framing the important contributions made by the American people mandating a new direction in Washington. Albano also noted that the PWW was there, from day one, covering each and every aspect of the 2008 election year making our publication a first class outlet that reports on the side of working people, labor, it's allies and struggles.
Other Chris Hani/Rudy Lozano 2008 honorees included Republic Windows and Doors workers with the United Electrical, Radio and Machine Workers Local 1110 who led a six-day occupation at their factory. Republic workers won a $1.75 million settlement in severance, vacation pay and health benefits from their employer who closed the factory with three days notice.
A group from Lake County, Indiana with the Service Employee International Union Local 73 was also honored for their commitment and dedication throughout the Obama campaign making the difference and turning that state blue.
The Chicago Youth Voter Collective was honored for their outstanding work in mobilizing over a thousand youth and students during the 2008 election year.
Also honored were Bruce Embrey, Sheena Patton and Tara Brownlee for their grass roots leadership helping to mobilize delegations of election volunteer doorknockers and phone bankers both in Chicago and Indiana.
The event featured live music, delicious Greek food as well as a silent auction. The Illinois Bureau of the PWW is proud to announce that they reached their fund drive goal and actually went over the top. The bureau asks that all PWW supporters spread our good word and help recruit new subscribers. See you next year.