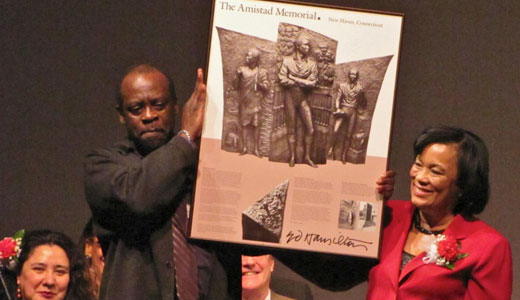 Solidarity, determination, and celebration were the watchwords at this year's post-election People's World Amistad Awards held at Cooperative Arts and Humanities High School in New Haven. Three grassroots leaders for progressive social change, Sen. Toni Harp, Kurt Westby, and Fatima Rojas, were honored around the theme, "Connecticut Rising – We are all the 47 percent!"
Filling the auditorium were striking 1199 members from Healthbridge nursing homes nearing a full year on the picket lines; a large delegation of custodial workers, members of Local 32 BJ who came to help honor their director Kurt Westby, and many Unite Here union members including several who serve on the New Haven Board of Aldermen.
Fatima Rojas, accepting the award on behalf of immigrants and all workers explained how she came to be a union organizer. She decried the lack of union representation for low wage and immigrant workers and issued a call for union rights for all workers in this country.
Kurt Westby, Connecticut Director of SEIU 32 BJ, popularly known as the "Justice for Janitors" union, called for increased organizing for workers needs and rights following on this year's election victory. Appreciating the award, he said it inspires him to go forward.
Former Amistad Award recipient Art Perry who worked with Westby told how he grew the property management union from 1,000 to 4,400 members in 15 years transforming an invisible low-wage industry into a respected political force demanding economic justice and immigrant rights.
In opening the program, Joelle Fishman, chair of the Connecticut Communist Party USA, recognized the diversity and unity of those present as the winning ingredients. "The lesson of this election is that if we continue to organize and join together with pride and determination we can raise up everyone with us. Connecticut is rising. We are all the 47 percent," she said.
Sen. Toni Nathaniel Harp who represents the 10th District in New Haven and West Haven and serves as chair of the appropriations committee, moved the audience when she said that she was dedicating the award to Al Marder with whom she works on the Connecticut Freedom Trail, and to her late husband Wendell Harp who first encouraged her to run for office.
She said that early in the morning after her first election they heard the sounds of people who were homeless going through garbage cans. "My husband said he worked for my election, not for me but for them, so I could make a difference and help end poverty. Every day I think of that and I try to live up to that mission," she said to a standing ovation.
"This election shows that the 47 percent are the most important part of the electorate," she exclaimed.
Harp was repeatedly applauded for refusing to back down in her support of the New Haven Peoples Center when the Right Wing used red baiting to pressure Governor Dannel Malloy to withdraw bonding funds requested by Harp to re-point the 150 year old brick structure.
The tactic of anti-communist red baiting in this election was rejected nationally and in Connecticut when several opponents of the Peoples Center lost their bids for re-election.
The program, held on the 93rd anniversary of the Communist Party USA, was opened by the YCL and New Elm City Dream. The youth danced, held signs, and shouted messages of congratulations to the candidates and the honorees. Later, Bill Collins and The Testifiers got everyone singing his 2012 song about Linda McMahon, "Pushing Back Against Linda's Lies."
After performing a salsa number, Mikata had the audience dancing in the aisles to "Stand by Me." Band director Richard Hill said they chose the song because the election victory opens the possibility for a large scale people's movement, as in the 1930's, if everyone sticks together and keeps organizing.
Participants signed post cards to the Connecticut Congressional delegation calling on them not to make any "Grand Bargain" on the backs of working people. A candlelight vigil will be held at the old State House in Hartford on December 10, initiated by the AFL-CIO and other groups on the national day of action.
Photo: Art Perry presents Peoples World Amistad Award to Sen. Toni Harp, as co-recipients Fatima Rojas of Unite HERE and Kurt Wesby of Local 32 BJ look on. Photo by Henry Lowendorf