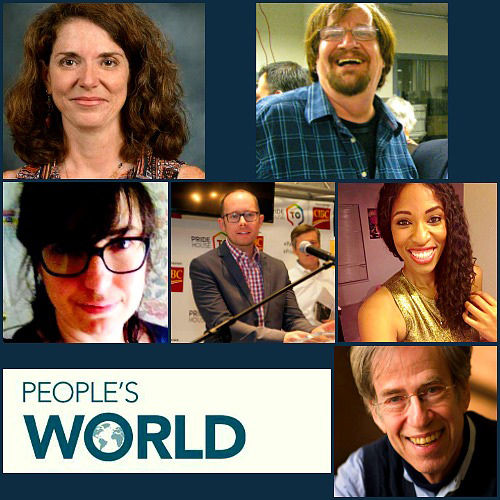 CHICAGO – If cable TV had a show called "Top Talent: Editors Edition," John Wojcik and Mariya Strauss would be among the finalists. Wojcik, former labor and co-editor of People's World, was named editor-in-chief of the daily news website earlier this year and Strauss as managing editor.
Wojcik brings a storehouse of political and journalistic knowledge and experience to his new position: he worked for the Daily World in the 1970s and 80s, and served as the editor-in-chief of The Downtowner, his college newspaper at St. John's University in Brooklyn, N.Y. Wojcik was elected to his second term as a vice president of the International Labor Communications Association at the organization's convention last year.
Wojcik said labor and social justice activists appreciate People's World's "unique coverage" of their struggles and issues.
"We build unity and have the long term outlook that we have to include everybody in order for movements to succeed," he said. As an example, Wojcik said that he brought together People's World contacts in labor and the Black Lives Matter movements to share the platform for the first time at ILCA's 2015 gathering.
"To survive and thrive in a crowded media field, the route to take is not one of dog-eat-dog competition but to join with others. The labor movement is under attack and we joined with ILCA and other labor publications in common cause, to put labor media as part of the alternative media landscape," he said.
People's World welcomed independent journalist Mariya Strauss (@mariyastrauss) to its managing editor position in January. Strauss, a former ILCA media coordinator and veteran of the labor movement, also brings a wealth of editorial experience to the job. In partnership with the Nation Institute, Strauss conducted a nine-month investigation on the job hazards adolescent farmworkers face and wrote, "Regulations are Killed, and Kids Die," winning the 2013 Clarion Award. In 2014, that article became a Texas Observer MOLLY Award finalist.
She edited The Public Eye magazine, the quarterly of Political Research Associates, from 2014 to 2015. In addition, Strauss researched economic issues for PRA, reporting on low-wage worker organizing and attacks by business on their efforts. At present, Strauss pens regular columns on new labor and community organizing efforts for The New Labor Forum, the academic journal of the Murphy Labor Studies Institute of the City University of New York. Strauss works from her home office in Baltimore.
One of her first assignments was editing People's World coverage coming out of Flint, Mich. Strauss' first PW tweet was "proud to work at @PeoplesWorld‬ where we've got two reporters in Flint tonight talking to folks and sending dispatches."
In addition to Strauss, three new names have been added to the editorial masthead: C.J. Atkins (@cj_atkins) as opinion editor, Chauncey K. Robinson (@MsChaunceyKR) as social media editor and Larry Rubin as Washington Bureau chief.
Atkins, who got his doctorate in 2015 in political science from Toronto's York University, is deputy executive director of ProudPolitics, a multi-partisan organization based in Canada which is dedicated to increasing the number of LGBTQ officials in public service. For three years, he taught public policy at York.
Robinson, a recent theater/drama graduate from San Francisco State University, is a writer and podcaster for The Black Geeks, a "community of people who share a love of geek culture, be it tech, movies, video games or comics," it says on the group's website. She is an occasional playwright and theatre director, along with being a member of the National Board of the CPUSA.
Rubin, a veteran of the legendary Student Nonviolent Coordinating Committee, has worked as a journalist and labor communicator for years in the Washington, DC-area, he says, "from about the time Gutenberg invented the printing press."
Susan Webb, a former co-editor, retired at the end of February but plans to write occasionally and is helping to curate PW's socialism series. Joe Sims, a former co-editor, will remain active with the editorial collective but will focus full-time as coordinator of the Communist Party's digital work. Sims announced the launch of the CPUSA's new website on May 1.
(After serving as editor-in-chief from 2003-2010 and then co-editor from 2010-2015, this writer will also remain on the editorial collective as associate editor. You can follow me on Twitter @talbano.)
Photo montage: top row: Teresa Albano, John Wojcik; middle row: Mariya Strauss, C.J. Atkins, Chauncey K. Robinson; last but never least, Larry Rubin. PW