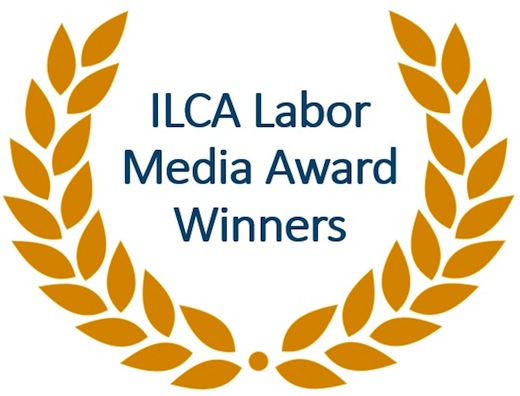 International Labor Communications Association announced the winners of its 2014 labor media awards, Oct. 10, and People's World won three for news and analysis. Responding to the announcement, co-editors John Wojcik and Teresa Albano expressed their excitement and thanks.
"Our newsroom/editorial office erupted with cheers. It felt like winning a Pulitzer," Albano said, "but without the champagne."
Wojcik, who is a member of ILCA's executive board, said, "It feels good to be recognized by our peers."
Both Albano and Wojcik said it takes a team effort to write and publish – and the awards for the three stories – are a result of that effort. They also credited the subjects of the stories. "It is the people taking action, like the fast food workers, whistleblowers and labor, who make the stories," Wojcik said.
People's World won 1st Place: Best News, "Unity was their cry: fast food workers go global" by Teresa Albano and two articles by John Wojcik: 2nd Place for Best Analysis, "2013: Year of the bold new labor movement"; 3rd Place for Best Analysis, "Documents expose new ALEC scheme to kill clean energy."
ILCA's top prize, the Steinbock Award for journalistic excellence, went to International Brotherhood of Electrical Workers Local 1245 for "Brother's Keeper" by Eric Wolfe, who gives a unique view at how union stewards are rethinking new and more effective approaches to "keeping work safe" and saving lives.
ILCA was founded in 1955 and is "the professional organization of labor communicators in North America." Media professionals working or volunteering at hundreds of local and international unions affiliated with AFL-CIO, Change to Win and state and local central labor councils make up the bulk of ILCA's membership. Other media members, like People's World, St. Louis/Southern Illinois Labor Tribune and University of Minnesota Labor Education Service, come under the category of "Other Labor Organizations." ILCA is open to all union media – staff or volunteer – freelance and individual labor communicators, independent labor and alternative media, and the media reform movement. Membership information can be found here: http://ilcaonline.org/content/join-ilca.
To see the entire list of award winners, go to http://ilcaonline.org/content/labor-media-award-winners-2014.
If you would like to make a donation to keep the award-winning work of People's World going, click here: https://www.peoplesworld.org/donate/.
The awards will be presented a special Awards Luncheon on Dec. 12 at the AFL-CIO headquarters, in Washington, D.C. If interested in placing an ad in the luncheon awards book, an ad form can be found here.