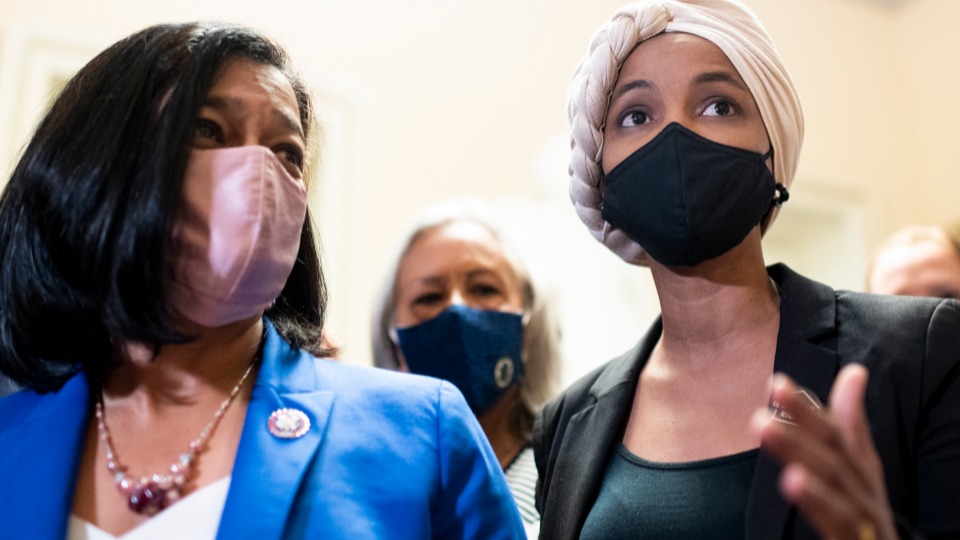 WASHINGTON—Even as thousands hit the streets nationwide, demanding the progressive program contained in Democratic President Joe Biden's Build Back Better agenda, coalitions of organizations—unions included—are lobbying lawmakers to pass it. And the well-funded corporate class is rolling out their big guns against it: Not just lobbying dollars, but campaign contributions. And their operatives work behind closed doors.
The latest entrant in the behind-the-scenes fray is the ProsperUS coalition of a wide range of progressive groups. They include the Association of Flight Attendants-CWA, the Coalition of Labor Union Women, the National Partnership for Women and Families, the Service Employees, the Economic Policy Institute, and the Working Families Party.
The focus of all the drives: Passing the BBB agenda, contained in the 10-year $350-billion-yearly "reconciliation" bill, by the new deadline of Halloween. The difference between the two sides: The progressives, including workers, act in public. Their foes…not so much.
The people's movements
"We are united in our belief the government should prioritize people's needs—an idea that is economically sound and broadly popular," ProsperUS declares (their emphasis).
"Large-scale, long-term investments are the only way to achieve our collective goals, build more successful and powerful movements for justice, act on climate, and defeat inequality, racism, sexism, ableism, xenophobia, and other injustices.
"We're committed to defeating the lies that uphold an unequal, unjust status quo and advancing the truth: We are the economy and when we do better, the economy is stronger and more sustainable.
"We're here to say policymakers must take bold action because the real danger is going too small and ending aid too soon."
As might be expected, groups in the ProsperUS coalition have their own reasons for pushing the overall BBB agenda. AFA and the National Partnership make their priorities public.
"Take action, tell Congress: Build Back Better," AFA declares in a colorful graphic atop its website. The graphic includes two toll-free numbers to call lawmakers: 888-659-7351 to reach representatives and 888-659-4149 for senators.
"We need Congress to pass BOTH the American Jobs Act, which you may have read about as the Bipartisan Infrastructure Framework or BIF, and the Build Back Better Act, which reporters are calling the 'reconciliation package,'" union President Sara Nelson posted on AFA's website.
For AFA—and the rest of organized labor—the much higher fines against firms, corporate execs, board members, and managers for labor law-breaking are a key reason to pass the reconciliation bill, which encompasses Build Back Better's social programs. Build Back Better "makes it easier for workers to come together to form unions, negotiate contracts, and hold bad bosses accountable," Nelson posted.
It "creates real financial penalties for employers who retaliate against organizing, bans mandatory anti-union meetings, charges executives who break labor laws so corporate leaders have real consequences for union busting and violating workers' rights, and stops companies from retaliating against workers who exercise their right to strike."
Other reasons AFA members should call their lawmakers are the expansion of voting rights and early voting, expanding and making the Family and Medical Leave Act permanent, and restoring the federal itemized tax deduction for union dues. the Trump-GOP 2017 tax cut for the rich and corporations eliminated it.
AFA explained flight attendants are often in the air on Election Day and need early voting periods and reminded readers AFA had to fight hard to get family and medical leave for workers with erratic off-on schedules, such as air crews.
National Partnership President Debra Ness, who helped craft the original unpaid leave bill decades ago—the first step, as it guarantees workers couldn't lose their jobs if they took leave—said paid leave is their big reason to pass the BBB bill.
"Only 23% of private-sector workers had access to paid family leave, and only 40% of all civilian workers had access to temporary disability insurance," she said several months ago. The coronavirus pandemic's impact, especially on working women and their families, has exposed that big hole in the social safety net.
"Millions of working Americans are still left to choose between caring for a loved one and being in the workforce. As women and their families continue to bear the brunt of this pandemic, the need for a national paid leave program has never been clearer. Congress must…seize the opportunity to finally ensure all workers have access to paid family and medical leave and pass the Build Back Better Act."
Meanwhile, Daily Kos is circulating a petition outlining why individuals should get involved, too.
"The Build Back Better Act would aggressively fight climate change, expand health care access, offer free pre-school and community college, give child care and elder care workers a living wage, and create a path to citizenship. All of this costs money, but we can pay for it by making the rich and corporations pay their fair share," says Sarah Hogg, its mobilization director. Then she alerted readers to the corporate class's strident opposition.
"Corporations are scrambling because they know constituent pressure and advocacy works (her emphasis). It's time to dial up the heat on Congress to ensure they know we won't let up until we see a Build Back Better Act that strengthens our communities and makes the rich and wealthy pay their fair share is set in stone."
"Corporate lobbyists are loud, but we MUST be louder," Hogg exclaims. "Sign and send the petition now." More than 55,000 people already signed.
The corporate opposition
Opposite the citizens and the groups, corporate lobbies battling to kill the Build Back Better agenda include Walmart, the National Federation of Independent Business, and the Chamber of Commerce. The latter two are particularly upset over the business tax hikes, which would roll back the 2017 Trump-GOP tax cut for corporations and the 1%. The rollbacks would help pay for the 10-year BBB "reconciliation" bill. Its cost averages $350 billion yearly.
Walmart, which hates the BBB, too, is giving campaign contributions to lawmakers of both parties. Some are already in its corner against the measure. It thinks it can turn others.
OpenSecrets.org, which tracks campaign financing and lobbying spending, reported Walmart has spent $3.56 million on lobbying so far this year. Its campaign largesse went to, among others, devout Trumpite Sens. Ted Cruz, R-Texas, and Josh Hawley, R-Mo.
Walmart honchos gave Cruz, co-leader of the senatorial effort to overturn the November election, $2,301 from Jan. 1-June 30, 2021. Hawley, the other co-leader and notorious for egging on the Trumpite Capitol insurrectionists and then being photographed raising his fist in solidarity with their treason, got $2,219 from Walmart execs as individual donors.
One of the nine House corporate Democrats dubious about the BBB, Texan Henry Cuellar, got $2,500 from Walmart's campaign finance committee (PAC) and another $5,000 from the PAC for the notoriously anti-worker Koch brothers.
Cuellar's raised $178,044 so far for his 2022 re-election run. He beat progressive labor lawyer Jessica Cisneros in his South Texas district's primary two years ago, by 2,690 votes out of 74,978 cast, 52%-48%. She's already filed for a rematch next year.
Sen. Kyrsten Sinema, D-Ariz., one of the two Democratic holdouts against the BBB package, got $5,800 so far from Walmart execs. BBB needs all 48 Democrats, both independents and the tie-breaking vote of Vice President Kamala Harris, to pass. Sinema raised $1.036 million through June 30, not counting recent high-dollar fundraisers in Arizona.
Sinema steadfastly refuses to offer terms for negotiating differences with Biden and the progressives on the BBB. The other holdout, Sen. Joe Manchin, D-W. Va. has offered terms—a $1.5 trillion limit on the reconciliation/BBB bill—which ProsperUS brands as unacceptable.
Sinema and Manchin don't face voters again until 2024.
Read the statement by the People's World Editorial Board: