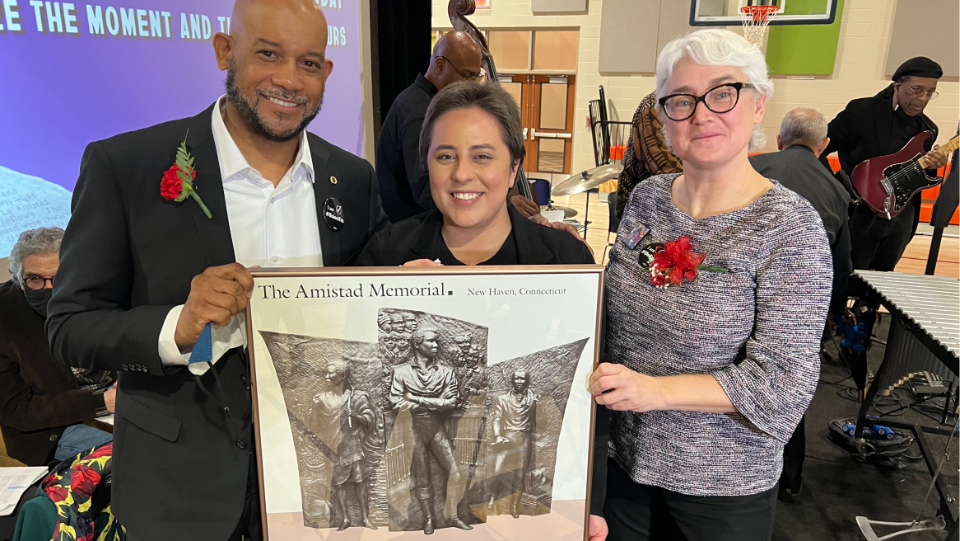 NEW HAVEN, Conn.—Unity, inspiration, and solidarity flowed through the packed gym in the Dixwell Q House during the People's World Amistad Awards, an atmosphere born from a year of hard working-class struggles for dignity, respect, and representation.
Themed "Rise Up! Time to be the Leaders of Today—Seize the Moment and the Future is Ours," the spirited, diverse crowd of grassroots community and union members and leaders and elected officials reflected the battles for workers' rights, equity, and social justice underway in Connecticut and across the country.
Taking their seats to the live sounds of vibraphonist jazz composer Jay Hoggard and band, the excitement of the afternoon was high among family and friends of this year's awardees, including Mustafa Salahuddin, president of Amalgamated Transit Union 1336 in Bridgeport, Leslie Blatteau, president of New Haven Federation of Teachers 933 (AFT CT), and Salwa Mogaddedi, Starbucks Workers United barista in Vernon.
The Dec. 10 event also stood in solidarity with Local 33 Unite Here graduate workers at Yale, who thanked everyone for the support of their union election held the previous week culminating a 30-year effort.
Hosted on the occasion of the 103rd anniversary of the Communist Party USA, the event gave special recognition to Brian Steinberg who, four decades ago, developed the model in Hartford of People's World neighborhood routes as the basis for Communist Party clubs, now practiced throughout Connecticut and beyond.
The Special Recognition was presented by Alicia Roman-Delgado, the chair of the first such Communist Party club formed in the 1980s in Hartford's south end, and her daughter Chachie Roman. Steinberg was recognized for his "lifelong, unwavering commitment to equality and a better world."
Accepting the recognition, he said, "I would like to congratulate all of you for building a united front in Connecticut that beat Trump, and we did it all together."
2003 Amistad Awardee John Harrity, retired machinists' union leader and chair of the Connecticut Roundtable on Climate and Jobs, presented the People's World Amistad Award to Mustafa Salahuddin. In a heartfelt acceptance speech, Salahuddin credited his parents, who taught him to be a pioneer, leading him to devote his life to stand up for everyday people and workers' rights.
Appreciating the Communist Party's commitment to "people before profits," he told the audience, "Communism gets a bad name because it's about the people. The powers that be don't want us to embrace socialism and the Communist Party, because they don't want it to be about the people, they want it to be about themselves," he said.  Salahuddin concluded his remarks with a call for action on climate change.
2019 Amistad Awardee Ken Suzuki, Secretary-Treasurer of Local 34 UNITE HERE presented the award to Leslie Blatteau, who was elected president of the teachers' union in New Haven just one year ago with a full slate. Reflecting on her years as a teacher developing an anti-racist classroom, she drew lessons for her new role in the labor movement with goals to engage her union members during times of intense stress and crisis, to work collectively for an intergenerational coalition to equalize funding for public education so all students can have the quality schools and resources they deserve.
Citing the contributions of African American women in history, she stressed to applause, "We must work to be anti-racist, because if not, we're perpetuating our country's racist policies and laws embedded in the history and current practices."
2017 Amistad Awardee State Rep. Robyn Porter presented Salwa Mogaddedi with her award. Salwa, a barista worker at Starbucks in Vernon, helped organize her co-workers to unionize this year while battling cancer. Salwa called for worker's unity to create real change. "We have all seen first-hand how collective activity has the capacity to command change," she said, recalling a time years ago when her father along with other immigrant workers went on strike for safety on the job. "It only took my father and his co-workers a single day of striking before management acquiesced and installed fans, and they returned to work."
Salwa shared her own experiences working in the service industry since her teens, and the unfair treatment of workers, including her Afghan refugee parents, and called for solidarity with workers striking today for dignity across the country and around the globe.
A call to action from Connecticut Communist Party USA chair Joelle Fishman and organizer Jahmal Henderson brought the program together. Fishman credited the power of the event to the upsurge in organizing and movement building underway, citing the need to continue on.  Henderson invited the attendees to "Join the Communist Party for a life with a purpose as the strongest way to organize and place that demand"—repeating the theme of the awards—"Seize the Moment and the Future is Ours."
The entire event was dedicated to Communist leader Art Perlo, a founding member of Local 34 Unite Here at Yale, who passed away this year. The audience rose in standing ovation following a video tribute with photos and quotes from Perlo, concluding, "When ordinary people organize, there is no limit to what we can achieve."
Emcees Lisa Bergmann and Ben McManus kicked off the event with a virtual greeting from Alder Jeanette Morrison, who fought tirelessly over a decade to win the funding to rebuild the iconic Q House, open for just one year, as a centerpiece for youth and all ages in Dixwell, the heart of the Black community in New Haven.