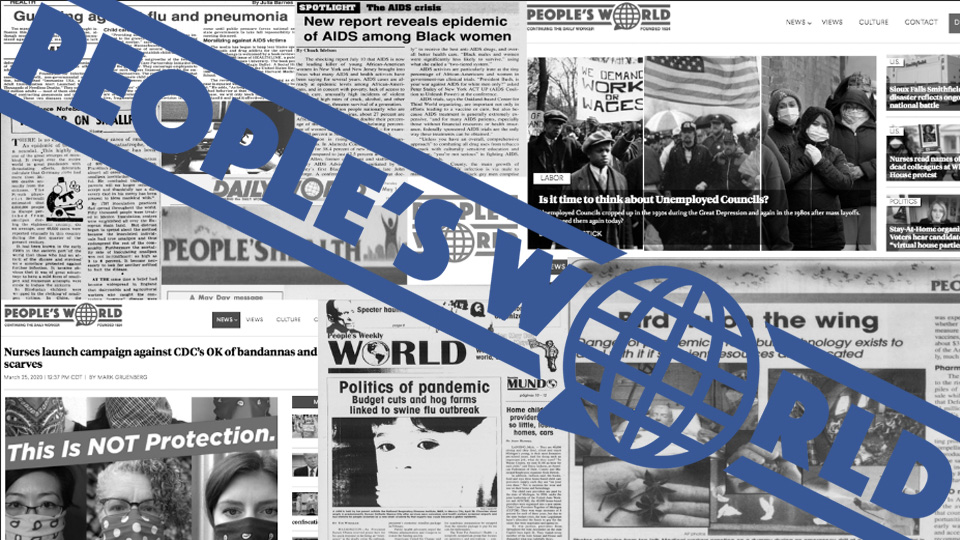 As you know, People's World is offering unique daily coverage of this unprecedented global public health and economic crisis. That is why our readership has doubled since the beginning of the COVID-19 pandemic! In 2019, People's World reached 2 million unique readers, and it's trending to beat that in 2020 as it provides the news and analysis people need right now. During the past few weeks, People's World is seeing circulation that is double what was recorded this time last year.
We're very proud of what we produce, with limited staff and resources. Readers know they can count on us as an essential source of information to protect their health, hear the voices of frontline workers, and learn about battles to get personal protective equipment (PPE) to the frontlines.
The COVID-19 pandemic is upending our world. Many of us know someone, including loved ones, who have gotten sick or died. Many of us may be infected, lost our jobs, or been sheltering-in-place for weeks.
We may know someone in a long-term care facility, prison, or an immigrant detention center ravaged by COVID-19. Millions are experiencing a food emergency, lining up in cars for miles at food pantries.
Many of our readers are essential workers in hospitals, warehouses, supermarkets, or in transportation. They face dire threats every day to their health because of shortages of PPE or tests or because our employers put profits before safety.
People's World is doing our best to cover this crisis. We know our readers appreciate these efforts. Please donate so we can continue to offer unique and essential coverage.
People are responding with incredible acts of kindness and solidarity during this crisis. Millions cheer or bang pots or shine flashlights each night in support of heroic essential workers. Many of us are participating in car caravans protesting for the release of prisoners at local jails or detention centers.
More than ever, people depend on useful information to get them through these harrowing times. Unfortunately, some media outlets, like the Cleveland Plain Dealer, are getting gobbled up and stripped of assets by Wall Street hedge funds. To maximize profits, they lay off journalists and gut news departments when coverage should be expanding.
People are profoundly questioning capitalism. They are asking: How could such a wealthy country be so incapable of providing basic necessities to millions? Many are coming to realize life will never return to what was before the pandemic. They are open to new ideas and imagining what the future might bring.
The fight for that future begins now; in the defense of democracy and demand that our economic and public health needs are addressed. And People's World has been covering hundreds of grassroots and workplace actions, the fight taking place in Congress, and voter mobilization to oust Trump and the GOP in November. Please donate so we can continue our outstanding coverage.
A recent article covered how the labor movement organized to protect workers at the Smithfield Meat Plant in South Dakota after the plant became a hotspot for COVID-19.
Another exposed horrific conditions faced by New York City transit workers that is killing three each day, and while giving voice to the demands of rank and file workers.
We have covered protests by nurses against CDC recommendations to wear scarves and bandanas, the experiences of Uber and Lyft drivers, and construction workers. We have offered first-person experiences, like those of a frontline grocery worker.
Many of our readers are also contributing articles, including one by a reader working in an electronics store in New York. And another working for Chicago transit.
Some of the most popular articles dispel corporate media lies about what socialist countries are doing to combat COVID-19. Cuba continues to send doctors around the world. Vietnam is providing PPE to many countries and has not yet recorded a pandemic-related death.
Or articles that challenge Trump's anti-China racism and scapegoating, and tell the story of how China handled the coronavirus, including the heroic national effort to keep it contained to the Hubei province.
People's World would not exist without you, our readers. We depend on you, as much as you rely on us. At this moment, when so much is at stake, help us to reach a larger audience than ever before. Please donate today!
In solidarity,
The Editors