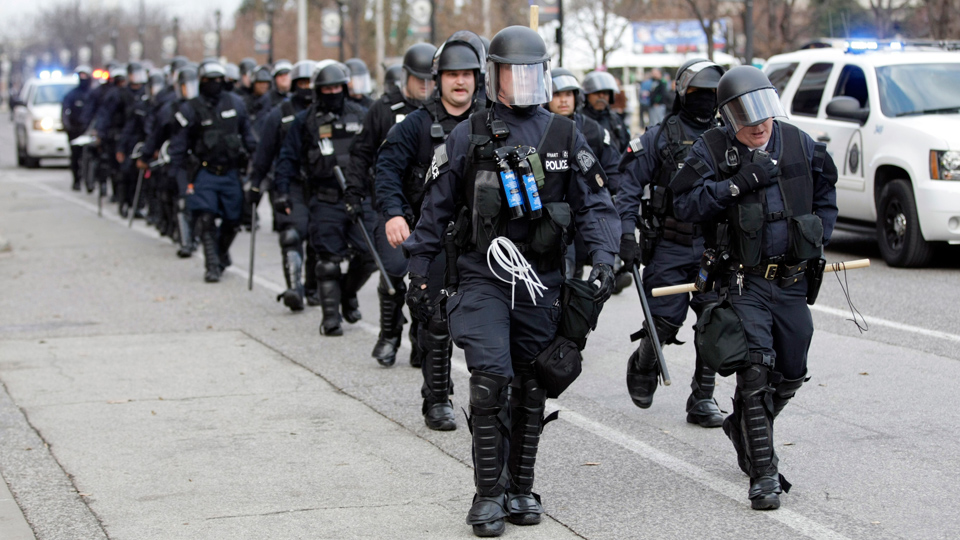 ST. LOUIS – At 11:30 p.m. Wednesday evening People's World reporter, Al Neal, was released from jail here. He had been kept in a "holding cell" for 25 hours after he and other reporters were jailed for covering protests downtown . The demonstrators they were covering were expressing opposition to the acquittal of a police officer in the 2011 shooting of an unarmed African-American man.
It was the second time in less than a month that St. Louis police indiscriminately arrested reporters while they were covering protests here against the acquittal.
Neal, a reporter for the Chicago-based People's World and a free-lance member of the Pacific Media Workers Guild, TNG-CWA 39521 was arrested Oct. 3 while covering the Jason Stockley verdict protests in St. Louis. Police detained him despite his display of press credentials. He was released at 11:30 pm October 4 after 25 hours behind bars.
The People's World previously reported Neal was among 143 people arrested overnight at the protest. Protesters gathered on the evening of October 3 and marched onto I-64, a highway near downtown.
St. Louis police used what they call a "kettle" to indiscriminately conduct the mass arrest. They surrounded the protesters – who were standing on the sidewalk – and ordered them to "back up." Missouri State Rep. Bruce Franks asked the police where they could back up since they were surrounded and had nowhere to go.
Protesters were then told everyone would be arrested. Police ordered everyone to the ground and began to arrest everyone inside their "kettle." Overnight they did release three people but only because they had medical conditions.
Police used the exact same tactics, including the "kettle," to arrest dozens of people on September 21, including Michael Faulk, a St. Louis Post-Dispatch reporter and member of the News Guild local there. Like Neal, Faulk was peacefully covering the protests, openly showed his credentials and identified himself as a reporter.
Police threw Faulk to the ground, cuffed him, stood with a foot on his neck and injured him. They inspected his phone for notes and photos – without a warrant – and took his bike.
The News Guild strongly protested the Faulk arrest and the Post-Dispatch's lawyer sent a strong letter to the mayor and police chief, demanding they issue guidelines for rank-and-file officers to follow and demanding the police preserve all evidence in case of future legal action.
Bernie Lunzer, president of the News Guild, also made the point Faulk's arrest is part of a disturbing pattern nationwide.
Like Faulk, Neal has been covering the protests in St. Louis. In mid-September, activists started a "100 Days for Justice" campaign in response to the acquittal of Stockley, a former police officer, in the 2011 killing of Anthony Lamar Smith, a 24-year-old African-American man.
At 10:30 pm local time Tuesday, Neal reported on Twitter police began arresting everyone present, including members of the press with credentials, like himself. By 1:09 am, Neal was tweeting from inside a holding cell, where he was being detained with other members of the press, legal observers, and at least one elected official.
Over 300 people have been arrested in protests since the verdict was first announced, and police have faced heavy criticism for their treatment of demonstrators and the divulging of their personal information.
Neal said this morning that he "will not be deterred from covering peaceful and legitimate protests here or wherever else I am assigned. There is no democracy unless there is a free and independent press, which includes not just People's World but many other outlets."
John Wojcik, People's World editor in chief said, "It's not lost on us that harrassment of the press is being generated from the White House on down with the notion that the press is the so called enemy. We support Neal fully and we say that the Trump administration, the police and anyone else will not succeed in trying to turn attention away from legitimate protest issues and make the protests themselves the issue."