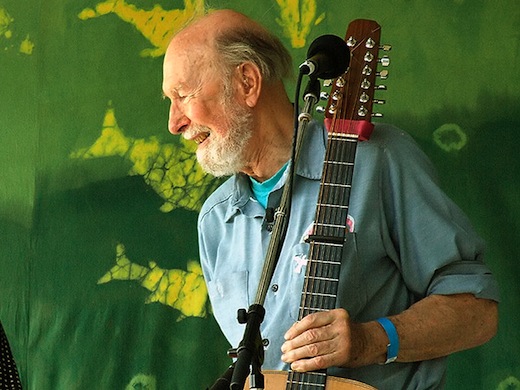 The world is mourning the death of Pete Seeger, the lanky folksinger with a banjo, who proved in his 94 years the awesome power of song as a force for revolutionary change. His life and his art were interwoven with all the mass struggles of the people over 80 years.
Pete was a troubadour of the sweeping mass organization of workers by the CIO during the Great Depression. He composed a premature rap, "Talkin Union" filled with humor and defiance, that surely warmed the hearts of struggling workers everywhere.
At the same time, he and his close friend, Woody Guthrie, sang for the defeat of racist Jim Crow at home and fascism abroad in Spain and Hitler Germany.
During the Cold War of the 1950s, witch hunters targeted Pete and fellow artists like Paul Robeson for their associations with the Communist Party USA. Pete endured decades of a blacklist that attempted to silence him and the mass movements.
His refusal to buckle to the climate of fear and intimidation, his principled defense of his pro-working class values, made Pete Seeger a hero to millions including modern-day troubadours like Bruce Springsteen, who admired Seeger so deeply that he called him the "Father of Folk Music." Many called it a watershed moment when Seeger performed "This Land Is Your Land" with Springsteen at the Obama inaugural celebration at the Lincoln Memorial.
When the Civil Rights Revolution of the 1950s and 1960s erupted, Pete was ready. He composed and sang songs like, "If You Miss Me At the Back of the Bus." He arranged "We Shall Overcome" so that it became the anthem of the movement.
When the movement against the Vietnam War escalated, Pete, his banjo, and his voice became a constant at the huge mass demonstrations in Washington D.C., New York and elsewhere, stirring the millions with defiant songs like "Waist Deep in the Big Muddy." The antiwar movement revived the song after President George W. Bush invaded Iraq in 2003.
Songs, reflecting the values of those powerful mass movements, welled out of his fertile imagination: "Where Have All the Flowers Gone," "Turn, Turn, Turn," "Guantanamera," and a thousand more. Yet no one was more collegial, embracing other great singers and their songs, sharing the stage with them. He founded or co-founded The Almanac Singers and the Weavers. His closest friends included the great African American blues singers, Sonny Terry and Brownie McGhee, and Leadbelly, a genius of African American song.
Pete Seeger saved folk music from being buried by corporate culture vultures.
His drive to clean up the Hudson River was typical of Seeger's mass politics. Only the millions marching—and singing—can make rivers safe for sturgeon. Or planet earth for humans. Pete Seeger, presente!
Photo: Pete Seeger at age 88 performs at the 2007 Clearwater Festival in New York (Anthony Pepitone/CC)