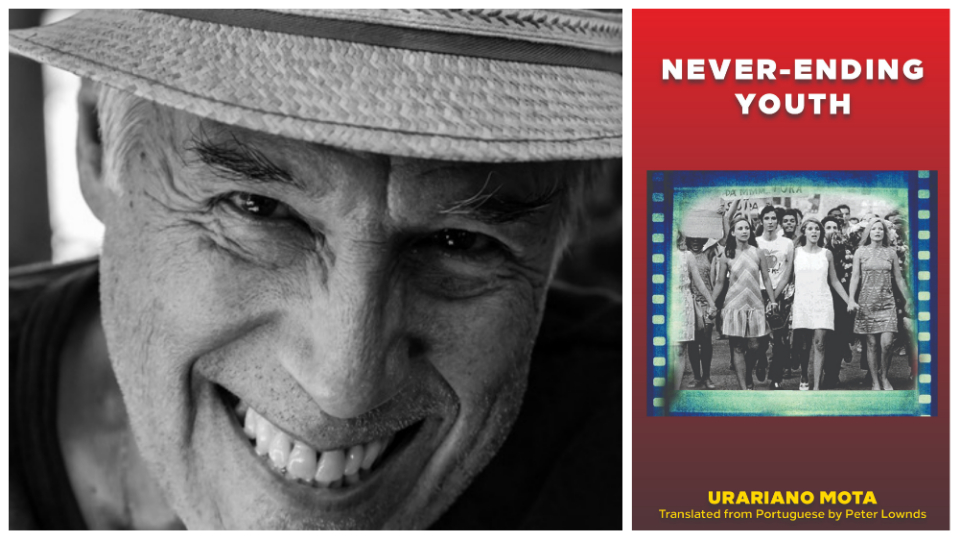 International Publishers has just released Never-Ending Youth, a recent novel by Northeast Brazilian writer Urariano Mota, in Peter Lownds's translation. People's World sat down with him to explore how and why he got involved with this project.
Eric Gordon: Let's start off with a direct question. How did you become a translator, Peter?
Peter Lownds: I grew up in a bilingual family. My parents spoke German when they didn't want me to understand. That pricked up my ears. At school, I started French in the fifth grade and Latin in the sixth and kept at both languages in high school. I went to Yale and spent a lot of time in what were then called "art houses" there and in Manhattan watching foreign films with subtitles. When I was 17, I saw Marcel Camus's film, Orfeu Negro (Black Orpheus) for the first time. It came to play a major part in my life and I will use it to illustrate one of the tenets of translation: that everything is a matter of perspective.
Eric: Totally. I'm involved in more than one translation project myself, so I think I know what you mean. But everyone's experience is different. Go ahead.
Peter: To Sacha Gordine, the film's producer, Orfeu Negro was a French adaptation of a play by the Brazilian poet Vinícius de Moraes: Orfeu da Conceição,"a Carioca tragedy in three acts" which had a week's run at the Teatro Municipal in Rio de Janeiro in 1956.
Eric: Carioca means from Rio de Janeiro, right?
Peter: Correct. Well, Vinícius enlisted two talented compatriots to supply the all-important music for the play: the composer Antônio Carlos Jobim and Luis Bonfá, an established guitar virtuoso and songwriter who sat in the shadows on stage as the actor playing Orpheus sang. Vinícius had been serving as the Brazilian vice consul in Paris before he took a leave of absence to return to Brazil and work on the play. He detested the film's simplified version of his transposed myth which was scripted by the director Camus and Jacques Viot, for which Gordine demanded that the trio of Brazilians write a whole new score so that he could have a chunk of the proceeds, which were substantial.
Bonfá and Jobim were grateful for the film, which brought their music to the attention of a huge international audience. But to the Brazilian cinema novo directors, men like Nelson Pereira dos Santos, Ruy Guerra and Carlos Diegues, who had to cadge black and white film stock to make their neo-Realist versions of favela life, a technicolor romance shot on historic Babylon Hill and in the streets of Rio during Carnival was tantamount to colonial intervention, a First World slap in the face.
From the perspective of Abdias do Nascimento who played Aristeu, Eurydice's jealous lover, and who in 1944 had founded the Black Experimental Theater (BET), the artistic training grounds for nine members of the play's all-Black cast, the truncated run of Vinícius's play was a disappointment. Abdias had broken the color line at the Municipal Theater in 1945, directing a BET production of Eugene O'Neill's The Emperor Jones. Before that, the only Black people to set foot onstage were there to clean it. Vinícius financed the production from his own pocket and the actors, singers and dancers Abdias cultivated at BET hadn't been paid in weeks. They complained to their mentor and he wrote an admonitory letter to the playwright. That ended what might have been a historic collaboration.
Eric: And all this has something to do with your translation of Never-Ending Youth?
Peter: Abdias was my mentor. In the winter of 1969, he walked into a campus coffee shop with his wife. They were speaking Brazilian Portuguese. I had not spoken the language since I returned from Recife six months before so I introduced myself.
Você fala português, meu filho? (You speak Portuguese, my son?)
Falo, sim, senhor. (Yes, sir, I do.)
Você é uma dádiva de Deus! (You're a godsend!)
Abdias explained that he had to address the Yale School of Drama the next day and spoke only a few words of English. Would I interpret? Of course! The following afternoon, we stood side by side in front of the assembled Drama School faculty and students. Abdias told the wonderful story of the founding of BET. He made the circumstances so vivid, the story so compelling, I felt I was one of the people standing in line in the tropical heat to audition for the revolutionary theatrical venture he launched at age 30, with a want ad in the Rio papers, that once and for all would call attention to the artistic invisibility of the country's ethnic majority, the descendants of the millions of Africans sold into slavery.
Abdias was fierce and persuasive. He had spent time in prison for his beliefs and fled the dictatorship Urariano Mota writes about in Never-Ending Youth. One of the things that attracts me to the novel is that the author talks about his roots, the loss of his mother when he was five, his drinking, his mixed-blood ancestry, his hanging on to a humiliating job for the sake of penurious comrades who depended on him for food and shelter. Urariano, like many people from Northeast Brazil, is a fascinating mixture of tough and tender. It permeates his prose. The hunger, the hard times, but above all, the acceptance of other people's quirks and passions as the expression of their humanity, particularly under pressure. Camaradagem—comradeship—went beyond party loyalty politics in strife-torn Pernambuco during the years of undeclared but real civil war and clandestine struggle that Urariano writes about. Nowhere was this more evident than in the mocambos, the shantytowns surrounding Recife and Olinda. That was my introduction to the violence of everyday life in Brazil.
Eric: Wait a second. If I understand your timeline correctly, I was in Brazil during part of that time myself. It was the summer of 1967—winter in the Southern Hemisphere, of course. I spent most of my time at the National Archive in Rio doing research for my master's thesis. I was aware of the military dictatorship at the time and followed my advisors' advice to the letter and kept my head low the whole time. But what brought you to Brazil?
Peter: This is so weird. We didn't know each other at Yale, and we didn't meet in Brazil, but 50 years later we find each other in Los Angeles!
Anyway, I was a Peace Corps Health and Community Development Volunteer in Recife and Olinda, in the state of Pernambuco, from 1966 to 1968. As you remember, U.S. involvement in Vietnam was ramping up when we got out of college, and for a while the Peace Corps was a deferment from military service. My training was stateside, in Chicago. The only thing good about it was the language program. We had five native speakers, three men and two women, all from different parts of the country with distinct regional dialects, and two RPCVs (Returned Peace Corps Volunteers), all of whom were great. Everything else was a coverup. In that unimaginable time before the internet and cellphones, information was harder to come by, and college grads maintained what today would be considered their media virginity.
What peeled the scales from my eyes was a visit by three representatives, all people of color, from the nearby Industrial Areas Foundation, where community organizer Saul Alinsky was helping marginal communities demand that landlords, politicians and business leaders recognize their social, political, and economic power. They wanted to know what we had learned about Brazil. As we had no idea who they were or why they were there, we sat there, rigid and mum.
"Not much, apart from some useful phrases in Portuguese," I volunteered after what seemed like a long minute. It was my 22nd birthday and prolonged silences made me nervous. The leader, who looked to me like a Black Panther in mufti, scowled: "In that case, you may not know that Brazil contains more people of African descent than any country but Nigeria. Or that João Goulart, the popularly elected president, was overthrown in a CIA-abetted military coup two years ago and that Castello Branco, an army general whose name translates as 'White Castle,' is now in charge."
People who buy Never-Ending Youth will get a notion of the serendipity of our collaboration in your prefatory essay in your capacity as my People's World editor, and as the copy editor for this book, and also from José Carlos Ruy's essay and my foreword. The author, Urariano Mota, sent me a PDF of his 2017 novel at a point when worldwide COVID-19 "sheltering" had gone into effect and vaccines were still unavailable. It was almost 300 pages long and I thought to myself, This will be a good way to while away the hours.
But there was another, even stronger pull—the world he was describing was one that I remembered and cared about. My Peace Corps tour of duty in Recife and Olinda ended in 1968, and I went back to visit in 1969, the year the novel begins with the meeting of two friends in front of a Recife landmark I had patronized, the São Luis Cinema, especially at 8 a.m. on Saturdays when New Wave French and Italian films were shown. As it turned out, so had Urariano. That was just one of a series of circumstances that drew me to Never-Ending Youth. Others were the fact that the author was an older man looking back at his life, a poet and jazz fan who had had a traumatic childhood. All these things we shared despite the fact we had never met nor heard of each other. You see what I mean by serendipity.
Eric: Is this the first novel you've translated?
Peter: No, the second. The first, Tropical Animal (2002), was by a Cuban author, Pedro Juan Gutiérrez. That came about through an interesting set of circumstances I won't go into here.
But there was magic in it. What the two books had in common was that I got to work with a living writer, someone I could relate to and, in Pedro Juan's case, meet. I have not yet met Urariano. We've never spoken on the phone or even Skyped. We keep in touch by email. I sent him chapters of my work-in-progress and he seemed generally pleased with them. A translator's job varies from book to book. With Never-Ending Youth, I actually learned a lot from you, Eric, as you copy-edited various proofs of the book. The fact that you had edited my translations of dispatches from the Amazon for People's World and that we both speak, read and translate from Portuguese to English was all a big plus. I am glad that this was not my first literary translation. Although I am more fluent in Portuguese than Spanish, Tropical Animal was an easier book to translate. Both were first-person narratives with a fair amount of dialogue. Getting the narrator's "voice" and point of view is essential in such cases. As is finding appropriate American jargon for the way Brazilian and/or Cuban characters speak and think. With Never-Ending Youth, I annotated certain references in the text so that readers unfamiliar with Brazilian culture and history will be able to consult them as they read.
Eric: I was glad to help you, and International Publishers, on this book. By the way, just to be clear, I also ask for help with my work. It's always good to get other sets of eyes on your work to make it stronger.
Peter: You know, Northeastern Brazil, like the American South, was still primarily agricultural when I arrived. Sugarcane plantations and mills proliferated, and post-missile crisis, the Kennedy administration feared that the region could become another Cuba. President Goulart was an admirer of Fidel Castro and there had been sustained attempts to unionize the cane-cutters and sugar-mill workers in Pernambuco. In fact, President Kennedy was scheduled to fly to Recife the week after he was assassinated. In the late 1960s, 70% of the people in the region were illiterate. If they could not sign their names, they could not vote. Goulart had pressed Paulo Freire into service and was rolling out a national literacy campaign based on Freire's linguistic experiments with peasants, fishermen and construction workers in the Northeastern states of Pernambuco and Rio Grande do Norte when the CIA-abetted military coup d'état occurred on April Fools Day 1964. By 1969, when the book begins, the military regime had taken the reins of government firmly in hand and censored any news it deemed unfavorable to its cause. College classes were infiltrated by informers in civilian clothes posing as students.
Urariano's characters are fledgling Communists. They are members of student groups who meet and form clandestine cells where they're indoctrinated with mimeographed summaries of the theories of Marx, Lenin, and Mao Tse-Tung. Some of them have been or are in danger of being "outed" as urban terrorists. This is the case with the narrator's new friend Luiz do Carmo and another militant, Vargas, who has a pregnant wife and appears resigned to martyrdom for the cause. He runs afoul of a notorious double-agent and eventually succumbs to the witch hunt. The same is true of Soledad Barrett, a Paraguayan beauty from a long line of anarchists who trains with Fidel and Che in the Sierra Maestra and comes to Recife to meet her gruesome fate. The novel is full of uproar and incident. Young people fall in and out of love, obsess about sex, realize they are dreamers without weapons or a cogent ideology and go about their lives. They get depressed, hunger for food and recognition, go to films, read books, argue about music and write poetry. I met such people in Recife.
Eric: It sounds so similar to my own experiences in the student anti-war, anti-draft movement in the U.S. at the same time, under Nixon. Believe me, I recognized myself and my own circle of comrades and friends in the inexperience and confusion, and the ideological drift of those years.
Peter: The same things were happening in a lot of places around the world then. In 1969-70, I taught at the American School of Rio, and things had changed. No one outside the American community would talk to me because I had the all the bona fides of a CIA operative—"pale, male and Yale!" Translating Never-Ending Youth has provided the chance to meet and engage with my revolutionary counterparts all these years later. I have relished the experience, more than I can really express in words. I trust the book's readers will too, and many for their own subjective reasons.
Eric: Thank you, Peter. I believe readers will have a much better idea of what to expect when they wrap their hands around this new release from International Publishers.