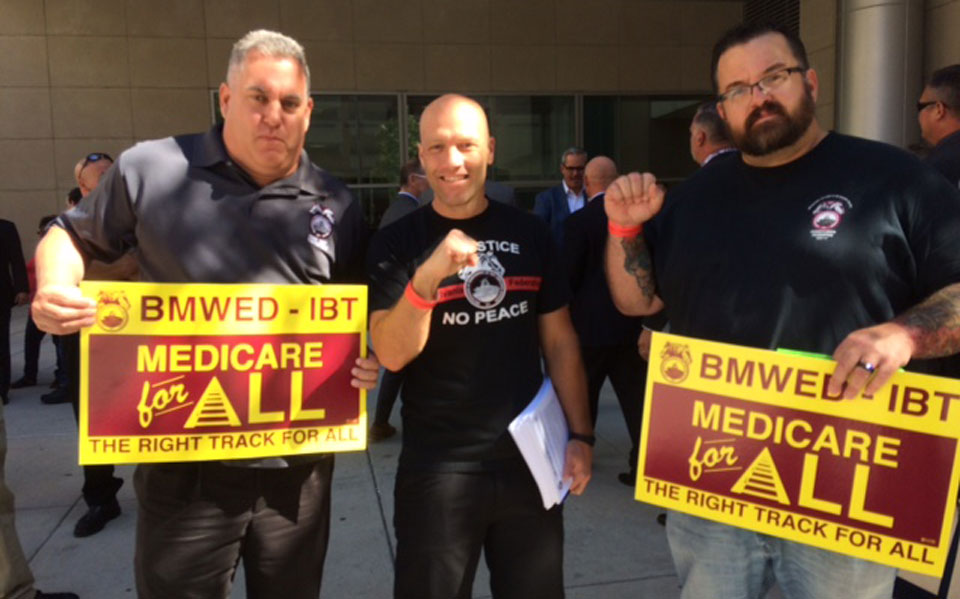 PHILADELPHIA —Last spring Pat Eiding, President of the Philadelphia AFL-CIO Council, urged his members to start getting ready for the 2020 Presidential campaign; he also expressed some concern about the apparent early surge of support for former Vice President Joe Biden saying "this whole thing is happening too fast."
Several union leaders and activists responded by joining the effort to organize the first-ever "Workers' Presidential Summit" in the City of Brotherly Love. As it turned out, the event, held at the Convention Center, drew over 1,000 members from unions across the board: public and private sector, service workers, transport workers and the building trades. Local and national media reps were there. The diverse crowd sported tee shirts and hats from the Communications Workers, Teamsters (IBT), AFSCME, UNITEHERE and many construction unions.
Six presidential hopefuls responded to the invitation and appeared on the stage one at a time, rather than in panel/debate mode. Moderator Vernon Odum, former long-time TV news reporter and anchor, posed the same questions (which had been developed in response to submissions from union members ahead of time) to each candidate.
He let everyone know that each would have a maximum of 30 minutes on the stage to present their answers, make any additional statements of their own and to take questions if their time allowed. The audience members, generally sitting with their own union colleagues, were welcoming but not boisterous as they listened carefully to the presentations. The one exception was the enthusiastic reception given to Vermont Sen. Bernie Sanders when he was introduced and made his way onto the stage. The reception for former Vice President Joe Biden was also friendly.
The six were: Biden, Andrew Yang, Bill De Blasio, Sanders, Tom Steyer, and Amy Klobuchar.
The presentations proved interesting; the candidates generally connected with the audience by citing their roots and experience. Andrew Yang, for instance, said that his father had worked for GE in Schenectady; billionaire Tom Steyer said that his mother was a New York City teacher and that his father had been a lawyer who prosecuted Nazis at Nuremburg; Klobuchar said that her grandfather had been a Minnesota miner; all came from working families.
The six were in broad agreement on most basic issues, but there were differences. Yang argued that his guaranteed income proposal would, if enacted, provide a "built-in strike fund" since employees would have a cushion preventing employers from simply cutting off their means of survival. Several, including Biden, Klobuchar, and De Blasio, emphasized that they did not favor simply eliminating the hard-won contractual healthcare plans that many union members still enjoy. Sanders, during his remarks, frequently greeted with stormy applause, pointed out that 500,000 people declare medical bankruptcy every year because of medical bills they can't meet.
The one question on the environment and climate change drew similar answers from the candidates: We have to make the transition to renewable energy sources and away from fossil fuels, but 1) this must not be done on the backs of workers and 2) displaced workers need to be at the front of the line to get jobs among the many that the new economy will create.
It was clear that this enormous task will take a lot of work and specifics will have to be worked out going forward; one questioner from the Boiler Makers union, who wondered whether our economy could function on "fairy dust," did not seem satisfied. Sanders was the one who pointed out that this is a "global problem" and not just a problem for our country alone.
AFL-CIO president, Eiding, had been quoted in the spring urging his members to "keep their powder dry" during the upcoming presidential campaign, and the Workers' Summit was one result. Union activists and leaders took his advice seriously and stepped up to make the event happen.
The local City Council elections are generating interest as well. Two candidates from the Working Families Party are on the ballot trying to unseat the two Republicans who have long occupied the seats reserved for two members of a party other than the "majority party."