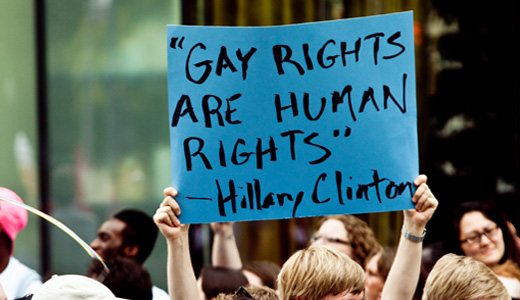 Mayor Greg Stanton, D-Phoenix, is looking to update the Arizona city's outdated laws regarding human rights protections by drafting an ordinance that would outlaw discrimination against the LGBT community. This development comes after a recent example of such prejudice, in which a lesbian couple was kicked out of a restaurant.
The incident in question occurred in the city's downtown Sheraton Hotel, specifically in its District American Kitchen and Wine Bar. There, the bar's manager forced the couple to leave after a customer reportedly saw them kissing and complained. The hotel now faces a possible boycott by the gay community, reports the LGBTQ Nation.
To exacerbate the situation, attorneys for the couple notified them that they had no grounds for a lawsuit due to the city's lack of anti-discrimination laws for lesbians and gays.
Stanton is a member of "Mayors for the Freedom to Marry" – a bipartisan coalition of over 200 mayors who have publicly stated their support for LGBT marriage equality and their intention to fight to achieve that goal.
In March, Stanton appointed an openly gay teenager as a "youth and diversity liaison;" that teen, Caleb Laieski, 17, spent a few weeks in Washington in 2011 to lobby Congress to make public schools safer for those in the LGBT community. Laieski himself was bullied and severely threatened for being gay during his years in high school. Laieski later dropped out of high school and obtained a GED.
Laieski founded the organization Gays and Lesbians United Against Discrimination, successfully petitioned his former school district to add sexual orientation to their list of protections, and testified in support of the Arizona Safe Schools Act and SB 1462, both of which are directed toward putting an end to bullying.
"I want Phoenix youth to have a voice in my office," said Stanton. "I want our students to be able to concentrate on education for future success, not be bullied. All our kids deserve to live their lives, no matter who they are, because diversity is a strength in Phoenix."
Photo via (cc) Flickr user ep_jhu.