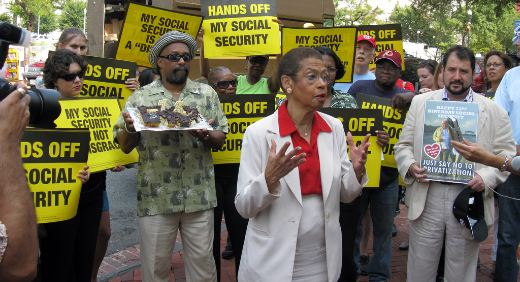 SEATTLE-Angry senior citizens and Social Security workers picketed Social Security Administration offices here and in 30 other states Wednesday, Mar. 2 to protest the $1.7 billion cut in the agency's funding proposed by the Republicans.
Members of the Puget Sound Alliance for Retired Americans picketed the downtown office building where Social Security claims are processed. They were joined by members of the American Federation of Government Employees, AFL-CIO, which represents SSA workers.
Will Parry, 91, founder of the Puget Sound retiree alliance, was not able to join the picket but he said by phone, "This is an issue where we need 'all hands on deck.' Every Social Security recipient has a stake in defeating this budget cut in the administration of Social Security."
He pointed out that Social Security in its 76 -has history has never added a dime to Federal deficits, yet the GOP continues to target it for benefit cuts, increases in the retirement age and outright privatization. Social Security is self-financing with all administrative costs paid from a 1.0 percent levy on contributions from beneficiaries. "Compare that one percent cost for administration of Social Security with the 20 percent that private insurance companies charge," Parry said. "For such a huge national program to be administered so cleanly and efficiently is incredible."
Don Owens, a spokesman for the Strengthen Social Security Campaign said from his office in Washington, D.C., that reports have come in from across the country that thousands have joined the picket lines in 31 states. "The largest have been in Chicago, Philadelphia, and Baltimore," he said. "But smaller actions have taken place in places like Wilkes Barre, Pennsylvania, Virginia, Tennessee and New Mexico."
He said Social Security workers are joining the protests in an "unprecedented show of solidarity with Social Security beneficiaries, not for their own benefit. For millions of people, the Social Security office is their main interaction with the federal government. This is not government money. This is the people's money. They pay into Social Security. It's their benefits. No person or party should stand between them and the benefits they have earned."
He pointed out that Republicans always opposed Social Security since it was founded, when they falsely attacked it as "welfare." They continue the attack today "holding it hostage with the threat that Social Security will be cut" in the name of ending "wasteful" government spending.
"The Republicans were in the majority from 1994 until 2008, 14 years in which they presided over the most corrupt, wasteful government in history. Now the bill has come due and they want American workers to pay it," he said.
A report prepared by Democratic members of the House Ways and Means Committee titled, "How the GOP Budget Would Affect Social Security," reveals that "400,000 people nationwide would not have their retirement, survivors, and Medicare applications processed this year resulting in a large backlog of unprocessed retirement and survivor claims for the first time in SSA history."
The report adds, "290,000 people nationwide would not have their initial disability benefit applications processed, which means that disabled workers who already wait months for their applications to be processed will wait an average of 30 days longer."
The report provided estimates of the impact on Washington State if the officers were to shutter: "67,479 people would go to the Social Security office for help and find the lights off and the door locked; 44,560 people would call the Social Security office and get no answer."
Image: Stock photo of D.C. Democratic Rep. Eleanor Holmes Norton speaking against Social Security cuts. Courtesy Talk Radio News Service // CC BY-NC-SA 2.0