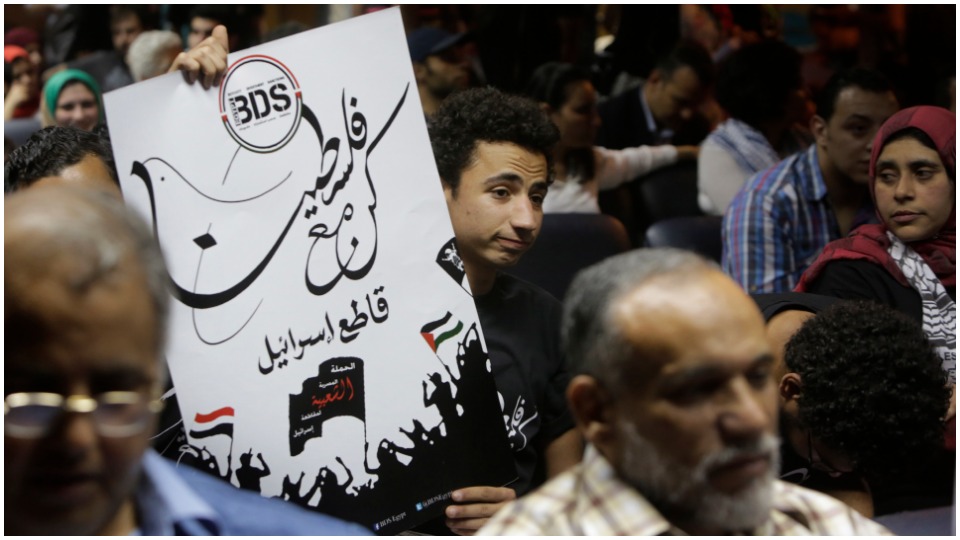 Last Tuesday (July 23), the House voted overwhelmingly to pass an anti-BDS bill with the strong support of progressive Democrats (including "Squad" member Ayanna Pressley). I know there are many who are asking how and why did this happen? As I see it, the answer, as always, is pure politics.
Just a bit of history: The genesis of the bill known as HR 246 dates back to the AIPAC convention last March, when a number of liberal Jewish groups, including J Street, Ameinu, National Council of Jewish Women, Partners for Progressive Israel, and Reconstructing Judaism (my own denomination), met informally to give their preliminary approval to this prospective bill. As they saw it, this was a strategic move. The bill was designed to give cover to liberal Democrats who had previously voted against anti-constitutional bills that virtually criminalized BDS. This new bill would allow them to vote on the record for a non-binding bill that criticized BDS without curtailing freedom of speech or labeling it as anti-Semitic. It would also give Democrats aligned with liberal Zionist groups the opportunity to reaffirm their support for the two-state solution.
Like I said, pure politics.
Still, no matter how much liberal Democrats might rationalize their support for HR 246 (Rep. Pressley explained on Twitter that her vote affirmed to her "constituents raised in the Jewish faith Israel's right to exist"), no amount of explaining can wash away the fact that this resolution is a cynical political move that unfairly and incorrectly attacks a genuine nonviolent movement for human rights—and will do little to advance the cause of real justice in Israel/Palestine.
Just a few responses to the actual text of the resolution:
— While the resolution mentions "rising anti-Semitism," it is completely silent on anti-Palestinian oppression and the threat of Islamophobia. Even the simple term "occupation" is nowhere to be found.
— The resolution claims that BDS "seeks to exclude the State of Israel and the Israeli people from the economic, cultural, and academic life of the rest of the world." In fact, this is not the goal of BDS: The very suggestion reduces the entire movement to an essentially nefarious aim. Rather, the Palestinian civil society call for BDS advocates nonviolent economic activism as a tactic toward three rights-based goals: An end to the occupation, equal rights for Palestinian citizens of Israel, and a recognition of the right of return for Palestinian refugees.
— The resolution claims that BDS "undermines the possibility for a negotiated solution to the Israeli-Palestinian conflict by demanding concessions of one party alone and encouraging the Palestinians to reject negotiations." The three goals of BDS above are not "concessions"—they are basic rights enshrined in international law that have been patently ignored or denied in previous negotiations. There is nothing in the BDS call that "rejects negotiations."
— The resolution quotes BDS leader Omar Barghouti (who addressed Tzedek Chicago on the eve of Passover this year) thus: "We oppose a Jewish state in any part of Palestine. No Palestinian, rational Palestinian, not a sell-out Palestinian, will ever accept a Jewish state in Palestine." While this quote is genuine, it crucially omits the first part of his statement: "A Jewish state cannot but contravene the basic rights of the land's indigenous Palestinian population and perpetuate a system of racial discrimination that ought to be opposed categorically, as we would oppose a Muslim state or a Christian state or any kind of exclusionary state…."
Here, Barghouti calls into question whether an exclusively Jewish state—as opposed to one state of all its citizens—can ever be truly democratic. This is an important question that deserves genuine consideration and debate. This egregiously truncated quote, however, only serves to imply Barghouti and the BDS movement seek nothing more than the "destruction of the Jewish state."
— The resolution states that the BDS movement "targets…individual Israeli citizens of all political persuasions, religions, and ethnicities, and in some cases even Jews of other nationalities who support Israel." This is a false and spurious accusation that the resolution offers with no evidence whatsoever. The targets of BDS campaigns have always been institutions, not individuals.
— The resolution states, "BDS does not recognize the right of the Jewish people to self-determination." There is no universal consensus that self-determination for any group of people must ipso facto mean the establishment of an independent nation state on a particular piece of land. Self-determination goes by many definitions and takes many forms. There are millions of Jews around the world who are happy to enjoy individual self determination in the nations in which they live. (Interestingly enough, the resolution is silent on the issue of Palestinian self-determination.)
— The resolution states that BDS "leads to the intimidation and harassment of Jewish students and others who support Israel." Here again, the resolution is putting out a damaging claim without offering any evidence whatsoever. What can be stated however, is that however uncomfortable some Jewish students may be made to feel by pro-divestment campaigns on their campuses, pro-Israel activist students enjoy significant support from college and university administrations. By contrast, Palestine solidarity activists (including many Jewish students) experience routine suppression of their freedom of speech. Palestine Legal reports that "seventy-six percent of the incidents Palestine Legal responded to in 2018 were campus related" and that they "responded to 51 administrative complaints against Palestine activists, double the number from 2017."
— The resolution states, "in contrast to protest movements that have sought racial justice and social change, the Global Boycott, Divestment and Sanctions Movement targeting Israel is not about promoting coexistence, civil rights, and political reconciliation but about questioning and undermining the very legitimacy of the country and its people." To this, I can only say, see bullet point #2 above. In fact, the BDS call is actually very much akin to "protest movements that have sought racial justice and social change." Nowhere does it "delegitimize" the state of Israel. Anyone who takes the time to read the actual call will see it focuses exclusively on the basic, essential rights that Israel routinely denies Palestinians.
To this final point, it was quite sobering to contemplate that on the very day that the House voted to condemn a nonviolent call for human rights, House members were notably silent in response to Israel's massive demolition of homes in East Jerusalem that took place at the very same moment.
In the end, despite the cynical politics behind this particular bill, I cannot personally view this as merely a political issue alone. As a Jew and a person of faith, I view the BDS call as nothing short of a religious imperative. I said as much in an address I was honored to deliver at the American Academy of Religion two years ago:
"I realize there may be some in this room who cannot bear to hear me say these words, but I—and increasing numbers of people around the world—believe them to be true, no matter how painful it feels to hear them. Israel is oppressing Palestinians. And when a people are oppressed, they will inevitably resist their oppression—yes, sometimes violently.
"In this case, however, a nonviolent call for popular resistance has been placed before us. Thus, for those of us that believe God hears the cry of the oppressed and demands that we do the same, the BDS call represents a direct challenge to our faith. Will we be like God, and hearken to their cries, or will we be like Pharaoh and ignore them?
"As a Jew, as an American, as a person of conscience, I would suggest this call presents us with nothing less than the most consequential spiritual challenge of our time.
"Blessed are the ones who hearken to the cry of the oppressed."
Reposted by permission of the author. The original posting can be found here.