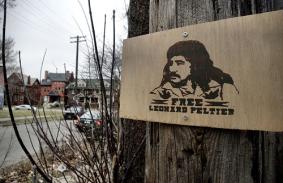 Native American activist and member of the American Indian Movement (AIM) Leonard Peltier, 64, was again denied parole in a recent hearing by the U.S. Parole Commission. Peltier, who was convicted of killing two FBI agents at the Pine Ridge Reservation in South Dakota in 1975, has said he was framed. His last hearing was in 1994. The AIM activist is not due for another parole hearing until 2024 when he will be 79 years old.
Peltier's lawyer Eric Seitz blamed the denial of parole on Bush appointees, saying: "The Bush administration holdovers on the U.S. Parole Commission … adopted the position of the FBI that anyone who may be implicated in the killings of its agents should never be paroled and should be left to die in prison."
Two other co-defendants were earlier acquitted on the grounds of self-defense. In speaking before the hearing, Peltier reminded commissioners that another co-defendant admitted to firing the fatal shots.
Amnesty International and other human and civil rights groups regard Peltier as a political prisoner. In a statement Amnesty International called for his immediate release. The organization said it "regretted the U.S. Parole Commission's decision not to grant Leonard Peltier parole despite concerns about the fairness of his 1977 conviction for murder." It called for the "immediate release on parole" of the activist.
A key fact in the case was Peltier's extradition from Canada based on eyewitness testimony the FBI knew to be false. The witness, Myrtle Poor Bear, recanted her testimony but was not allowed to testify at trial. Other legal concerns according to Amnesty International "include the withholding by the prosecution of evidence, including potentially key ballistics evidence that might have assisted Leonard Peltier's defense." The ballistics evidence including a telex discovered post-trial suggested that the firing pin in the rifle in question is different than the one used to kill the agents, Jack Coler and Ronald Williams.