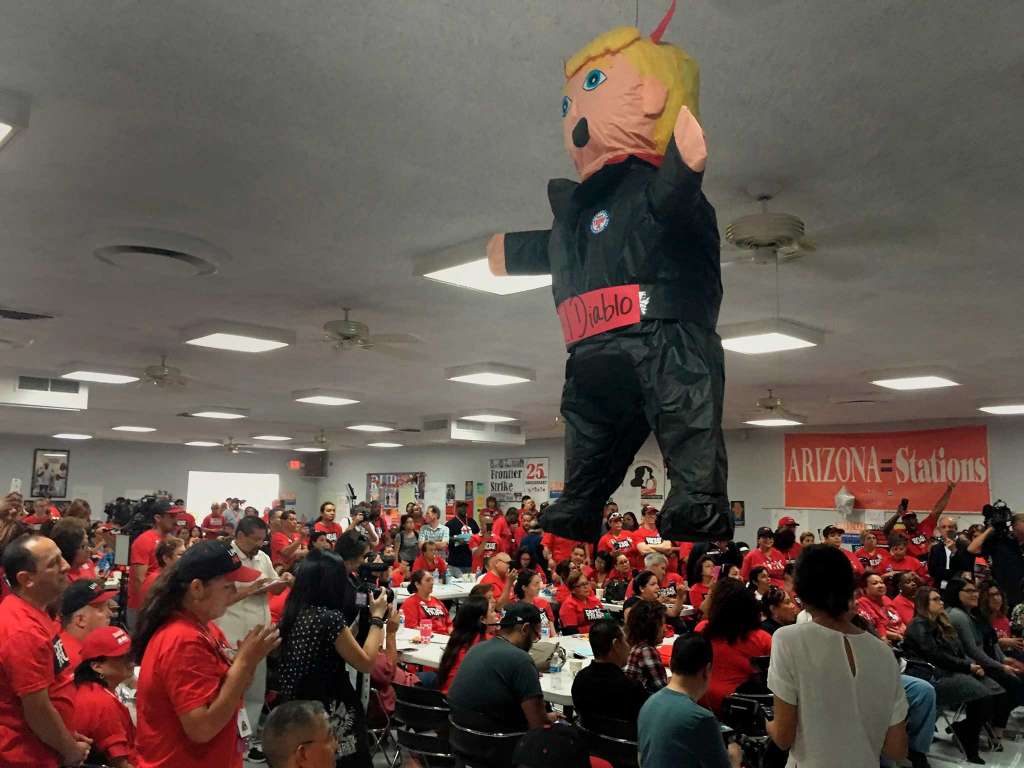 The political roof fell in on national unions and their leaders on November 8 as unionists  – as well as other voters – voted for Republican presidential nominee Donald Trump, who beat Democratic nominee Hillary Rodham Clinton in electoral votes to win the White House.
The stunning loss, and it wasn't confined to Clinton, led union leaders to cancel a November 9 AFL-CIO press conference to discuss the vote and exit poll results. Exit polls revealed the defections. Cable News Network (CNN) reported that in two late, key, swing states, Wisconsin and Michigan, unionists and their families split 50-50 between the two.
"And in Ohio, 52," North America's Building Trades President Sean McGarvey told Press Associates Union News Service on his way into the closed-door meeting to assess the damage. "Him or her?" he was asked. "Him," McGarvey replied.
McGarvey, like other unionists interviewed, put worker frustration with an economy that has left them behind and with Washington gridlock and catering to special interests at the top of the list of reasons that voters and workers turned to the millionaire Manhattan mogul.
"It's 30 years of getting screwed by both parties, Democrats and Republicans," he said. "They were willing to take a chance on anything – and that includes people in this (AFL-CIO) building," he added, referring to its unions and their members.
Trying to see the good
Some union leaders, including AFL-CIO President Richard Trumka, tried to put the best face on the results that they could.
"More than anything, this election is an indictment of politics as usual. For too long, the political elites have embraced economic policies that hold down wages, increase inequality, diminish opportunity and ship American jobs overseas. Voters in both the primary and general election have delivered a clear message: Enough," Trumka said in a statement.
"The president-elect made promises in this campaign — on trade, on restoring manufacturing, on reviving our communities. We will work to make many of those promises a reality. If he is willing to work with us, consistent with our values, we are ready to work with him.
"But make no mistake, we can never back down from our values. The presence of racism, misogyny and anti-immigrant appeals caused damage in this campaign and we must all try to repair it with inclusion, decency and honesty. As we move forward, the labor movement is committed to defending our American democracy."
Troubles down-ballot
But while the voters took out their ire on Clinton, they did not extend it to the rest of the naysayers who have dominated Congress and brought action on U.S. problems to a virtual halt for the better part of two decades.
Of the key races that would have shifted control of the U.S. Senate from the anti-worker GOP to pro-worker forces, the Democrats definitely won only the one their foes conceded long ago: Rep. Tammy Duckworth, D-Ill., beat incumbent GOP Sen. Mark Kirk.
Unionists, with a boost from Latinos, also elected former state official Catherine Cortez Musto (D) to succeed retiring Senate Minority Leader Harry Reid, D-Nev. And Clinton carried Nevada. In her concession speech, Clinton thanked unionists for their campaign efforts.
But the other close Senate races – in Missouri, Arizona, Florida, Indiana, North Carolina, Pennsylvania and Wisconsin —  went to GOP incumbents or nominees. Those states also went to Trump. Only New Hampshire's Senate race remained too close to call.
In addition, election of a right-wing GOPer as Missouri's governor, combined with overwhelming GOP control of the state legislature, paves the way for the Show Me State to join the ranks of the states with so-called right to work (for less) laws. Labor mobilization, however, convinced Virginia voters to defeat a RTW state constitutional amendment.
Two of the few pieces of good news for workers came at the end of the voting, when Clinton's overwhelming popular vote win in megastate California gave her the overall lead in the popular vote nationwide, and when voters in Maricopa County (Phoenix), Ariz., ousted right wing Trump-like Latino-profiling sheriff Joe Arpaio from office after seven terms.
Other unionists interviewed agreed with McGarvey that the defections hurt. They offered varied reasons why.
"Everybody is reeling"
"Everybody is reeling from this," said one top retired Steelworkers speaker. "Trade was the big kahuna," he added. "And we've been warning people about this ever since NAFTA."
Trump made his denunciation of so-called "free trade" pacts – which began with NAFTA 22 years ago– a big campaign theme in the Great Lakes industrial states he narrowly carried: Ohio, Michigan, Wisconsin and Pennsylvania. Trade pacts cost thousands of jobs in them.
"There's a huge amount of discontent among working class people," added Ron Kaminkow of Railroad Workers United, a rank-and-file organization of unionized rail workers whose members include Machinists, Teamsters, SMWIA/Smart members and others.
"I personally see it as a protest vote against business as usual. It may be a misguided attempt to solve problems by voting for a millionaire," Kaminkow, a Midwesterner, said.
Kaminkow also raised one other point that people with long memories overlooked: The possibility that pro-Trump voters lied to pollsters and voted against Clinton because of her gender.
In elections where African-Americans opposed whites in past years, it was called the "Tom Bradley effect," named for the late Democratic Mayor of Los Angeles, who was black. He lost the governorship there decades ago after leading in the polls. "You and I know people who don't tell pollsters how they'll really vote," Kaminkow explained.
Coal country
Jim Gibbs, a longtime top organizer with the Mine Workers and a resident of coal country in southwest Virginia, faulted the Democrats – and unions – for depending too much on cities and their suburbs and ignoring support available in rural areas, including coal country.  Those pockets include whites and African-Americans, like him.
Though UMW stayed neutral in the presidential race, due to Clinton's perceived positions against coal mining and Obama administration clean energy rules, UMW volunteers campaigned for her, he said. It didn't help.
Gibbs looked at the electoral map and saw a sea of red counties, denoting Trump wins, in Appalachia stretching from western Pennsylvania, through West Virginia, Kentucky, North Carolina, Virginia and Tennessee to southeastern Ohio, plus southern Illinois and southern Colorado.  There are still thousands of UMW retirees in now-downtrodden areas, he said.
"They were overlooked. Most of these pols don't leave Bristol (Virginia) when they come to southwest Virginia," he said. And national unions never really worked those areas, either.
"You've got 100 counties in Virginia and there are retired miners in 82 of them," he pointed out. Unions didn't come to them, even though Clinton carried Virginia.
Trump did. He came to coal country and promised to restore coal jobs – a promise Clinton said was false. She proposed retraining the miners, but that comment was lost in a mischaracterization of her "war on coal," Gibbs noted.
But Trump also promised to revoke Democratic President Barack Obama's environmental rules "and 100 mines will reopen, I guarantee you," Gibbs declared.
As a result of that contrast, unions "are not only losing white males, but working people" nationwide, Gibbs contended.  "We've got people in unions who are outside those cities" where unions concentrated their forces, he added. And Gibbs, a lifelong Democrat, said the "Democrats have forgotten where they come from and where they need to go."
"In Ohio, they depended on Cleveland and Columbus, and not on our union miners" in the coalfields. Clinton lost Ohio by 460,000 votes, 52 percent-43 percent.
The West
In states between the Minnesota-Dakotas border and the Pacific Coast, local and state unions had to fend for themselves, as the AFL-CIO and its allies concentrated their efforts in big swing states. That's what happened in Montana, said state fed President Al Ekblad. His federation backed a good Democratic slate for statewide offices but – forced to ration limited resources – put all its effort into electing Democrat Steve Bullock as governor. He won.
"We went in knowing the Republicans were going to win by 15 or 20 percentage points" for Trump, Ekblad said. So the state fed put its money into convincing voters to cross over for Bullock as "a gatekeeper" on the GOP-heavy legislature "which wants to put the labor movement out of business." Bullock won by three percentage points; Trump won by 23.
But even in states where the national AFL-CIO poured in support for down-ballot candidates, their efforts often didn't sway enough voters. That's what happened in Missouri's governor's race, nominated by AFL-CIO President Richard Trumka as the top gubernatorial race in the nation. Yet Democratic Secretary of State Chris Koster lost to GOP right winger Eric Geistens by 200,000 votes, 52 percent-44 percent. Gov. Jay Nixon (D) is term-limited.
Union leaders vow to keep fighting
National union leaders vowed to keep fighting, though the way forward was unclear and the subject of day-long meetings at the AFL-CIO. Other statements included:
LETTER CARRIERS PRESIDENT FREDRIC ROLANDO: "Although yesterday's election did not turn out as we had hoped, the American people have spoken. Our endorsement of Hillary Clinton, and of so many other candidates who came up short at the polls, was always about their positions on workplace issues of importance to letter carriers and about their support for a vibrant U.S. Postal Service.
"We congratulate President-elect Donald Trump and pledge our determination to work with the new administration and the leaders of the newly elected Congress to strengthen our country and our Postal Service.
"Had we prevailed in more races, we would have been in a better position to achieve sensible postal reform legislation and to protect the interests of active and retired members of the NALC. But now we face a lot of uncertainty. We intend to engage with the Trump administration and the new Congress to advance our issues while continuing to vigorously defend letter carriers' jobs and standard of living as well as the benefits and interests of our retired members.
AFSCME PRESIDENT LEE SAUNDERS: "As we take stock of the message voters sent yesterday, we see many were motivated by a real, palpable fear for their ability to provide for their families. We must come to-gether now to address that economic insecurity while not falling prey to the politics of division and hate. We must focus on rebuilding the middle class and restoring the American Dream for everyone, not just the privileged few.
"For our part, the 1.6 million public service workers of AFSCME will never quit working to make their communities safer, healthier and better places to live. We will do what we do best to hold President-elect Trump accountable on his promise to restore the American Dream: organize and advocate for solutions for all working people, from affordable health care for all, to reducing student debt, to rebuilding America's infrastructure."
TEACHERS PRESIDENT RANDI WEINGARTEN: "Both Donald Trump and Hillary Clinton understood working families have been left behind by a changing economy, punctuated by the last recession, and that anger is reflected in the results. While Hillary Clinton seems on track to win the popular vote, more people in more states trusted Donald Trump to bring the change they need than trusted Hillary.
"Throughout this campaign, Donald Trump promised to fix the rigged economy. He promised to restore America's middle class, to bring back the country's manufacturing and industrial base, and to restore dignity and opportunity for Americans — values that we as trade unionists understand intimately. He said last night that he would bring the country together — something that is essential, given the bullying and bigotry unleashed in this election. And as unionists, we will work tirelessly to ensure that all people can reach for their dreams, economically, educationally and otherwise.
"We believe deeply in our democracy. We accept the will of the people, and, as Hillary Clinton said today, we owe President-elect Trump the chance to lead. We will also hold him accountable for the promises he made."