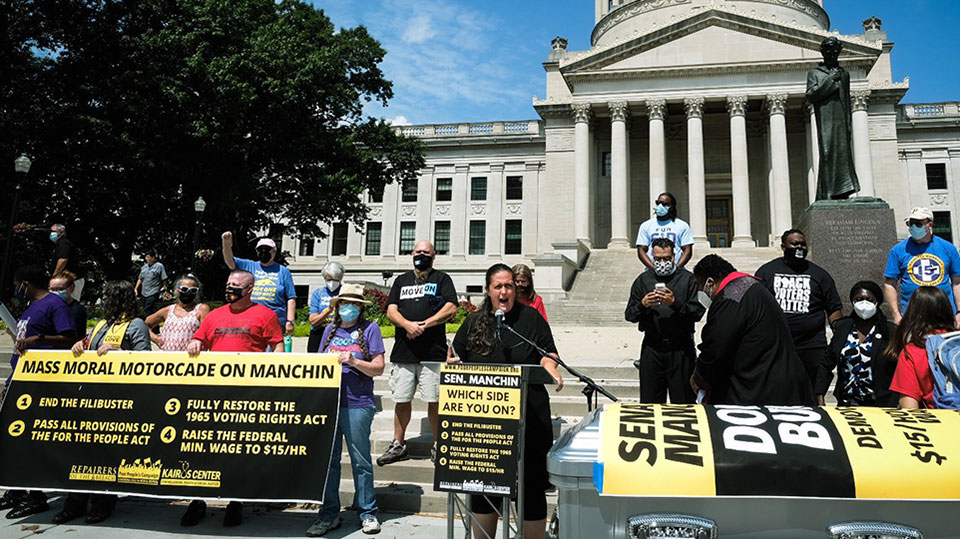 CHARLESTON, W. VA.—Snaking through the hills of West Virginia, a caravan of cars carrying leaders of the Poor People's Campaign, its Mountaineer State members, and their allies arrived in Charleston to demand Democratic Sen. Joe Manchin junk the filibuster and back both strengthening voting rights and directing federal dollars to poor and near-poor people.
"Where you at, Joe Manchin? Can you hear us, Joe Manchin?" asked Richard Ojeda, one of the state's 710,000 poor and near-poor residents, 41% of its population.
Whether the senator heeded them is open to question. He certainly didn't respond to the August 26 trek, or even send aides down from his office to talk to the campaigners.
The Poor People's Campaign is targeting Manchin and Sen. Kyrsten Sinema, D-Ariz., the last two holdouts, among the 48 Democrats and two independents, who oppose aid to the poor and the John Lewis Voting Rights Advancement Act and oppose killing the racist archaic Senate filibuster. Killing that rule would let those measures and others go through.
Their votes are vital in the evenly split Senate, as all 50 Republicans, including West Virginian Shelley Moore Capito, are expected to both uphold the filibuster and oppose the legislation. That tie would leave Democratic Vice President Kamala Harris with the decisive votes to pass the measures. All are part of or linked to Democratic President Joe Biden's Build Back Better agenda.
The Poor People's Campaign is one of a wide range of citizen groups, including everyone from organized labor to the CPUSA, backing those goals and more. They've been engaging in public pressure campaigns for months trying to move the resisting Senate to enact the legislation. Another large march, concentrating on voting rights, will occur in D.C. on August 28, with other marches on the issue around the U.S. that day.
The filibuster, which Manchin in particular upholds, would also sink the Protect the Right to Organize (PRO) Act, the most comprehensive pro-worker labor law reform bill since the original National Labor Relations Act of 1935.
In the hands of the Senate Republicans and their corporate class backers, the filibuster would also kill an increase in the federal minimum wage to $15 an hour.
And it would kill the For the People Act, a sweeping House-passed political and electoral reform measure that would negate the clout of corporate money in politics and also override widespread GOP state voter repression laws, including in West Virginia.
"When I got here, I saw something: Abraham Lincoln crying," said the Rev. William Barber II, the Poor People's Campaign's founder and co-chair, in some of the sharpest language he's uttered since the campaign began years ago.
"West Virginia broke ranks with the Confederacy in 1863" when it seceded from Virginia, then one of the 11 Rebel states fighting for slavery and against Lincoln and the U.S. in the Civil War. "In a real sense, you got a senator who's picking up the mantle of the Confederacy.
"Not only is he trying to slay voting rights, living wages, and the For the People Act, but he's choosing to treat corporations like people.
"He doesn't give a damn about the Constitution. He does care about the Chamber of Commerce."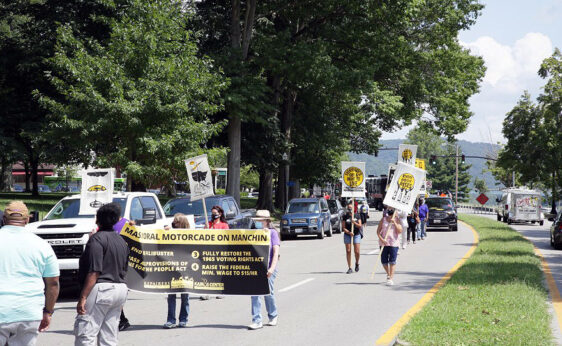 West Virginians emphasized how the legislation Manchin opposes would help his own constituents. One young Black speaker recalled how the senator says he represents the views of his state. Manchin is the sole statewide-elected Democrat in increasingly GOP-dominated West Virginia.
"You're stripping us of the right to vote," the man retorted. "So are you taking us back to slavery?"
Besides, he added, if Manchin keeps opposing measures to aid the poor and near-poor, people will keep leaving West Virginia. It was one of only three states to lose people in the last decade, 2020 census figures show. It's been declining since 1980.
There'll be no more West Virginia to represent
"If you don't stop encouraging poverty," the man warned Manchin, "there'll be no more West Virginia to represent."
Army veteran June Spence, who now runs a non-profit organization for veterans "and all working-class people," added: "100 years ago, our ancestors fought for a union and a living wage. I'm here to fight for a living wage again."
"One-half of the children in this state live in poverty," said West Virginian MoveOn member Matt Kerner. "Eight thousand live in foster care, and 800 of those had to be placed out of state. Every kid who goes to bed hungry is more important than the U.S. Senate," its traditions, and the filibuster, he added.
High school teacher Holly Belcher described herself as Catholic "who tries to instill" in her students "that each person is in the image of God.
"Senator Manchin is a Catholic, too. I'd like to see the day when" in the faith's words and in his, "'Everyone' means 'Everyone.'"
The campaigners didn't just use words to urge Manchin to do the right thing. They invoked their state's history and its pro-worker past by linking their goals to those of miners a century ago who gave their lives for the right to unionize and to earn a decent living. That was no great surprise either. In a state long ruled by King Coal, speaker after speaker identified themselves as sons or daughters of coal miners.
"My husband was a coal miner," said his widow, and state campaign co-chair Pam Garrison. "I know the struggles they went through.
"They had real bullets coming at them," she said of West Virginian miners' long repression by mine owners. "We have political bullets coming at us left and right."
The group ended their demonstration with a memorial. They left a wreath at the door of the state capitol, honoring United Mine Workers members who died exactly a century ago in the week-long Battle of Blair Mountain with cops, sheriff's deputies, and troops, and even the U.S. Army Air Corps, which dropped bombs on them.
The wreath is "in memory of the largest multi-racial uprising in the history of our country," said Barber.