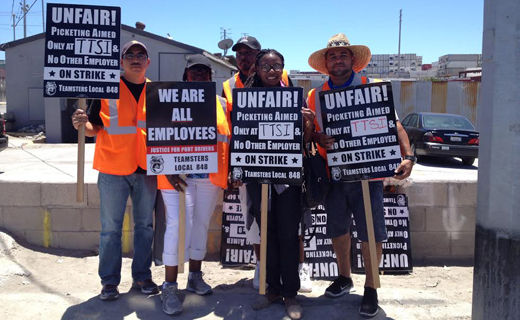 LOS ANGELES – Port truck drivers say they were left with no choice but to walk off their jobs July 7 because the companies that employ them continually rob them of their wages and retaliate against them when, in response, they try to form a union.
The drivers note that high on the list of labor law violations they have experienced is wage theft resulting from the company practice of misclassifying them as independent contractors rather than employees. Unlike regular employees, drivers misclassified as independent contractors are forced to pay all the expenses involved in maintaining their trucks. The company deducts those expenses from their checks leaving them with pay that can fall below the minimum wage rate.
"All companies at all terminals are idled today, this is different from previous strikes," declared Alez Paz, a driver who was fired just days after he testified before the National Labor Relations Board on the issue of misclassification.
The unfair labor practices strike by more than 400 drivers at truck yards and marine terminals at the ports of Los Angeles and Long Beach impacts some 40 percent of U.S. imports which are moved through the twin ports.
Port truck drivers who work long hours hauling nearly $4 billion worth of cargo every day and often receive paychecks below the minimum wage are clearly angry and determined to fight back. The drivers, who transport imports from American seaports to companies like Walmart, Home Depot, Sketchers Shoes, and Polo/Ralph Lauren, see themselves as being on the front lines of the fight for a fair day's pay for a hard day's work. They say this is why they are fighting to bring in a union.
Byron Contreras, company driver for Greenfleet System, explained: "My coworkers and I realized that the best chance for improving our working conditions is to do what other truck drivers have done, that is to form a union with the Teamsters."
The workers, as their first step to unionization, had to fight to be classified as employee's not independent contractors.
Region 21 of the NLRB has rendered illegal the "independent contractor" model of business on the docks and the companies, desperate to maintain the status quo, are firing, intimidating, and countersuing drivers and even state agencies, filing appeals on trial court decisions and filing to compel arbitration to stay government proceedings.
The port truck drivers say they are heartened, however, by support they have been getting.
Members of the United Farm Workers union came from as far as Oxnard, for example, to join the picket line at 6 a.m. on Monday morning.
Rep. Janice Hahn, D-Calif., who turned out in support, said that the truck drivers, who deliver the goods that generate wealth and income for so many people, also deserve to benefit from good wages and health care for their families.
Bishop W. Todd Ervin of Church One in Long Beach was among those out at the docks. Erwin, a former port truck driver himself, said, "We won't allow anything to divide us at this point – not class, not race, not gender."
Photo: Rossana Cambron/PW