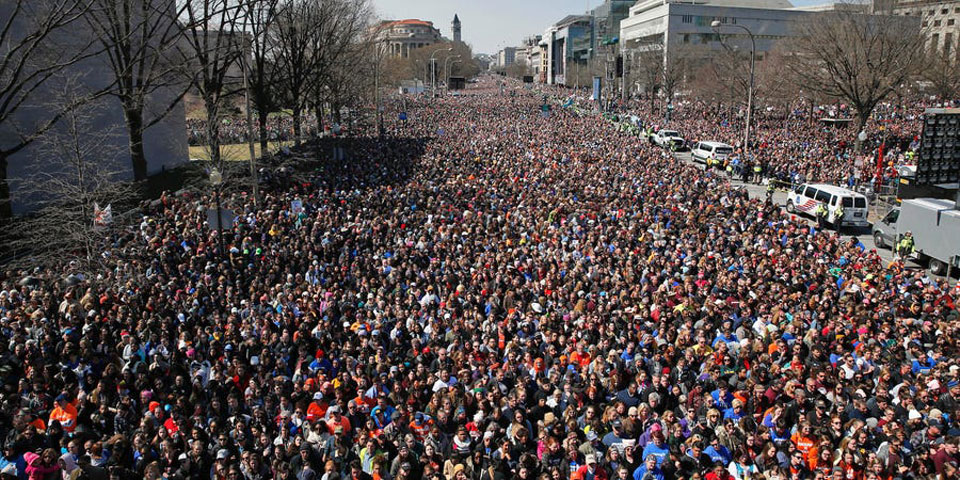 WASHINGTON—Saying "movements move Congress and politicians, and not the other way around," Postal Workers President Mark Dimondstein is warning movement activists to be ready for a long, long haul, one that must continue even after Trump is hopefully dumped in November.
When it comes to the 2020 elections, he says, postal workers and their allies must stop Trump's push to destroy the postal service if they are to prevent the disenfranchisement of millions in November.
Dimondstein, who led one of the few unions to support Sen. Bernie Sanders, Ind-Vt., in both of his Democratic presidential primary runs, issued the analysis and the warning at a pre-Labor Day Zoom videoconference of Our Revolution.
That's the grassroots group Sanders supporters founded after he lost the 2016 party nomination to Hillary Clinton. She went on to lose the Electoral College vote to Donald Trump, the current Oval Office occupant.
And Trump is just a symptom, he said, of what progressives, unionists, and their allies are up against—a system that uses racism to divide those who must unite to battle exploitation of the 99 percent by the one percent economic elite.
"Our problems as working people did not start with Donald Trump and they will not end with Donald Trump," Dimondstein warned. Trump and his backers "are pro-corporate power and anti-just about everything else."
Dimondstein has spent much of his time as APWU president mobilizing the masses to defend the Postal Service, its 604,000 workers, and his union's members against the depredations of Trump and the corporate right-wing agenda to privatize the USPS, eliminate six-day delivery, raise prices, cut service, fire workers, slash their pay, increase their health care payments and reduce their pensions.
More recently, APWU, the Letter Carriers, and other postal unions have had to switch gears to launch another mass campaign, against new Trump-named Postmaster General Louis DeJoy. That GOP big giver came to office several months ago with plans to delay deliveries, rip out mailboxes in communities of color and remove 671 postal sorting machines geared to handling large first-class envelopes.
Those are the very envelopes that carry mail-in ballots to voters' addresses, and from the voters to post offices and elections boards. With the coronavirus pandemic raging, experts calculate up to 76% of the U.S. could vote by mail, if politicians—and DeJoy—would let them. But the GOP-run Senate adamantly refuses, fearing, as Trump puts it, that vote-by-mail would drive up turnout of pro-Democratic, pro-worker voters.
Both the corporate agenda and possibilities for workers if they take back the White House and take over the Senate means the 2020 election "has extra significance" for workers, Dimondstein said, in something of an understatement.
But unless APWU and its allies win their current campaign against Trump and DeJoy's efforts to destroy the USPS, "millions of people will not have access to the ballot box," Dimondstein explained. The message APWU has kept pounding away at is that the USPS serves everyone and "should not become a political football."
But if the Postal Service is politicized, the campaign to preserve it, the jobs, the workers—most of whom are female, people of color, veterans, and unionists or combos of those facts—will fail, he said.
At least for now, though Dimondstein didn't say so, it's been a temporary success. Polls show overwhelming support for federal aid for the USPS, whose revenues have tanked with the coronavirus-caused closures, firings, and resulting economic depression. They also show majority opposition to DeJoy's devastation.
So the new PMG was forced to draw in his horns and promise he wouldn't yank out any more mailboxes, remove any more machines, ban any more overtime to deliver the mail, or impede the ballots, but only until after the November election.
DeJoy didn't promise to undo his prior damage. He so angered the House's Democrats they passed legislation, HR8015, on August 22, ordering him to reverse all USPS damage imposed since January 1, and to keep the restored status quo through this January 1 or the end of the coronavirus pandemic, whichever is later.
And when DeJoy wouldn't yield internal memos about meetings on his destruction plans, including meetings with Trump regime Treasury Secretary Steven Mnuchin, who was dangling a $10 billion line of credit for the USPS, the Dems subpoenaed them.
But to back all this up, said Dimondstein, USPS and its supporters must take to the streets, especially to move the GOP-run Senate. Other speakers, including Minnesota Attorney General Keith Ellison (DFL), who followed Dimondstein's speech with his own, pushed the same theme.
"If you have experienced DeJoy's delays" in your mail, "call your (state) Attorney General. Call and say 'My check is late. My medicine is late.'" The 20 AGs who are suing DeJoy over the delays, including himself, can use those stories as evidence.
"DeJoy's delays are designed not just to deny the ballot, but to sell off" the Postal Service "to big greedy corporations," Ellison said.
Like free stuff? So do we. Here at People's World, we believe strongly in the mission of keeping the labor and democratic movements informed so they are prepared for the struggle. But we need your help. While our content is free for readers (something we are proud of) it takes money — a lot of it — to produce and cover the stories you see in our pages. Only you, our readers and supporters, can keep us going. Only you can make sure we keep the news that matters free of paywalls and advertisements. If you enjoy reading People's World and the stories we bring you, support our work by becoming a $5 monthly sustainer today.