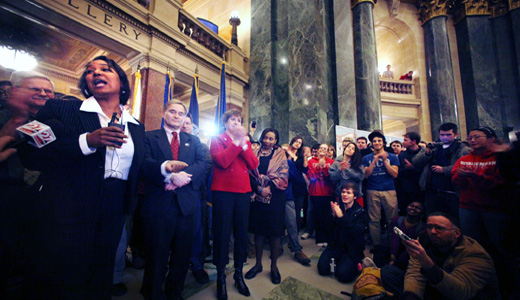 MADISON, Wis. – President Obama weighed in on the side of the workers who have occupied the state Capitol here for four straight days by blasting Republican Governor Scott Walker's bill to strip public workers of their collective bargaining rights as "an assault on unions."
He made his remarks Feb. 17 as tens of thousands continued to arrive here to reinforce the crowds that have occupied the state capitol and its grounds for almost a week, and while Democratic lawmakers remained out of state at undisclosed locations. They left Madison to prevent Republicans from having the quorum necessary to pass the union-busting measure.
There have been numerous press reports that Organizing for America, the Democratic Party formation that grew out of Obama's campaign organization after he took office, was working with labor and community groups to support and mobilize for the demonstrations in not only Wisconsin but also in Indiana and Ohio.
The Republican governor's actions "are about giving CEOs what they want and weakening unions," declared AFL-CIO President Richard Trumka Feb. 17. "Taking away bargaining rights doesn't do a single thing to help a budget deficit. When you have a union and collective bargaining you can work collectively to make those cuts so everyone understands and is educated about them. This is simply 'payback' (for union's having opposed Republicans in the last election.)"
Trumka made his remarks before a sea of demonstrators outside the capitol here today in the state that was the birthplace of the American Federation of State, County and Municipal Employees (AFSCME), the largest labor union in the AFL-CIO, with a long history of successful battles for workers' rights.
Commenting on what has become an epic battle to preserve labor organizing rights, former Labor Secretary Robert Reich said, "The Republican strategy is to split the vast middle and working class – pitting unionized workers against non-unionized, public sector workers against non-public, older workers within sight of Medicare and Social Security against younger workers who don't believe these programs will be there for them."
Reich added, "By splitting working America along these lines, Republicans hope to deflect attention from the big story. That's the increasing share of total income and wealth going to the richest 1 percent while jobs and wages of everyone else languish."
Democratic lawmakers who left the state are warning Republicans not to expect them to return any time soon.
Some have gotten the word out that they will not return until the governor and the Republicans take elimination of collective bargaining rights off the table.
The Republican governor has sent law enforcement personnel out to search for the Democratic senators. Sen. Chris Larson, one of those who left, called the press to say he wasn't "worried" because he knew state police men and women who "have expressed solidarity with the workers' cause."
"We did not undertake our actions lightly," said Wisconsin state Senate Minority Leader Mark Miller. "But we believe, out of respect for our public institutions, the people of Wisconsin and our long tradition of working together, our fiscal challenges can be met without taking away workers' rights."
The AFL-CIO is urging everyone to show solidarity with the embattled Wisconsin workers.
The federation requests that everyone add a "We Are One" Facebook and Twitter avatar to show solidarity. Icons are available here.
They also ask that everyone change their Facebook status to: "I stand in solidarity with teachers, firefighters, nurses, construction workers and all who are under attack by governors and state legislators."
And they are urging the writing of messages of solidarity to workers at the We Are One Facebook page .
Photo: Wisconsin State Sen. Lena Taylor, left, one of the Democrats on the Joint Finance Committee delivers a fiery speech on labor rights to the crowd in the Capitol rotunda in Madison, after the committee adjourned around 3 a.m. on Wednesday, Feb. 16. Later she and others left town. (Craig Schreiner/Wisconsin State Journal/AP)