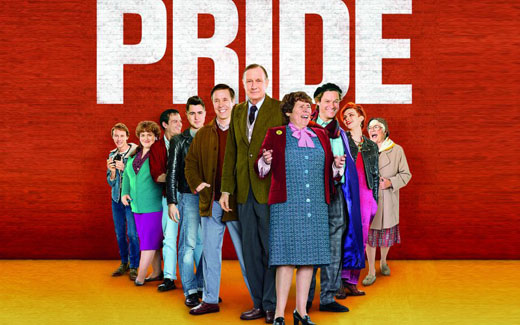 I may not be the most objective reporter for the new British movie "Pride." It had me from the first plinks of Pete Seeger's banjo, before they even started the story, and I was still clapping and blubbering when Billy Bragg's "There is Power in a Union" carried through the smash ending. I defy any serious labor activist to get through the middle part, when the Welsh miner women sing "Bread and Roses," without a strong emotional response.
Prime Minister Margaret Thatcher's attacks on long-suffering British miners are a long and disgusting story, but there were some high points in it. In 1984, a small group of London gays and lesbians collected money for the miners and taught a lesson of solidarity that everybody should memorize.
Gays and Lesbians for Miners found it very difficult to find anybody who would even accept their help. Even when they finally made arrangements with a small Welsh mining village, they had to push themselves through a lot of rejection. In their own community, where AIDS was clearly the main issue, they were turned down a lot. The movie itself has to bear suffering from prejudice. It has less sex and violence than any Disney movie, but it has an "R" rating!
Is there anything more frustrating for an activist than to see people elevate their personal prejudices above the need to win? Anyone who's ever been in a struggle can relate, because there are always those spiteful idealists who say they don't care if they lose. There are plenty of them in this movie, but the human spirit can prevail. It certainly did in 1984 in one Welsh village, and in this movie.
How much further has the labor movement come in the march from prejudice to solidarity? Here in the U.S., the AFL-CIO has a constituency group for LBGT workers and their allies. The noble effort is named Pride at Work. Both the growing strength of LBGT activism and the growing need for help of the American labor movement argue for strengthening this alliance. On their website only 13 state chapters are listed, and my home is not among them. The new movie should certainly help, and might even be used as an organizing focus for putting together new chapters. Solidarity is how we win. Prejudice is how we lose.
"Pride" is not just a wonderful movie. It's important. I encourage everyone to see "Pride," and to see it soon because good movies about real workers don't usually get to stick around long. If I could command people to see it, I would.
Movie Review
Directed by Matthew Warchus and Nick Angel
Starring Bill Nighy, Imelda Staunton, Dominic West