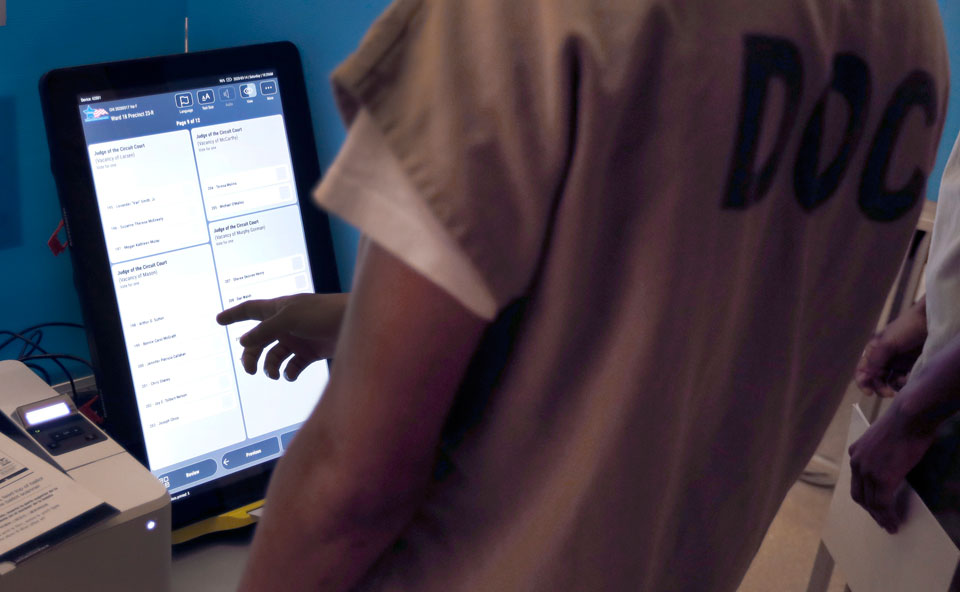 There are 1.5 million people currently serving sentences in the United States. Only about 20,000 of them—those in Maine and Vermont—can vote. The ability of formerly incarcerated citizens to vote after their release, meanwhile, varies widely among the states, with some indefinitely stealing a convicted person's right to vote until they earn a pardon or pay off all fines and fees.
Suffrage, or the right to vote in political elections, was never explicitly guaranteed in the Constitution. It is not even an afterthought in the Bill of Rights. It only appears in the 14th and 15th Amendments, both passed after the Civil War of the 1860s. The 15th Amendment guarantees the right to vote will not be denied because of race, color, or "previous condition of servitude"—which, in the context of the Civil War, meant slavery. The 14th, however, allows states to deny the right to vote for participation in crimes.
Felony disenfranchisement and racism are intertwined in our country's history. As the movement for Black suffrage gained momentum after the abolition of slavery, so did the movement to bar Black people from voting.
In 1901, Alabama Democrats engineered a convention to rewrite their state's constitution to be more racist. John B. Knox, the president of the convention, said in his opening remarks, "If we should have white supremacy, we must establish it by law—not by force or fraud." The new Alabama constitution stripped men of their right to vote for 20 crimes, including robbery and forgery, and discriminated against Black voters with poll taxes and racist literacy tests.
During the Jim Crow era, felony disenfranchisement metastasized throughout the country. Today, there are 6.1 million people disenfranchised due to a felony conviction, 40% of whom are Black.
It is no coincidence, then, that the two states where prisoners can vote while still behind bars—Vermont and Maine—are the whitest states in the country. But despite having that right, even prisoners in Vermont and Maine rarely vote because of other barriers.
While incarcerated, inmates are generally cut off from the internet and news media. They are not allowed to campaign for candidates among other prisoners or show signs of political partisanship. Just discussing politics can be dangerous. The biggest factor, however, is the shocking percentage of incarcerated people whose lack of access to education has resulted in them being unable to read and write. Illiteracy makes understanding and filling out ballots practically impossible without help from volunteers (who are relied upon to register people and get out the vote). Some studies show that nearly 60% of people in prison are illiterate.
In confronting barriers to voting for those behind bars, jails, in addition to prisons, are an essential part of the picture. There are 1.6 million in prison and 600,000 people locked away in jail. Half are Black. Two-thirds of them are pre-trial, which means they have not been convicted of any crime. They are locked up because they can't afford excessive bail fees. The other third are serving sentences for minor crimes which do not result in disenfranchisement.
But just like the prisoners in Maine and Vermont, most of those detained in jails, although they have the right, do not actually vote. A key problem is the logistics and bureaucratic barriers of having to register and request absentee ballots for those in jail, along with relying on volunteers to help with these tasks.
Florida campaign underway to pay 'poll taxes' for the formerly incarcerated
Recently, some reforms have eased the situation somewhat. For example, in Massachusetts, jail detainees are considered "especially qualified" and do not have to register to receive an absentee ballot. Los Angeles and Chicago facilitate in-person voting in their jails. But the bigger picture remains bleak—the incarcerated, even when they can legally vote, are generally disenfranchised by other systemic problems.
There is little hope that lawmakers on their own are going to make meaningful reform that grants prisoners and jail detainees the right to vote in real terms.
Out of the Democratic presidential candidates, only Bernie Sanders proposed universal suffrage for all prisoners, although Julián Castro and Beto O'Rourke supported suffrage for non-violent convictions. The Democratic presidential nominee, Joe Biden, and Kamala Harris, his running mate, both have lamentable records on incarceration. Biden wrote and shepherded through Congress the now infamous 1994 Crime Bill. It was effectively the template for modern mass incarceration. Harris's office, when she was California Attorney General, fought to keep inmates in prison so they could be exploited for cheap labor, although it changed policies in response to public pressure. There is no mention of restoring prisoners' right to vote in Biden's platform.
As backward as the stances of Biden, Harris, and some Democrats might be when it comes to extending voting rights, Trump and the Republicans intentionally use inmate voting as a racist ploy to garner support. In 2016, Trump called Virginia Gov. Terry McAuliffe's order to restore voting rights to convicted felons "crooked politics." McAuliffe said the policy was aimed at reversing a "policy of disenfranchisement that has been used intentionally to suppress the voices of qualified voters, particularly African Americans, for more than a century." In typical dog whistle language, Trump accused Hillary Clinton and McAuliffe of planning to get "thousands of violent felons to the voting booths…to cancel out the votes of both law enforcement and crime victims."
Beyond the actions of individual politicians, these policies reflect the neoliberal agenda that characterizes the legal and political system in this country. And in the case of the GOP, they showcase the racist pandering that's made possible by denying voting rights to inmates and the formerly incarcerated.
The real push for prisoners' rights has come not from politicians, but from behind the bars, from prisoners themselves. In 2013, there was a 60-day hunger strike in California. They demanded an improvement in prison conditions generally, but the real fuel for the strike was the prison's torturous use of solitary confinement. In prisons, some of the things that can land prisoners in the hole are possessing political books by Black authors, newspaper clippings, and journal musings. In the end, the prisoners did not win any demands but did gain nationwide media coverage. State lawmakers called for Public Safety Committee hearings and legislative action to address the widespread abuses.
In 2016, inmates in 29 prisons across 12 states staged hunger strikes, labor strikes, sit-ins, and other forms of protests. In some uprisings, guards were targeted by prisoners. In others, the guards themselves joined in to protest unsafe working conditions.
"Ultimately, the demand is abolishing prisons," Azzurra Crispino, media co-chair of the Incarcerated Workers Organizing Committee, one of the organizers of the strikes, said. "The reason prisons exist is not to keep anyone safe—but because money gets made from prisons. So, they're saying, look, if the reason you have us locked up is because we make you a ton of money, then if we strike and you give us minimum wage, we won't make you a ton of money anymore. And that will ultimately lead to reform for decarceration and prison abolition."
In 2018, there was another nationwide prison strike, possibly the first strike to be organized via posting on the internet. A statement listed 10 demands, including: "The voting rights of all confined citizens serving prison sentences, pretrial detainees, and so-called 'ex-felons' must be counted. Representation is demanded. All voices count!" Reps. Ro Khanna, D-Calif., and Alexandria Ocasio-Cortez, D-N.Y., tweeted in support of the strike.
In the end, neither the 2016 uprising nor the 2018 strike led to any meaningful reform. Prisoners voting rights remain non-existent and public opinion still remains firmly against prisoners voting, with 69% of people opposed in a recent poll. For example, referring to the proposal by Sen. Bernie Sanders to extend voting rights to prisoners, a dismayed Harvard student asked at a CNN Town Hall, "Does this mean that you would support enfranchising people like the Boston Marathon bomber, a convicted terrorist and murderer?"
As the November elections approach and conditions in prisons and jails worsen, voting remains inaccessible for millions of incarcerated people. Disenfranchisement of voters is a part of our country's racist history and will take a lot of work to be dismantled. It's a good sign that Sanders and other Democratic candidates are talking about extending suffrage to those serving their sentences, but the real impetus for reform is coming from prisoners and activists. Their movements will likely be the ones to finally deliver.