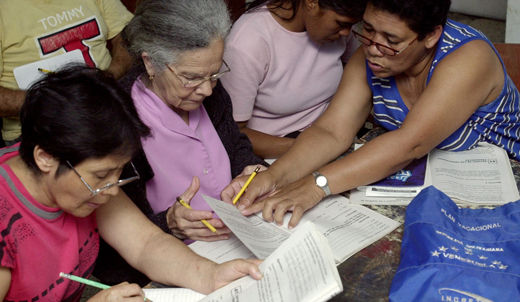 CHICAGO – The Bolivarian Alliance for the Americas, since its formation in 2004, has helped its nine Central and South American member nations make some impressive gains. These were discussed at a two-day conference at DePaul University here last week.
The alliance goes by the Spanish word ALBA, meaning dawn, and has had a difficult time winning acceptance by the U.S., which has traditionally backed the Organization of American States as the official alliance of Latin American nations. The OAS is widely seen as reflecting the interests of the Western hemispher's large corpoerate entities.
ALBA, which is seen as an anti-corporate alternative program, does not threaten the real interests of the people of the U.S., according to Angelo Rivera, an attache at the Venezuelan embassy, who spoke at the forum here. He said the programs of the young alliance "are not threats, but opportunities taken by the countries to develop their own people with their own resources. We have changed and we aren't going back."
Rivera said "the U.S. has demonized ALBA and its programs to advance their countries' development on all levels. If the U.S. and its representatives understand this we will be able to go forward; if not, we will defend what we created."
Over 250 people, including students, teaches, unionists, and political activists, attended the two-day conference on this city's north side. Attendees got a first hand report on the eight-year development of ALBA.
ALBA's formation marked the 108th anniversary of Simon Bolivar's victory and Bolivia's independence from Spain. Venezuelan Presidents Hugo Chaves and Cuban President Fidel Castro formally created ALBA and since then, nine neighbors have joined, including Honduras, Ecuador, Bolivia, Nicaragua, Dominica, Barbuda, Antigua, St. Vincent, and the Grenadines.
The pro-ALBA president of Honduras, Manuel Zelaya, was forced out of office in a U.S.-backed coup, however, and that country is not now a member.
The forum's panels outlined ALBA's achievements in eradicating poverty, and in advancing education, health care, industrialization, and trade.
Francisco Hooker, Nicaragua's ambassador to the U.S., said, "as in Cuba, both Bolivia my country have eliminated illiteracy." And in alliance, "ALBA has reduced infant mortality by 32 percent, increased life expectancy to 73 years and eliminated poverty in countries for 11 million people."
Cuba's representative was not allowed by the State Department to attend the foum or even to communicate with attendees by phone or sattelite.
Photo: Santiaga Cordero, 80, center left, is helped by fellow student Gladys Visamont, 53, right, at a literacy class sponsored by the government of Pres. Hugo Chavez, in the impoverished Caracas neighborhood La Vega in Venezuela, July 30, 2004. Venezuela's literacy program began in 2003 as an important part of the Bolivarian social welfare program. Leslie Mazoch/AP