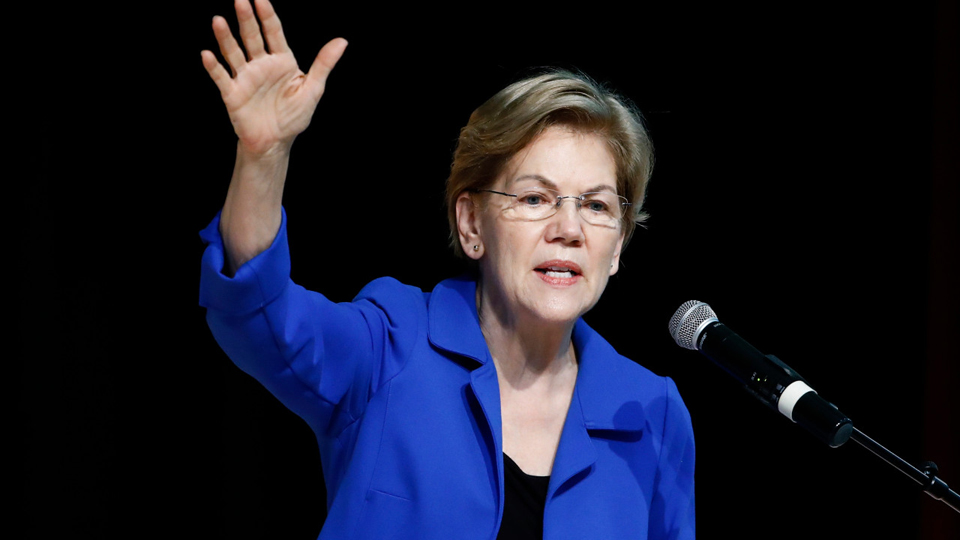 WASHINGTON—Progressive lawmakers are using workers' sacrifices due to the coronavirus pandemic – especially the sacrifices of those who put their lives on the line to serve all of us – to argue for approval of a Workers Bill of Rights, guaranteed pay, retraining money and other pro-labor reforms.
The common denominator: All the lawmakers want to insert the pro-worker causes into the next economic package Congress will consider as a response to the mass closures – and resulting joblessness – forced by the coronavirus pandemic.
As of the morning of April 14, the pandemic infected some 582,000 people in the U.S., and killed more than 23,000. Its resulting closures to keep social distancing have shoved more than 16.8 million workers into joblessness, said Rep. Pramila Jayapal, D-Wash., crafter of one of the measures, a guaranteed wage for anyone making up to $100,000.
She also estimated 60 million truckers, grocery workers, janitors, nurses, emergency personnel, warehouse workers, first responders and other "essential" workers are still on the job and in harm's way to serve all of us.
The lawmakers declare those workers, and the jobless, deserve rewards – and help.
On April 13, Sen. Elizabeth Warren, D-Mass., and Rep. Ro Khanna, D-Calif., unveiled the bill of rights for essential workers, a group they define very broadly. The essential rights include a stronger right to organize, putting workers on corporate boards and abolishing the bosses' "independent contractor" dodge. Law-breakers would face large fines and potential prison terms, Khanna said.
Three days before, Jayapal, speaking from her home in Seattle, unveiled her Paycheck Guarantee Act. It would cover 100% of workers' paychecks up to $100,000 each and order bosses to keep workers not just on their payrolls but also with employer-sponsored health care.
Jayapal, co-chair of the House Progressive Caucus, promptly picked up support from union presidents Lily Eskelsen-Garcia of the National Education Association, Mary Kay Henry of the Service Employees and Sara Nelson of the Association of Flight Attendants-CWA.
And Rep. Andy Levin, D-Mich., the former AFL-CIO deputy organizing director, dropped a $1.5 billion measure for worker retraining and development into the hopper. He garnered 50 congressional backers. Levin, influential Rep. Rosa DeLauro, D-Conn., and Progressive Caucus co-chair Rep. Mark Pocan, D-Wis., a Painter, also co-sponsored Jayapal's legislation.
"Doctors, nurses, other health care workers, grocery store and drug store employees, domestic workers, food service workers, government employees, janitorial staff, farm workers, delivery drivers, warehouse workers, transportation workers, child care workers, and other essential workers are putting their health on the line every time they clock in," said Warren in explaining the Workers Bill of Rights for them.
"Many are working in high-risk conditions without appropriate protective equipment, adequate safety standards, or basic job protections. And reports show that these workers may be contracting COVID-19," the official name for the coronavirus, "at a higher rate than the general public."
"Essential workers are the backbone of our nation's response to coronavirus — and we need to have their backs."
The 10-point Worker Bill of Rights includes guaranteed health and safety protections, including employer-provided personal protective equipment (PPE) "at no cost to workers," premium pay for the essential workers and "protections for collective bargaining agreements" and for whistleblowers.
"Workers who witness unsafe conditions must be able to openly identify their concerns and have them addressed, without fear of retaliation," Warren said. That's in direct contrast to Amazon's firing of a New York warehouse worker who led a walkout against the lack of PPE, and other retaliation nationally, including against two more Amazon workers on April 14.
The measure's "health protections" section would include using "public programs to provide no-cost health care for all" essential workers "regardless of immigration or insurance status." Many of the essential workers toil for firms – such as Amazon or Walmart – that don't provide health care, or do so at impossibly high costs. Others, including in Amazon warehouses and among U.S. port truckers whom Teamsters are trying to organize, are undocumented.
The Worker Bill of Rights also would mandate "truly universal paid sick leave and family and medical leave," since the current paid sick leave law for essential workers excludes those toiling in firms with more than 500 workers and lets firms with less than 50 workers seek exemptions from that mandate.
Other sections of the Worker Bill of Rights include "an end to worker misclassification that lets employers avoid providing the full suite of benefits and protections available to employees," under labor law and "free, reliable, safe, healthy and high-quality child care" for kids of the essential workers. And there should be "full funding for child care providers," too.
The bill of rights would also put the essential workers and their unions at the corporate table "as experts…in developing responses to coronavirus," said Warren. She did not mention that in countries like Germany, for example, the law requires that 40 percent or more of the boards of directors of corporations must be workers employed by those corporations.
Her version of the Worker Bill of Rights would "hold corporations accountable for protecting workers" by banning use of our tax dollars to help "wealthy CEOs, rich shareholders, or the president's cronies." Instead, the money should go to workers, she declared. "Here's what it comes down to: We must recognize the critical contribution these essential workers are making to our health and our economy during this crisis."
Khanna added requirements for company neutrality in union organizing drives, and fines and jail terms for law-breakers. "Companies should be required to use funding for payroll retention, put workers on boards of directors, and remain neutral in union organizing," he said.
"CEOs should be required to personally certify they are in compliance with worker protections, so they can face civil and criminal penalties if they break their word."
"And any federal funding should be designed to ensure employers cannot skirt the rules by firing or furloughing workers or reducing their hours or benefits in order to access a tax credit or avoid a worker protection requirement."
While Khanna and Warren concentrate on rights and premium pay, Jayapal's measure concentrates on cold, hard cash – and to have all workers available when it is time for the economy, and companies, to reopen.
And her legislation would cover everybody, not just the essential workers.
Germany has a similar program of government subsidies of workers' pay: Hours are cut as work is slack and the government makes up the difference in workers' pay. The difference is that, there, firms are banned from layoffs. And the workers are immediately available once business picks up again.
"The Paycheck Guarantee Act would put the brakes on mass layoffs and economic decline to enable a speedier and smoother recovery once the crisis ends," she said. The federal 100% wages, plus health benefits, guarantee would last for three months for all workers or until "consumer demand returns to pre-crisis levels," whichever is later.
Her measure also "includes strong worker protections and fraud prevention measures," Jayapal's fact sheet says. And it would relieve, if not end, the burden on overwhelmed state unemployment systems – several of which have already suffered computer and website crashes under the flood of job applications.
"A federal paycheck guarantee is a real solution that matches the scale of the crisis. Mass unemployment is a policy choice. We can and should choose differently," said Jayapal. "A federal paycheck guarantee would stanch more layoffs and unemployment, and quickly and reliably deliver relief to workers. Workers would not be forced to apply for unemployment insurance, overwhelm that system and then have to once again find a job."
Besides preserving workers' pay, jobs and benefits, Jayapal's measure would "Cover essential business expenses like rent, to ensure that businesses don't shutter completely and can re-open when the pandemic ends" use existing payroll tax infrastructure to get pay to workers ASAP, and "keep workers attached to the labor market and businesses ready to reopen, speeding up the economic recovery."
Eskelsen-Garcia, whose NEA is the biggest union in the U.S., said her 3-million member group has been advocating that guarantee for teachers ever since states and cities started shuttering schools to help beat the pandemic by banning large gatherings and close crowds – such as in classrooms.
"To avoid laying off educators as the economy struggles, there needs to be real solutions to keep local and state revenues from drying up during this global crisis. The National Education Association has advocated Congress for an education stabilization fund to keep dramatic cuts from hitting our schools, impacting student services and ensuring educators do not lose their jobs. Congresswoman Jayapal's Paycheck Guarantee Act is another step forward in this fight," she said.
Henry, whose union has two million members – including essential workers such as sanitation workers, cleaning workers, janitors and nurses – agreed.
Jayapal's measure would "help end mass layoffs and keep working people paid and connected to their healthcare and other benefits." That will "ensure the economy is ready to restart when the pandemic ends by protecting the health, safety and long-term economic well-being" of workers, she said.
Nelson pointed out such worker guarantees were in the $2.2 trillion economic aid bill Congress pushed through on March 18, but only for workers in the aviation industry – after, though she did not crow about it, AFA-CWA worked with influential Rep. Peter DeFazio, D-Ore., to ensure that result.
But that guarantee only runs through Sept. 30, and United Air Lines' CEO is already declaring that after that date, mass layoffs will start.
Jayapal's measure is "also going to save lives and help our medical professionals because the vast majority of Americans will have the means to stay healthy and be helpful," Nelson said.
Levin's legislation looks towards the fact that some jobs will never return and those workers will need re-education and retraining. Levin and so-authoring Rep. Susan Bonamici, D-Ore., immediately picked up 49 congressional co-sponsors. Their measure would cost $1.5 billion.
"We must invest billions, not millions in our workers and workforce system," the lawmakers wrote to House leaders. "By strengthening federal investments, we can support reemployment and layoff aversion strategies, as well as upskilling and reskilling opportunities and employment services for displaced and dislocated workers. Early interventions now will help prevent further economic distress and allow our economy to recover quickly while increasing access to good-paying jobs for workers who are suffering through this crisis."