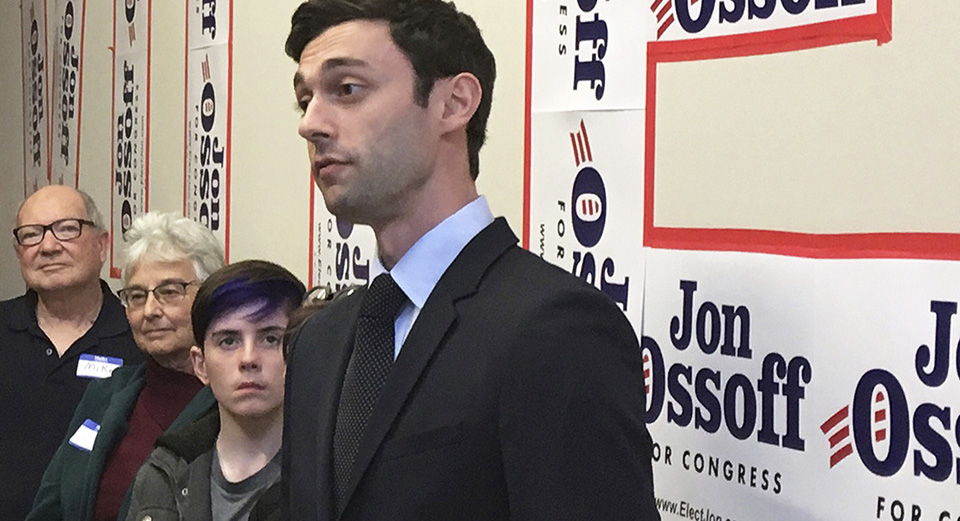 Fresh on the heels of an anti-Trump upsurge in Kansas, and at a time when Trump's approval rating is historically low, Jon Ossoff, a Bernie Sanders Democrat, is polling twice as high as any other candidate in a special election for Congress being held Tuesday in Georgia's 6th District, previously represented by Newt Gingrich and a string of right wing Republicans.
Trying to push back the progressive tide, the GOP is sinking to new levels of deceit. A dark money-funded super PAC has stretched the truth so far, it has somehow tied Ossoff to Osama Bin Laden.
The seat became vacant when Trump pulled Tom Price out of it to become U.S. Secretary of Health and Human Services. It's been captured by right wingers since 1979. Newt Gingrich held it for 20 years, until he was caught in a scandal and had to resign. However, it remained in the hands of tea party types, which is probably why Trump believed he could appoint Price without danger of the GOP losing a seat.
He might be dead wrong.
Currently, Ossoff is polling 41.1 percent of the vote. His nearest rival, Karen Handel, a confirmed Trumpite long involved in Georgia politics, is at 19.4 percent.
Ossoff, 30, is a native of the 6th District and a graduate of both Georgetown University and the London School of Economics. As a high school student he interned for Rep. John Lewis and later served as an aide to Rep. Hank Johnson. Both are leaders of the Congressional Black Caucus.
He is now the head of a documentary film production company that has won several awards for exposing political corruption in various countries. To learn more about Ossoff, go to previous People's World story here.
He told the New York Times, "I'm not campaigning across the district talking about Donald Trump at every event. There are many in this district who are concerned that the president may embarrass us on the world stage, that he may be incompetent and that he's dishonest.
"I share those concerns, but by [my] running a positive campaign focused on core American values, the contrast is obvious."
As soon as he got in the race, voters across the district flocked into his campaign. Local groups like Needles in a Haystack and the Liberal Moms of Roswell and Cobb became almost overwhelmed by new activists and had to find larger venues for their meetings.
What's more, people from across the nation sent Ossoff small contributions totaling some $3 million. And, although there are other Democrats running, the Democratic National Committee is backing Ossoff, the most progressive of the group.
The GOP is obviously running scared.
Instead of backing any one Republican candidate in the race – there are 11 – the Republicans are taking aim at Ossoff.
According to the Huffington Post, "The Congressional Leadership Fund, a GOP super PAC is funding Islamophobic ads … against Ossoff.  In one, the super PAC used old footage of the 30-year-old candidate dressed as Han Solo for Halloween when he was in college.
"Another says Ossoff has a "radical agenda" and flashes images of anarchists smashing windows."
The most absurd GOP ads, Huffington says, "claim Ossoff is connected to the late terrorist mastermind Osama bin Laden because his company sold documentary films it produced to the Qatari-funded television network Al Jazeera."
Because of laws protecting big money political donors, these ads are funded by "dark money" whose source remains a mystery.
Huffington explains, "The nonprofit American Action Network contributed $3.6 million to Congressional Leadership Fund. But because American Action Network does not disclose donors, the source of the money isn't publicly known.
As alt-factual as they are, these ads might help defeat Ossoff in the end.
Although he is way ahead now, Ossoff has a long way to go to win, He will compete Tuesday in a so-called "jungle primary" against 11 Republicans and 5 Democrats.  The top two vote-getters will then have a run-off June 20.
Assuming that the run-off is between Ossoff and Handel, a Fox News poll shows that Ossoff would win by one or two percentage points.
However, even if he loses by a hair, the results will show that the nation is swiftly moving away from anybody associated with the Trump regime.
There are many indications of this. Last week, the Republican running in a special elections for Congress in Kansas won by seven points a district that Trump carried by 27.
And a recent Gallup poll shows that 55 percent of Americans now disapprove of the job Trump is doing in the White House.
That's the lowest negative rating any president has ever received during his first few months in office.