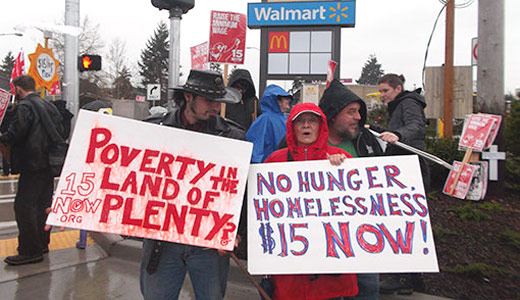 WASHINGTON (PAI)–Progressive Mayors Marty Walsh of Boston, a former area Building Trades Council President, and Bill de Blasio of New York are leading a new nationwide mayoral task force campaigning for Congress to raise the federal minimum wage to $10.10 hourly, the U.S. Conference of Mayors said on Oct. 10.
Their first move was assembling the 35-mayor "Cities of Opportunity" task force to organize the campaign. It met in New York City to brainstorm, the conference said. And 65 mayors, led by Walsh, de Blasio and Kevin Johnson of Sacramento, Calif., who heads the mayors' conference, wrote (see latter here) to top lawmakers urging Congress to raise the wage.
They also committed their cities to raise minimum wages, but said a national effort is needed.
The federal minimum wage has not risen since the second George W. Bush term. It's now $7.25 an hour – and only $2.13 an hour for workers whose tips are supposed to supplement their wages. That figure hasn't risen in more than 20 years. In response, dozens of states and cities nationwide, including New York City, have raised their own minimums.
Organized labor, whose unions sent representatives to the October 10 press conference announcing the mayors' task force, has been leading the campaign to raise the federal mini-mum wage. But congressional Republicans have blocked all wage hikes, voting the increase to $10.10 down in the GOP-run House and successfully filibustering against it in the Senate.
Democratic President Barack Obama also supports the increase. His Labor Department recently announced new rules that federal contractors must follow, starting Jan. 1, to pay the $10.10 minimum. The rules would help an estimated 200,000 workers, far fewer than would get aid under a nationwide increase.
"We need to have a real dialogue about the growing divide between the haves and have-nots, and a huge piece of the puzzle is addressing the federal minimum wage," Walsh explained at the press conference.
"If Congress is serious about creating a pathway out of poverty for Americans and securing the economic prosperity of the country, then increasing the minimum wage must be part of their solution. It will allow families to better support themselves and, at the same time, help reinvigorate local economies across the country," he added.
In their letter, the 65 mayors said "rising inequality and declining opportunity are threats to our fundamental values and to the nation's economic growth. Too many Americans, no matter how hard they work or try to find work, have stagnant or low incomes, dwindling wealth and trouble affording life's basic necessities, like housing, food, and health care."
After describing the task force and what it plans to do to address income inequality, the mayors warned that "federal support is critical to address this urgent national crisis."
"Families should not be relegated to the ranks of the poor when putting in a full week's work, and parents working full-time should not be forced to raise their children in poverty," their letter added. "Parents must work more than three full-time minimum-wage jobs to keep a family of four above the poverty line. A $10.10 minimum wage would have pushed more than half – 58 percent – of the nation's working poor out of poverty in 2011, according to a study by the Restaurant Opportunities Centers United," it added. ROC is affiliated with the AFL-CIO.
"This is particularly important in the context of our nation's economic recovery," the mayors' letter to lawmakers elaborated. "Extensive job losses in high-wage sectors are being replaced by jobs in low-wage or minimum-wage sectors. The fastest-growing U.S. employment sectors are also the sectors with the highest percentage of minimum wage workers, according to a recent IHS Global Insight report. Raising the minimum wage is especially critical for women and minorities, who are more likely to be minimum-wage earners."
Besides de Blasio, Walsh and Johnson, other signers included Mayors Francis Slay of St. Louis, Karen Freeman Wilson of Gary, Ind., Eric Garcetti of Los Angeles, Robert Garcia of Long Beach and Ed Lee of San Francisco, Charlie Hales of Portland, Ore., and Kitty Piercy of Eugene, Sylvester James of Kansas City, Mo., Javier Gonzales of Santa Fe, Carolyn Good-man of Las Vegas, Vincent Gray of Washington, D.C., and Lioneld Jordan of Fayetteville, Ark.
They also include Mayors Mitch Landrieu of New Orleans, Edward Murray of Seattle and Marilyn Strickland of Tacoma, Michael Nutter of Philadelphia, Annise Parker of Houston and Mike Rawlings of Dallas, William Peduto of Pittsburgh, Stephanie Rawlings-Blake of Baltimore, Kasim Reed of Atlanta, Joseph Riley, Jr. of Charleston, S.C., Paul Soglin of Madison, Wis., and Dayne Walling of Flint, Mich.
Several mayors on that list are notable for various reasons: de Blasio and Garcetti run the nation's two largest cities, New York and Los Angeles. Rahm Emanuel, the controversial mayor of the #3 city, Chicago, was not among the letter's initial signers. Seattle, with Murray's active support, just raised its minimum. Voters in a suburb between Seattle and Tacoma, Sea-Tac, which includes the area's international airport, raised its minimum wage to $15 hourly.
Landrieu of New Orleans and Riley of Charleston both come from long-time influential Democratic political families in what are now deep-red – and, in Riley's case, union-hostile – states. Walling is the only Michigan mayor on the list and Jordan's Fayetteville is headquarters for an employer of one of the nation's largest pools of minimum-wage workers, Walmart.
Photo: Tim Wheeler/PW