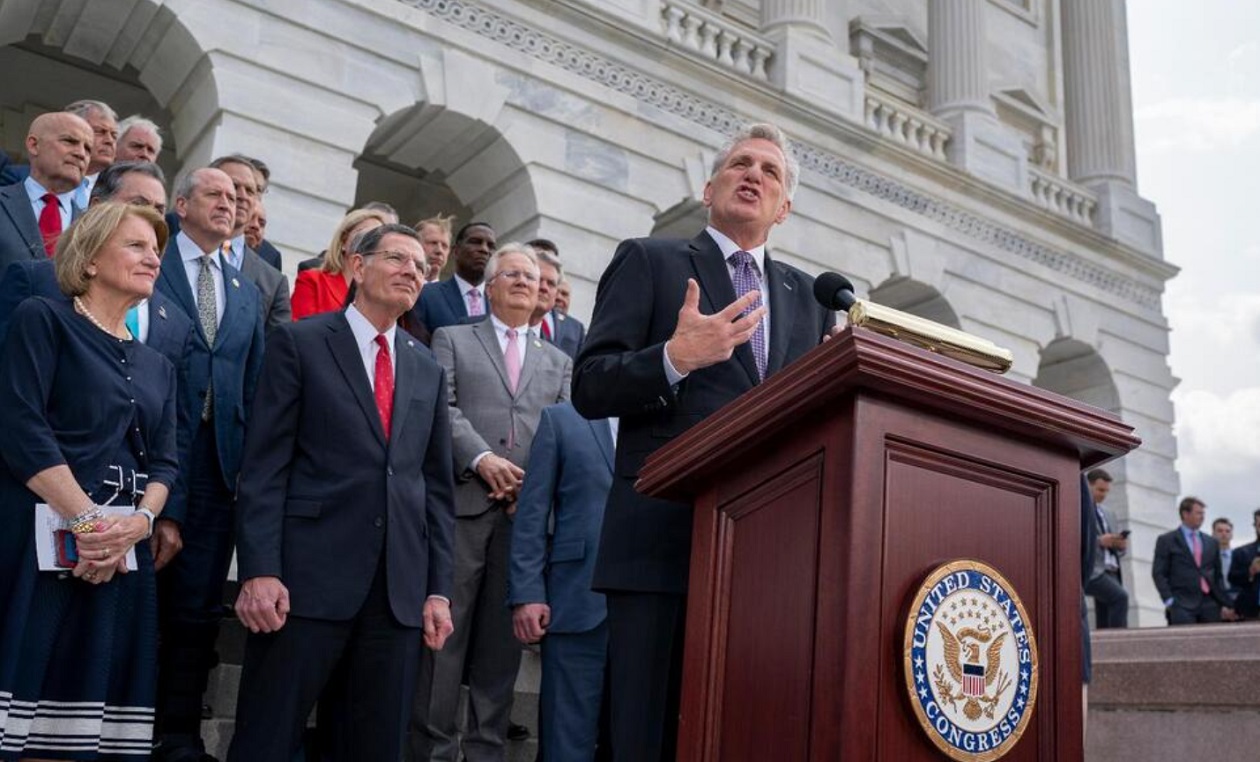 WASHINGTON—Congressional progressive Democrats are increasingly angry about Democratic President Joe Biden's apparent willingness to give in to Republican budget cuts in safety net programs as part of a deal to raise the nation's debt ceiling.
But they're also proposing alternatives to avoid that catastrophe for millions of low-income and working people who would be clobbered by what the radical Republicans really want—massive cuts or, as the radical right Freedom Caucus wants, default involving the U.S. not paying its bills.
The House Republican debt limit bill is, at its core, nothing more than an attempt to create a crisis around the issue of paying bills already incurred in order to force through a wish list of their right-wing ideas. Their proposal includes stricter work requirements for recipients of food stamps, Medicaid, and temporary Assistance for Needy Families. Before he left the country this week for a meeting of the G-7 in Japan, Biden noted that he was leaving the door open to such proposals and he reminded the press that he had voted for such requirements as a senator.
That, perhaps more than anything else, triggered waves of anger on Capitol Hill with Democratic Sen. John Fetterman of Pennsylvania, for example, saying he would never vote for a debt ceiling deal that involved such proposals. Sen. Bernie Sanders of Vermont called the idea "unacceptable and absurd," especially considering that the Biden administration "appears to have taken ending tax cuts for the rich off the table."
At first, progressives were happy about Biden's insistence that there be a clean lifting of the debt limit with no Republican cuts attached to it. Now those lawmakers and the labor movement and its allies are among the growing numbers of those concerned about what they see as an apparent shift in the stance of the Administration.
The flak directed at Biden comes as aides to the president and House Speaker Kevin McCarthy, R-Calif.—beholden to the Freedom Caucus and its rich and corporate backers—continue to bargain over the debt limit hike, facing a drop-dead deadline of June 1 to raise the debt ceiling.
The Republican price for doing so is cuts in food stamps, Medicare, Medicaid, Social Security, and "hostage taking" by imposing the stricter work requirements for safety net programs, while not touching tax cuts for the rich, Rep. Summer Lee, D-Pa., a member of "The Squad," told her colleagues on the House floor.
McCarthy calls the demand for food stamp cuts and imposing more work requirements for such programs his own "red line" in the talks. Freedom Caucus member Rep. Chip Roy, R-Texas, last week added the group's "Secure Our Borders Act," banning further migration over the U.S.-Mexico border to the Republican list.
The progressives are dead set against such schemes, Lee and Sen. Brian Schatz, D-Hawaii, said.
"No, we're not going to swallow that," Schatz told The Hill when he learned of McCarthy's further work rules for food stamps. "I think that it is preposterous the Speaker of the House has woken up sometime this week and decided that work requirements for needy families was his hill to die on, that this is some high principle that is worth taking the country to default."
"By forcing the choices of agreeing to their tactics or default, the Republicans are erasing the voices of millions of people in this country who oppose default, who oppose economic catastrophe, who oppose tearing away food stamps and health care and Medicaid and Social Security and Medicare," Lee warned her colleagues in a House floor speech.
"This is also about the billionaire CEO who is bankrolling the Republican politicians to buy themselves another shiny new yacht, another vacation home, or another fat check to those same politicians as a thank you for the favor.
"Republicans are using the threat of default to bury millions of poor and working-class Americans and we cannot and will not let them," Lee declared.
Press avoids the real issue
Rather than emphasizing the issue raised by Lee, the corporate media is portraying the whole fight as some type of negotiating game where what is at stake is who can get more of what they want in a final deal. The real issue, of course, is that the inclusion of any of the GOP demands amounts to rolling back what the Congress of the United States has already passed and what presidents have already signed into law. Any yielding on that amounts not to compromise but to an agreement to unravel the hard-earned gains of working people and their allies, gains achieved after hard fights ever since the passage of the New Deal in the 1930s. As far as the corporate media is concerned the task before the nation is simply to bridge the negotiations gap, not to save what the working class and its allies have won over the decades.
Also among the GOP demands is that unspent pandemic funds be restored to the Treasury. Once again they don't admit to the continuation of the coronavirus situation and the ongoing need to protect the health of the American people.
Progressives have an alternative to the Republican hostage taking on the debt ceiling.
With the deadline looming, they are advocating ways to navigate around the Freedom Caucus-GOP blockade which insists on accepting their cuts, or else. Eleven senators, led by Bernie Sanders, Ind.-Vt., and Tina Smith, DFL-Minn., wrote to Biden to invoke the Constitution's 14th Amendment and override the debt ceiling cap.
The amendment says, in one section, "The validity of the public debt of the United States shall not be questioned." Smith told MSNBC  invoking the amendment is one route to go, rejecting the Republicans' cuts, which would also kill Biden's—and their—program to combat climate change, too.
Sanders, in unveiling the letter, added he wants to raise taxes on the rich and corporations, an idea Biden earlier took off the table—yielding to McCarthy and his corporate capitalist backers.
"Their strategy is to cut money for food stamps and health care and kids and they won't even consider raising a penny in taxes from their billionaires," Smith said. "That is completely unacceptable.
"We don't want to take the path of invoking the 14th Amendment, but if that is the choice we'll have to take it rather than being held hostage. If the choice is between default and invoking the 14th Amendment, that would be far better than default and its catastrophic consequences."
Another possibility, admittedly a long shot, is a "discharge petition," to force a debt-limit-increase-only bill to the House floor for a vote. It needs the signatures of 218 lawmakers, a majority, and there are 213 Democrats, so they'd need five Republican defectors to join them if every Democrat signs.
House Democratic Leader Hakeem Jeffries, D-N.Y., gave the go-ahead for his caucus to round up the signatures anyway. The discharge petition drew support from the Government Employees (AFGE), the union whose members provide the services that a default would bring to a halt.
"The extraordinary step of a discharge petition is now necessary so that a responsible majority of House members–representing a majority of American citizens–can simply agree that America is a country that pays its bills," AFGE President Everett Kelley wrote to lawmakers.
"A default will have an immediate, profound, and possibly irreversible effect…Not only will the government be unable to pay salaries for current workers, but federal retirees will also miss out on their pension payments. Like other working people, our members will face an unprecedented and unnecessary economic catastrophe: skyrocketing interest rates, cratering retirement funds, and ballooning inflation.
"It is beyond irresponsible to continue to hold the threat of a default over the heads of hardworking families. While process of negotiating future budget policies unfolds, please support the discharge petition immediately," Kelley urged. "It may be the most important step you ever take in office."
We hope you appreciated this article. At 

People's World

, we believe news and information should be free and accessible to all, but we need your help. Our journalism is free of corporate influence and paywalls because we are totally reader-supported. Only you, our readers and supporters, make this possible. If you enjoy reading 

People's World

 and the stories we bring you, please 

support our work by donating or becoming a monthly sustainer today

. Thank you!