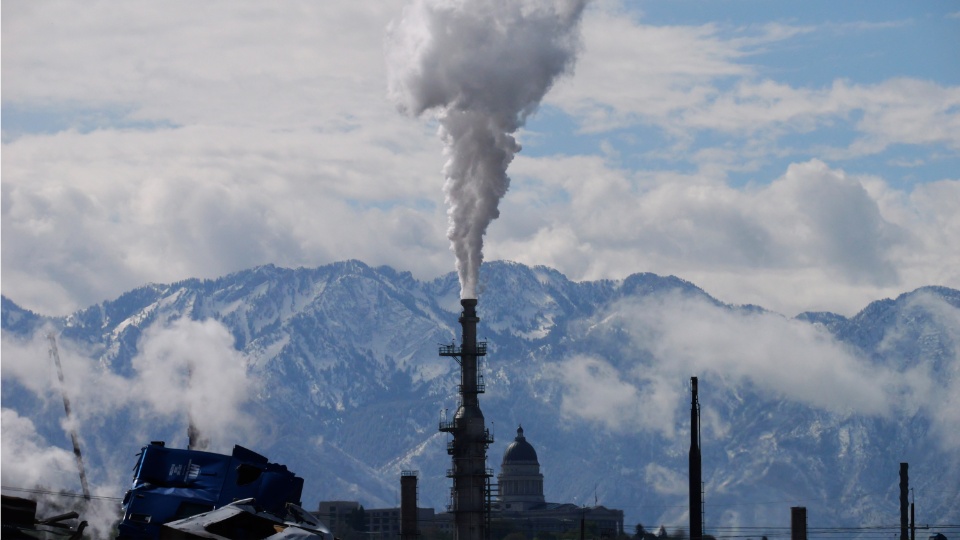 "Insane." "Terrifying." "A blueprint to destroy the planet."
These are some of the words used to describe a chilling policy agenda for MAGA Republicans authored by extreme-right think tanks and fossil fuel corporations if they win the presidency and Congressional majority in 2024. The plans eliminate and reverse the green energy transition, gut environmental protections, and hamper society's ability to deal with the rapidly growing climate crisis.
MAGA Republicans would forcibly implement the radical policy blueprint, Project 2025, in the first 180 days of the new administration. The plan is an all-out assault on democracy, the environment, the role of government, and unionized federal workers. It autocratically concentrates presidential powers and obliterates traditional constitutional checks and balances.
The Heritage Foundation and other far right-wing think tanks funded Project 2025. The plan reflects the agenda of the fossil fuel industry to radically boost fossil fuel consumption amid record global heatwaves, wildfires, droughts, flooding, mega hurricanes, and other extreme weather events.
A new GOP administration would be stocked with climate deniers, fossil fuel executives, investors, and lobbyists to carry out the plan when an all-of-government and society response is needed to address the climate crisis, create resilient communities and infrastructure, and accelerate the green transition.
"Make no mistake: this is a battle plan," End Climate Silence founding director Genevieve Guenther tweeted in response to the news. "The war being waged is against our children's future."
The Heritage Foundation, funded mainly by the Koch Brothers, releases similar blueprints before every presidential election and estimated Trump fulfilled 64% of its goals during his administration, beginning with a withdrawal from the Paris Climate Accords. Project 2025 would far surpass the environmental carnage carried out by Trump.
In addition to right-wing policymakers, the authors include former Trump administration cabinet members, agency heads, and staffers, including those who obstructed and sought to dismantle government agencies like the EPA.
"Wildfire smoke from Chicago to NYC, ocean temperatures hot enough to kill you in Florida, record low sea ice, record heat in Arizona, and the GOP is focused on repealing all climate legislation," Rep. Sean Casten, D-Ill., tweeted. "Everyone involved in this effort should be ashamed of themselves."
The plan radically weakens the role of government in environmental protection and eliminates three agencies critical to a green energy transition. Its provisions include axing the Department of Energy's (DOE) Office of Energy Efficiency and Renewable Energy and Office of Clean Energy Demonstrations; stopping electric grid expansion to incorporate solar and wind electricity generation; expanding natural gas infrastructure and use of fossil fuels; downsizing the Environmental Protection Agency and shuttering the Office of Environmental Justice and External Civil Rights, the Office of Enforcement and Compliance Assistance, and the Office of Public Engagement and Environmental Education; barring states from adopting California's stricter environmental standards for greenhouse gases; and banning the use of scientific studies including private health data in setting EPA regulations.
A provision of the plan calls for eliminating regulations against drilling on federal land, effectively gutting environmental protections under the Interior Department.
But equally as bad, Project 2025 calls for repeal of the Inflation Reduction Act (IRA) and Infrastructure and Investment Jobs Act (IIJA), two cornerstones of the Biden administration and Congressional Democrats' push for a green energy transition, environmental justice, and worker empowerment. Environmentalists and economists widely praised the legislation, encompassed in what is popularly known as "Bidenomics," for accelerating the deployment of wind and solar energy production and electrification of vehicles.
Everyone acknowledges the legislation contains flaws, needs to be revised to decarbonize the U.S. economy by 2050, and funded more on the scale of the Green New Deal. Nevertheless, the legislation is historic, the result of the narrow Democratic majorities at the time, two wavering right-of-center Democratic Senators, total obstruction by the GOP, and fierce opposition by the fossil fuel industry.
Meanwhile, House Republicans continue to try to undo the IRA, IIJA, and CHIPS Act by slipping "poison pills" into negotiations over the annual federal spending bill, including hamstringing the EPA's ability to enforce emission limits on power plants and tailpipes. GOP obstruction is once again raising the specter of a government shutdown.
"Republicans in Congress continue to show they will stop at nothing to undermine environmental protections and attack anything that would help address the climate crisis," said David Shadburn, a senior government affairs advocate at the League of Conservation Voters.
Project 2025 underscores the threat MAGA forces pose to constitutional democracy and the planet's survival. Protests like the End Fossil Fuels demo at the U.N. Climate Ambition Summit are vital. But pro-democracy, pro-climate forces must also have a laser focus on the 2024 elections and mobilizing the biggest turnout possible to re-elect President Biden and elect Democratic Congressional majorities, and more pro-climate fighters at all levels.
A resounding victory against MAGA GOP would alter the political landscape, allowing the pro-democracy, pro-climate majority to sweep Project 2025 into the trash bin, defend historic legislative victories, and create new opportunities to accelerate, deepen, and further democratize the green energy transition.
We hope you appreciated this article. At 

People's World

, we believe news and information should be free and accessible to all, but we need your help. Our journalism is free of corporate influence and paywalls because we are totally reader-supported. Only you, our readers and supporters, make this possible. If you enjoy reading 

People's World

 and the stories we bring you, please 

support our work by donating or becoming a monthly sustainer today

. Thank you!