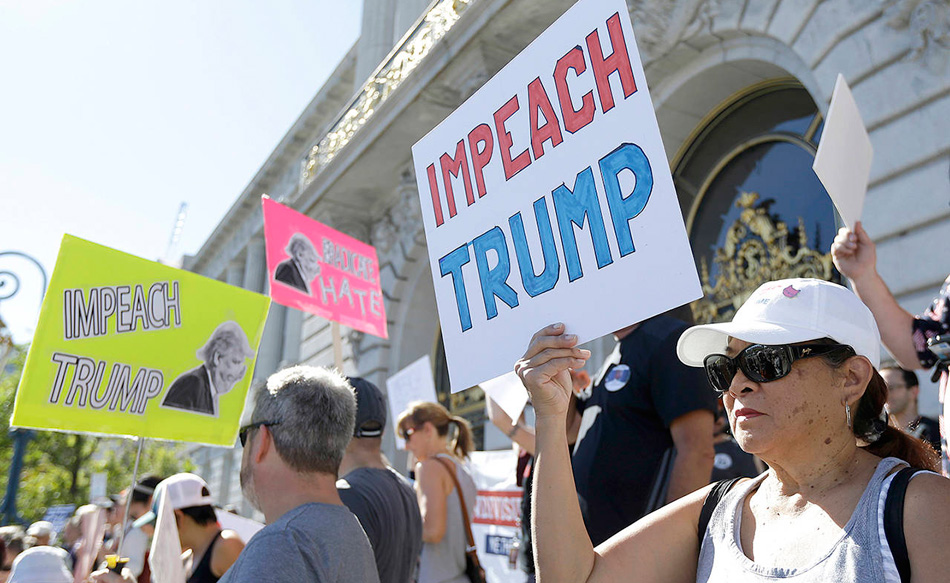 WASHINGTON—Impeaching Republican President Donald Trump for his role in campaign collusion with the Russians in 2016 "is a stretch," prosecutor-turned-U.S. Senator Sheldon Whitehouse says.
But that could change, he adds, if and when congressional committees or Special Counsel Robert Mueller find evidence against Trump, particularly if he obstructed justice by firing FBI Director James Comey after learning about top Trump aide Michael Flynn's conversations with the Russians.
Which is one big reason Trump and the right-wing propaganda machine have launched a concerted campaign to discredit Mueller, laying the groundwork for his ouster, Whitehouse added.
"You get a pattern of this administration trying to get its own way by saying the ref is tainted, even when the ref blows the whistle," Whitehouse told a Dec.13 Capitol Hill session sponsored by the American Constitution Society, a group of progressive lawyers and jurists.
"Go that way" where people believe the "taint" and Trump finds a way to fire Mueller, and we're going the way of autocracy," the Democrat from Rhode Island warned.
A former state attorney general and U.S. attorney for Rhode Island, Whitehouse also sits on the Senate Judiciary Committee and its subcommittee on privacy, technology and law. That's relevant to Mueller's probe: U.S. intelligence agencies concluded the Russian government, probably under orders from President Vladimir Putin, used the Internet to interfere with and rig the election for Trump. The question is what did Trump know and when did he know it.
Flynn, Trump's former National Security Adviser, has pleaded guilty to one count of lying to the FBI and is cooperating with Mueller on what Flynn told to whom – including Trump – and when.
Whitehouse spoke to ACS a week after the GOP-run House, by a 364-58 vote, defeated the first congressional try to impeach Trump. Even Democratic leaders Nancy Pelosi of California and Steny Hoyer of Maryland turned thumbs down on the impeachment resolution from Rep. Al Green, D-Texas.
Green based his impeachment move on Trump's encouragement of hatred and divisiveness, particularly after the neo-Nazi riot in Charlottesville, Va., in August, which killed peaceful counter-protester Heather Heyer and injured 19.
Green's move, rejected with literally no debate at all, is separate from five proposed articles of impeachment against Trump a group of five House Democrats, led by Stephen Cohen of Memphis and Luis Gutierrez of Chicago, introduced in late November.
Their measures, sent to the GOP-run House Judiciary Committee, were more centered on legal and constitutional grounds. Green noted the Constitution, which provides for impeaching a president for "high crimes and misdemeanors" leaves the term undefined.
ACS panelists speaking before Whitehouse agreed. But the senator said obstruction of justice, which he seemed to think is the most likely count on which to impeach Trump, requires two key elements. One is the actual act of obstruction itself, and the other is intent to obstruct.
If Congress found evidence of actual obstruction and the intentions behind it, "The most important thing would be to communicate it privately" to Mueller, he said. "You don't want to blow up the special counsel's investigation" of ties between Trump and the Russians prematurely, Whitehouse added.
Still, once the Senate receives the evidence, it will eventually have to make it public, in hearings, the senator predicted. "The battery of the evidence should then convince the House to launch an impeachment investigation."
But when Green tried to launch impeachment on the House floor on Dec. 6, even Democratic leaders opposed his move. His 58 votes all came from fellow Democrats, though.
Green's impeachment resolution opened with one long summary: "In his capacity as President of the United States, unmindful of the high duties of his high office and the dignity and proprieties thereof, and of the harmony and courtesies necessary for stability within the society of the United States, Donald John Trump has with his statements done more than insult individuals and groups of Americans, he has harmed the society of the United States, brought shame and dishonor to the office of President of the United States, sowing discord among the people of the United States by associating the majesty and dignity of the presidency with causes rooted in white supremacy, bigotry, racism, anti-Semitism, white nationalism, or neo-Nazism on one or more of the following occasions."
His resolution then listed a whole string of Trump rants, insults, tweets and incidents, including, but not limited to, saying the Charlottesville neo-Nazis included "some nice people." Others included the Muslim ban and his declaration for firing NFL players for protesting police shootings of unarmed African-Americans.
Pelosi and Hoyer didn't close the door on calling for impeaching Trump. They just said Congress needs to tackle more important issues – like defeating the GOP's tax cut for the rich – and that discussing impeachment is premature. Like Green, they again blasted Trump's support of racists and hate groups.
"This president has made statements and taken actions that are beyond the pale for most Americans, embracing those who espouse hatred and division while promoting policies that would harm our economy and undermine our national security," the two leaders said.
"Legitimate questions have been raised about his fitness to lead this nation.  Right now, congressional committees continue to be deeply engaged in investigations into the president's actions both before and after his inauguration. The special counsel's investigation is moving forward as well, and those inquiries should be allowed to continue.  Now is not the time to consider articles of impeachment."