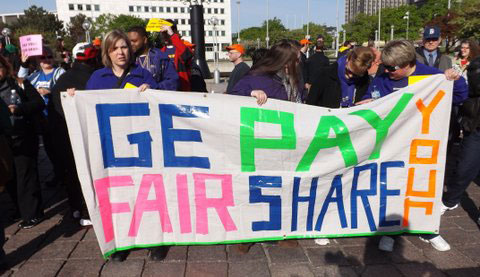 DETROIT – Chanting "GE, pay your taxes," several thousand rallied in downtown Detroit this morning, the site of the GE annual shareholders meeting.
Participants arrived in buses from around Michigan and as far away as Chicago, Ohio, and Wisconsin.
People expressed disgust at the fact that GE not only hasn't paid taxes, but got a reimbursement from the federal government. Retired teacher Nancy Grady of Troy, Mich., said GE should pay their share so workers aren't continually squeezed to try to balance the federal deficit.
Mark Mittelback came on a bus from Kalamazoo, Mich., with a contingent from Michigan Organizing Project (MOP), a faith-based social justice organization. "Social programs are being cut because there's not enough money. GE's not paying its fair share," he said.
In a "Citizens for Tax Justice" report, GE was referred to as "a long-time champion tax avoider."
Linda Ewing of the United Auto Workers said, "We're outraged that corporations aren't paying taxes while 99% are dealing with falling income and cuts."
Bay City, Mich., SEIU member Sandy Westfall is a home health care worker. She said she was there because "we always have to fight for workers' rights. It's not fair. They should pay their taxes."
With Occupy members and a broad section from many unions, the crowd was lively and disciplined. There were chants on this beautiful sunny morning next to the Detroit River, as the marchers converged on the Marriott Hotel, where the meeting was taking place: "How do we fix the deficit? Tax, tax, tax the rich!"
Peace activists note that GE is a major defense contractor as well, and needs to put more investment in renewable energy.
Photo: Jackie Dick/PW