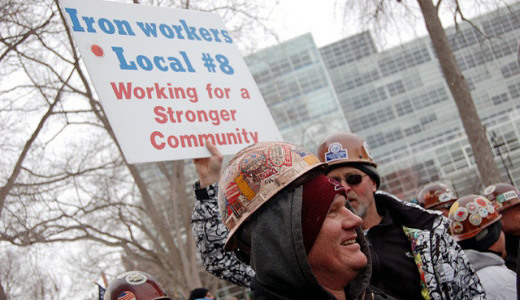 MADISON, Wis. – In a victory for the labor movement and its allies, demonstrators slept overnight in the Capitol building here and continued to rally inside the building today, almost 24 hours after Republican Gov. Scott Walker and GOP legislators ordered police to clear them out.
Police, who politely requested demonstrators to leave for the night, made no arrests. As they had promised at several rallies, off-duty police were among those defying the governor's order and sitting in for the night.
By 8 a.m. Monday, newly-arrived demonstrators were joining those inside the Capitol as others marched outside.
"We are here and we will remain here until the governor stops his attacks on the middle class," said Stephanie Bloomingdale, secretary-treasurer of the Wisconsin state AFL-CIO. She was one of hundreds of ralliers who remained inside the Capitol Sunday night after the 4 p.m. Republican deadline.
Luke Bassuener, an art teacher at Chavez and Crestwood elementary schools, said he has slept in at the Capitol for nine nights. "It's not a big sacrifice," he said. "I live nearby and wouldn't be able to sleep anyway, knowing I had a chance to stop this attack on democracy and then didn't take that chance."
The largest demonstration of the 13-day protest occurred on Saturday, Feb. 26, as some 125,000 union members and their supporters converged on Madison to insist that the governor stop his attack on union organizing rights.
Traffic could not move for hours along State Street as thousands of Wisconsinites from all over the state made their way along the street toward the Capitol. The huge rally filled the entire Capitol Square and streets leading into it for several blocks.
At the Capitol, thousands in the rotunda opened a path for hundreds of autoworkers who came to show their support. "What's disgusting?" the parading autoworkers yelled. "Union busting!" thousands in the rotunda, among them many who were not in unions, answered.
"I'm here supporting the public workers because we're all union and we're sticking together," said Melvin Wesheimer, 58, a member of Local 94, UAW.
"An Injury to One is an Injury to All," read a 25-foot-deep AFL-CIO banner draped over a rotunda balcony.
Neil Robinson, an airline pilot for 27 years, stood in a Capitol hallway with a banner proclaiming his union's support for Wisconsin workers.
Wendy Duelling, 30, a Milwaukee school teacher, was in the crowd outside the Capitol. "If we are not advocating for safe and small classrooms, the kids lose. Our collective bargaining contract is the tool we need to be able to do this."
One of the most popular chants among the 125,000 gathered here was: "What does democracy look like? This is what democracy looks like."
The same chant was heard this weekend at rallies from New Hampshire to Hawaii in places like Nashville, San Diego and Charlottesville, W.V.
As the solidarity actions took place 10,000 rallied at the Indiana Statehouse in Indianapolis against that state's list of anti-union bills that are also designed to weaken collective bargaining rights..
Taking a lead from their colleagues in Wisconsin, Indiana's House Democratic Caucus walked out of the Statehouse and says it will not return until the anti-union agenda is withdrawn. Workers camped out at the main entrance to the Statehouse all weekend.
More than 3,000 demonstrated in Trenton, N.J., and 3,500 in Olympia, Wash.
Chanting "This is what Democracy looks like," 1,000 – many wearing Wisconsin's red and black colors – demonstrated at DuPont Circle in Washington, D.C.
"Maryland to Wisconsin, we are one!" hundreds chanted outside Maryland's state Capitol in Annapolis.
They marched too at the New York state Capitol in Albany and at City Hall in New York City.
Photo: Ironworkers joined Wisconsin students, teachers, police, firefighters and others in a massive march of 125,000 in support of workers' rights. (Blake Deppe/PW)