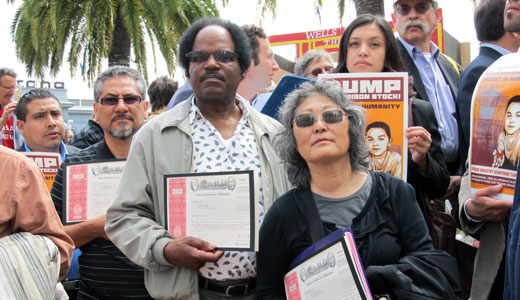 SAN FRANCISCO – Over a thousand protesters from community, faith, housing, immigrant rights and environmental organizations, unions, and Bay Area Occupy movements thronged the streets around the site of the Wells Fargo shareholders meeting here April 24, demanding the bank work with homeowners to make mortgages affordable, pay its fair share of taxes, and stop investing in the for-profit prison system.
Though they didn't shut the meeting down, their shouts and chants wafted all the way up to the 15th floor meeting room.
Outside, protesters blocked the building's main entrances, with several chaining themselves together to make it hard for police to separate them.
In the crowd were a number of union, faith and community protesters who had bought shares of Wells Fargo stock – some even having arranged to vote by proxy for other stockholders – so they could participate in the meeting. Most were refused entry, while Wells Fargo ushered other shareholders in through a side door, and reportedly also filled the room with its employees.
Some demonstrators did get into the meeting, and several briefly disrupted the proceedings before being escorted out. Altogether, about two dozen people were arrested during the nonviolent action, and were cited and released.
As participants gathered before marching to the meeting site, Wallace Hill, retired from teaching in San Francisco schools, told the sad story of his involvement with Wells Fargo. Hill said that after he took out a loan to fix up the four-unit building in Oakland he'd owned and lived in for 18 years, his loan ballooned from $300,000 to nearly $1 million. When Wells Fargo wouldn't work out a modification, he filed for bankruptcy.
Hill, who is active with Causa Justa/Just Cause, said he and his tenants continue to live in the now bank-owned building, and are trying, together, to buy it back.
"We need a moratorium on foreclosures, to keep people in their homes," Hill said. "Banks need to work with people, go out to meet with people in their homes, and do their work on the scene."
Tanya Dennis, a leader in the Alliance of Californians for Community Empowerment (ACCE), said she and her organization were participating in the action "because with all the crimes the banks have committed, no banker has yet been convicted. If we don't stand up for ourselves, who will stand up for us?"
Dennis lived in her home for 23 years before Wells Fargo foreclosed on it. After she was evicted, she later broke back into the home. With plenty of determination, with support from ACCE and from several area elected officials, she finally won a modification of her loan.
Now, Dennis is dedicated to helping other foreclosure victims – including, she said, her 91-year-old mother.
The San Francisco action was part of a nationwide plan put forward by the broad new labor-community-environmental coalition, 99% Power. On the coalition's agenda through early June are a dozen protests around the country targeting the likes of General Electric, Bank of America, Chevron, Target and WalMart.
Wells Fargo is the country's largest mortgage lender and largest mortgage servicer, and leads in foreclosures. It is the second largest U.S. bank in deposits, and the largest in terms of branches. It is also heavily involved in the predatory "pay day loan" business, and according to Just Cause, "has dodged more taxes than any other company since the financial crisis began in 2008."
The financial giant has been the focus of a number of protests, including a recent study by the National Fair Housing Alliance, which found the bank is discriminating against people of color in the way it maintains foreclosed properties it owns.
Photo: Protesters hold stock certificates. Marilyn Bechtel/PW