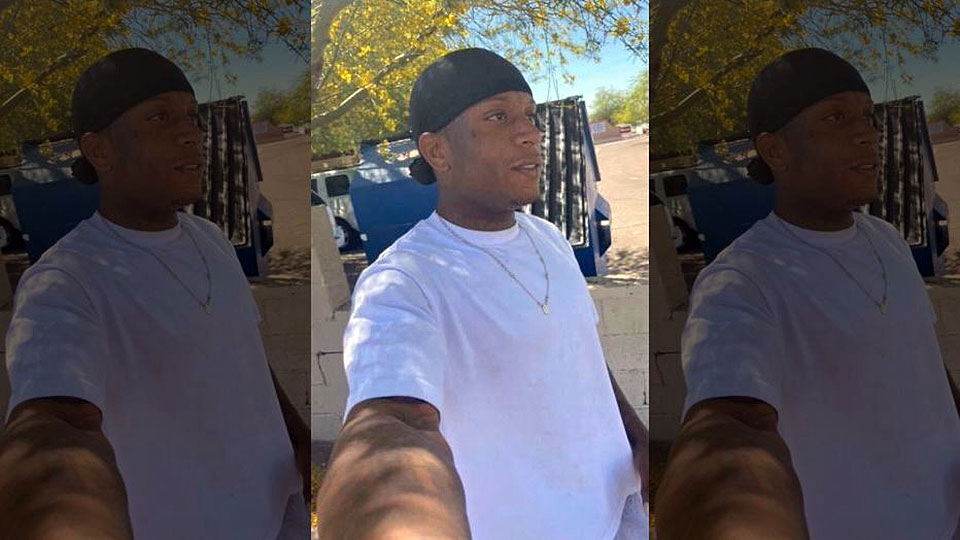 PHOENIX, Ariz.—People in Phoenix are angry. The situation here may seem identical to the rest of the nation: spontaneous protest and civil unrest in response to the murder of George Floyd. And Arizona officials and local Phoenix leaders have pushed the idea that an amorphous, subversive criminal element of rioters and looters is descending on Phoenix, using the Floyd protests as a cover. But they're ignoring a very real local reason for protesters' anger: the killing of a Black man found asleep in his car by a police officer in North Phoenix on the same night George Floyd was killed.
On May 25, 2020, in the early morning hours, Dion Johnson's life was tragically ended at the hands of a Department of Public Safety (state police) officer. Phoenix Police are currently heading the investigation, but as the officer standing accused of murder wasn't equipped with a body cam, it is his word against a dead man's. The officer says Johnson was unconscious in the vehicle when he arrived on scene. A gun was taken by the officer from the car, but when Johnson woke up, the officer says an altercation started. He claims he shot Johnson because he feared being pushed into oncoming traffic.
Johnson's family has a few very basic demands following this tragedy, and they worked closely with organizers at Black Lives Matter Phoenix Metro to secure those demands. They wanted the officer's name, they wanted Dion's belongings, and they wanted some semblance of accountability for the man that murdered him. After nine days of concerted pressure, traffic camera footage was released, showing six minutes of Dion writhing in pain with an officer standing over him. This case is not going away.
Thousands of valley residents attended a candlelight vigil for Mr. Dion on Friday, May 29, and they've kept his name in the forefront in all the demonstrations in the days since. Black Lives Matter Phoenix Metro worked closely with Dion's family to plan and execute an event at Eastlake Park in Downtown Phoenix, in which space was held for any member of the family that wished to express their thoughts and feelings to the respectful crowd of supporters. Broadcast live online, the event featured Dion's 11-year-old cousin articulate the experience of losing a loved one to unnecessary police violence to a crowd of over 1,000 strangers. No child should have to be thrown into this fight.
Dion's family insisted that they did not want any violence at the event, and organizers were careful to respect those wishes. After the vigil ended, an impromptu march led protesters toward Phoenix Police HQ downtown. The rally remained peaceful for over two hours, before police suddenly, and seemingly without provocation, designated it "unlawful assembly." Tear gas, pepper bullets, flashbangs, and more were fired at the crowd indiscriminately. In the ensuing chaos, a few windows were broken and dozens of arrests made.
The next night, Scottsdale's Fashion Square mall was looted and vandalized, miles away from any Black-led demonstration. This caused Republican Ariz. Gov. Doug Ducey to immediately enact a weeklong 8 p.m. curfew, to be enforced with a $2,500 fine and a six-month jail sentence.
The draconian response ignored the reality of the situation, and Phoenix Police continue to evade the kind of shame a national spotlight will bring. As the more gruesome details of the incident begin to emerge, that spotlight is going to become harder and harder to avoid. It shouldn't take a video; it shouldn't take the shame of a million eyes on something to garner a response from local authorities.
As pressure mounts around the world, Phoenix City Council sought to approve a $25 million increase to the police department's budget. The chamber's walls are thick, but they can't drown out the chorus outside. Phoenix wants a change. Local groups have fought a long battle for the implementation of a Civilian Review Board and a new Office of Accountability and Transparency, but the council now refuses to allocate sufficient funds, crying poverty.
With an opportunity to take the lead nationally on a critical issue at a critical time, our elected leaders are determined to keep their heads in the sand.