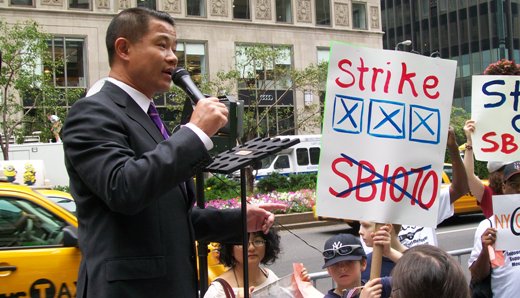 NEW YORK-What do you do when the most American of pastimes intersects with the most un-American of laws?
Protestors gathered outside of Major League Baseball's Park Avenue headquarters here, July 8, for a mid-day rally organized by a wide array of labor, immigrants' rights organizations, as well as religious groups and others, to demand that baseball commissioner Bud Selig move the 2011 All Star Game out of Arizona in protest of the state's notorious immigration laws.
"Baseball is the sport that we exported to the world, and it's a great success, especially in Latin America," Rep. Jose Serrano, D-N.Y., told the World. "For baseball to accept playing a game, especially a game as important as the All Star Game, which is as important as the World Series, in a state that has clearly set out to discriminate against Latinos is totally improper, and they should make a statement by not having the game played there."
The New York City Immigration Coalition points out that many MLB players, if in Arizona, could be affected by the law: 27 percent of major league players are Latino, and 28 percent are foreign-born. Under Arizona law, any one of these players could be unjustly targeted by Arizona law enforcement officials.
"Baseball, is as American as mom and apple pie," City Comptroller John Liu, said. "And yet what has happened in Arizona is completely un-American. It's not only anti-immigrant, it's un-American, the fact that they are going to force police to racially profile. We hope that the Justice Department prevails in their efforts to stop Arizona from acting their laws."
Liu was referring to the lawsuit, announced earlier this week by Attorney General Eric Holder, filed by the Department of Justice seeking to overturn Arizona's law. The justice department has argued that the state of Arizona has crossed a boundary by interfering in federal matters.
The fight to move the All Star game is part of a larger strategy of pressuring and boycotting the state of Arizona until the law is declared unconstitutional or repealed. This approach has been taken up by much of the labor and immigrants' rights movement, and, as evidence by John Liu's presence, progressive sections of the city's political leadership.
The City Council "very strongly supports the calls against the Arizona law and in support of getting any sort of boycott," City Council member Melissa Mark Viveritio, D-Manhattan, told the World. "We've taken a very pro-active stance and will continue to do so."
Some sections of the baseball establishment, as well as those in support of the Arizona law, have accused the immigrants' rights movement of trying to "politicize" baseball. But Serrano dismissed such notions, saying that baseball is often politicized.
"The greatest decision ever was to bring Jackie Robinson into baseball," Serrano said. "You don't think that they had to talk to politicians and to labor and to the Brooklyn police to come out and help him on April 15, 1947.
"And when Roberto Clemente spoke against the injustice against Latino players, don't you think that some people thought that was politics? Is it politics when you see a wrong and you try to right it?"
Many see the attack on immigrants as both opportunistic on the part of Republican politicians and also, more basically, a means of dividing working people overall. Speakers at the rally argued that fighting divisions was the way forward.
"We're trying to be good Americans, whether you're African American, Chinese American or whatever," Rep. Charles Rangel, D-.N.Y., told the World.
In reference to a racially divisive sign held by one of the six counter-demonstrators, Rangel added, "They shouldn't do that."
"This is a wedge issue," Hector Figueroa, secretary-treasurer of the 120,000-member union local SEIU 32BJ, said.
"Conservatives and Republicans are using this issue to divide working people and we should not allow that to happen. The real enemies are employers who abuse undocumented and all workers, and those elected officials who try to use this issue to remain in office instead of talking about the real issues. The real issues are the lack of jobs, the unequal distribution of wealth and the lack of collective bargaining power."
Photo: NYC Comptroller John Liu speaks outside Major League Baseball HQ calling on commissioner Bud Selig to move the 2010 All Stars Game out of Arizona. (Dan Margolis/PW)