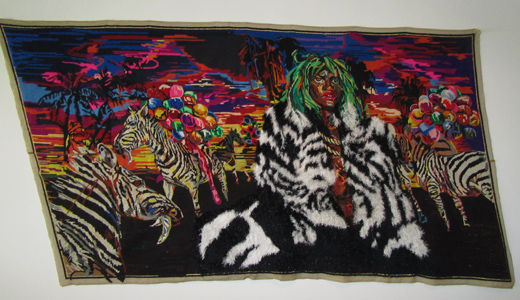 San Francisco — Picture South Africa! Majestic elephants, giraffes, lions, and leaping impalas on safari! Colorful dances! Sparkling sand beaches, and the lush, fertile green of the genteel wine country. International tourists relaxing poolside at spotless resorts.
Maybe that's not your image. Maybe you think of reverent portraits of the liberator Nelson Mandela, posters of fists raised in freedom salutes, massed choruses singing the rich rainbow harmonies of the New Afrika.
The 25 artists and collectives represented in Public Intimacy: Art and Other Ordinary Acts in South Africa, on view only through June 29th at the Yerba Buena Center for the Arts in Downtown San Francisco, have a pointedly different outlook. Their focus is on "close views, small actions or gestures that occur in public," serving to redefine how people move and interact in a society that badly needed some re-ordering of priorities. This is no rose-tinted propaganda for anyone or anything except the ecstatic celebration of freedom's voice.
Public Intimacy is not outwardly political, but it raises questions about the legacy not only of apartheid but of the freedom struggle itself. Today's generation has left behind the sacrosanct image of Nelson Mandela and his allies, the latter — some of them — looking a little tarnished amidst the opportunities that have opened up to them. In one image of a mock McDonald's with the famous double arch, the eatery is named "Mandela's," where "the revolution will be merchandized." In another image, a rear view mirror draped in the colors of the South African flag, the motto reads: "Past performance is no guarantee of future results." No illusions, no myths, are sacrosanct within these artists' field of vision. If failures and realities are out there for the eye to see, they will be documented by every contemporary medium.
Photography and video are dominant here, but also sculpture, installation, beadwork, painting, drawing, tapestry, comics, zines, and intermittent editions from the Chimurenga collective publishing enterprise. What is the role of media? When is it appropriate to voice criticism, and when to temper or withhold it? In such a fast-moving society, Public Intimacy poses the question, What does it actually mean to be a full citizen of South Africa?
Significantly, the exhibition casts an eye back to some seminal photographers who during the apartheid era dared to click their cameras around the corners and below the surfaces of racial separation. Such artists as Ernest Cole, Billy Monk, and David Goldblatt created a transgressive documentation of the underground intercultural and interracial relations that managed to find expression below the radar of the security state. In Ian Berry's 1959 photo spread for Drum magazine, we see images of Cape Town's down-low drag balls populated by insouciant, defiant, courageous cross-dressers and their suitors. Berry, incidentally, was the only photographer at the 1960 Sharpeville Massacre.
We see a powerful urge to document lesbian life in South Africa, especially in the wake of horrifying, and sometimes publicized "curative" rapes and honor killings that tragically belie the nation's advanced thinking as reflected in its new Constitution.
Santu Mofokeng quietly and devastatingly photographs the contours of an earth subjected to abuse by mining, by the encroachment of industry, the new wastelands of climate change and pollution.
Xenophobia is one of South Africa's big problems, the often violent responses to working people from elsewhere in the continent who go there to seek their fortune. Several art works address this. Others depict women's and men's hostels, sad, impersonal compounds of same-sex communities of industrial laborers, where nonetheless life exerts itself, friendships form, new stories are told.
Despite the everyday unnecessary tragedies, there reigns here a spirit of wanting to emphasize positive life, intimacy among friends and lovers, the joy of freedom.
Be advised: This installation is massive. You'll want to devote a minimum two hours to exploring its mesmerizing byways, escaping into the inner soul of a nation being exuberantly reborn. Be sure to check out the videos: one about Zanele Muholi's photography documentation project, another featuring magnificent charcoal drawings by William Kentridge called Tide Table, and a project with the Handspring Puppet Company (which created the 2007 War Horse stage production) called Or You Could Kiss Me, whose original puppets are also on display here.
Yerba Buena Center for the Arts, 701 Mission St., San Francisco. For more info: www.ybca.org, or call 415.978-ARTS.
Photo: Tapestry by Athi-Patra Ruga, a Utopian vision of the New South Africa.