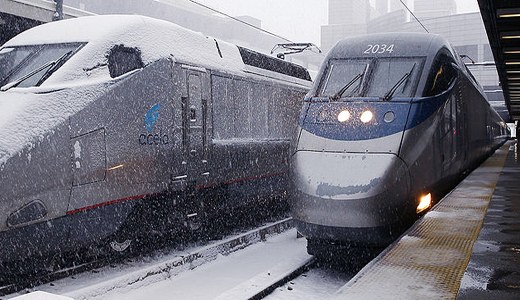 President Obama announced recently that $8 billion in Recovery Act grants are going to the development of America's first nationwide high-speed intercity rail service program.
The grants will, according to the White House, lead to the development of groundwork for 13 new high-speed rail corridors across the U.S. According to Policy Innovations, these corridors are part of a total of 31 states receiving investments, which include smaller projects and plans that are all intended to culminate in providing exemplary rail service in the country's future.
Democrats met with train and environmental advocates April 28 to release a report on the Midwest rail project. The project, officially known as the Midwest Regional Rail System, is a multi-agency effort that involves nine Midwest states and the Federal Railroad Administration. It plans to use 3,000 miles of existing rail to connect rural and urban areas, introduce more modern, high-speed trains and provide multi-modal connections to improve system access. The largest goal of the initiative is to lessen travel times for riders, as well as increase the frequencies of train arrivals and departures.
Rep. Brett Hulsey, D-Wis., told the Badger Herald, "By creating this Midwest high-speed train system, we can create over 103,000 jobs and also add $13.8 billion in economic activity."
Overall, says the White House, the Recovery Act grants will not only confirm Hulsey's statement by providing a positive economic impact, but will also help lay the groundwork for nationwide infrastructure expansion, and provide faster and more energy-efficient means of travel. This would establish a new industry in the U.S. – one that does not prey on the environment in order to make a profit.
It is projected that the $8 billion federal investment will create and save tens of thousands of jobs, particularly in fields like track-laying, manufacturing, planning and engineering, and rail maintenance. In addition to new track building and renovation of existing rail infrastructure, the money covers planning costs and the purchase of necessary equipment.
Meanwhile, in the UK, there is a bit of a reverse situation going on, and, for Americans, a cautionary tale: In a story at rail.co, Bob Crow, the general secretary of the National Union of Rail, Maritime and Transport Workers in Britain, said, "Rail services are 30 percent more expensive in the UK as against comparable European operations for one simple reason – privatization."
Noting the economic harm, as well as harm to workers, that could arise from this, Crow continued, "The greed, exploitation and restrictive practices of the train operators have led us to this situation and we will fight any attempt to shift the blame onto hardworking staff trying to provide quality services against a backdrop of increasing demand and front-line cuts." He added, "Rail privateers and their shareholders have bled billions of pounds out of the industry while taxpayers now pay over three times more in rail subsidies than under public ownership."
This can give Americans an idea of what they could expect if the U.S. were still at the mercy of the Bush administration, or if Wisconsin Gov. Scott Walker's anti-train stance gained popularity.
In the area of efficient and economically beneficial transportation, the U.S. is only just catching up. According to a post at Yale Environment 360, many other countries are ahead of the U.S.
Andy Kunz, who heads the U.S. High Speed Rail Association, notes that China's high-speed trains carry passengers at over 200 miles per hour between some of the largest cities in the country, and they are already committed to investing $360 billion to vastly expand this high-speed rail network. And, he says, "though Spain is in the midst of current economic woes, it is investing $170 billion to extend its acclaimed high-speed rail system." Countries like India and Brazil are now taking steps to build high-speed rail networks of their own, he says.
Here in the U.S., on the other hand, Kunz notes, the tea party movement has proudly declared opposition to high-speed rail projects. Luckily, he says, the Obama administration is moving forward regardless.
According to an article on Smartplanet.com, over 30 rail manufacturers, both domestic and foreign, have agreed to establish and expand their base of operations in the U.S. if they are hired to build the high-speed rail lines of the next generation. Both unions and environmental groups see it as a step that would help take the country out of what appears to be a dark chasm of joblessness and reliance on fossil fuels.
Photo: A pair of Acela trains in Boston's South Station. This is currently the only line for high-speed rail in the U.S, though this won't be the case for much longer. Wikipedia // CC 2.0