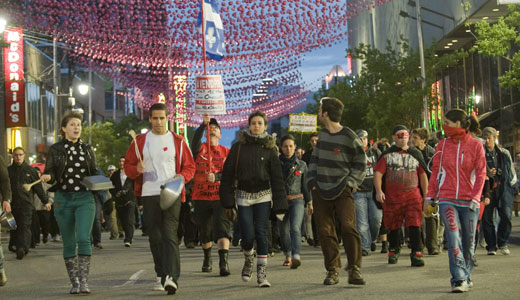 VANCOUVER, Canada – The latest round of negotiations between students and the Jean Charest government in Quebec to resolve a 16 week strike ended in failure June 1 as the provincial government refused to withdraw proposed tuition fee increases.
In a four-day round of negotiations, Charest and his negotiators offered to extend the tuition fee increase over seven years instead of five, improve loans and bursaries and reduce the increase by $1 from the proposed $1,625 increase.
Charest contends that even with the increase Quebec will still have the lowest tuition fees in the country. The provincial government says it needs to raise tuition fees to meet increasing costs.
Student leaders rejected the government offer and vowed to continue their campaign of peaceful protest, dubbed by some as the "Maple Spring," to defeat the tuition increase. In addition to the lowest tuition fees in Canada, students graduate with much smaller debt loads in comparison to the rest of Canada, and the Quebec student movement wants to keep it that way. (Story continues after video of Quebec's "casseroles.")
"The minister of Education said for political reasons she could not accept a freeze on tuition fees," said Gabriel Nadeau-Dubois, spokesperson for the Student Solidarity Coalition (CLASSE).
"The government is using the youth to make political gains," charged Martine Desjardins of the Quebec Federation of University Students. "They only wanted to sit us down for a public relations move, for a political move, not to negotiate. We certainly couldn't accept being on strike for almost 16 weeks for a $1 decrease in the amount of tuition fees the government had originally proposed."
Student movement negotiators proposed the cost of eliminating the tuition fee increase could be achieved by reducing tax credits offered to students and modifying or eliminating the province's Registered Education Saving Plan, which mainly benefits wealthy families.
Charest also alleges that CLASSE spokesperson Gabriel Nadeau-Dubois threatened to disrupt the upcoming Formula 1 Grand Prix in Montreal if the government does not cancel the tuition increase.
"These people are threatening Quebeckers," said the provincial premier. "The government does not yield to threats."
However, Dubois denied Charest's allegation and said his group will not prevent people from seeing the Grand Prix car race.
The organizers of the Formula Grand Prix, set to begin next weekend in Montreal, have announced that they will be canceling a popular open house it holds for the yearly car race, which often draws 25,000 people as a result of security concerns from the student strike. Student leaders accused race organizers of exaggerating security concerns and said they just want their protests to be visible.
"There is nothing to worry about," said Dubois.
Despite Bill 78, designed to curb student demonstrations, and police attacks with tear gas, pepper spray, clubs, and rubber bullets, students – supported by the labor movement and left-wing parties – continue to organize daily and nightly marches across the province.
Students have made it clear their campaign is part of broader struggle against right-wing austerity measures, and for a better society with accessible and free education. Ordinary citizens continue pouring into the streets in the early evenings banging pots and pans to support students and protest against right wing austerity measures. Two hundred thousand students are taking part in the student strike across the predominantly French- speaking province of 7.9 million people.
Meanwhile, Amnesty International, which is circulating a petition against police violence in the province against peaceful student protests, says Bill 78 breaches Canada's human rights obligations and called on Quebec's legislature to rescind it. United Nations special investigators expressed concern about the law and "urged federal and provincial governments to full respect the rights to freedom of assembly, expression and association of students."
Bill 78 requires students to notify police eight hours in advance of demonstrations, including duration and route, for actions larger than 50 people; forbids anyone from, directly or indirectly, delaying or impeding access to classes; makes student bodies responsible for preventing students from protesting; imposes large fines to student bodies and labor unions that organize unauthorized demonstrations; allows police to change the route or location of demonstrations; punishes anyone who helps or induces another person to commit an offense under Bill 78; and prevents student protests in front of post secondary institutions.
The current four-month strike is being carried out by the Quebec Federation of College students, the Quebec Federation of University Students, and the Student Solidarity Coalition. Student movement spokespersons emphasize that the movement has no leader and students make all the decisions. The movement holds assemblies across the province to democratically debate and decide on tactics and policies.
Photo: Protesters opposing Quebec student tuition hikes demonstrate in Montreal. Graham Hughes/AP & The Canadian Press