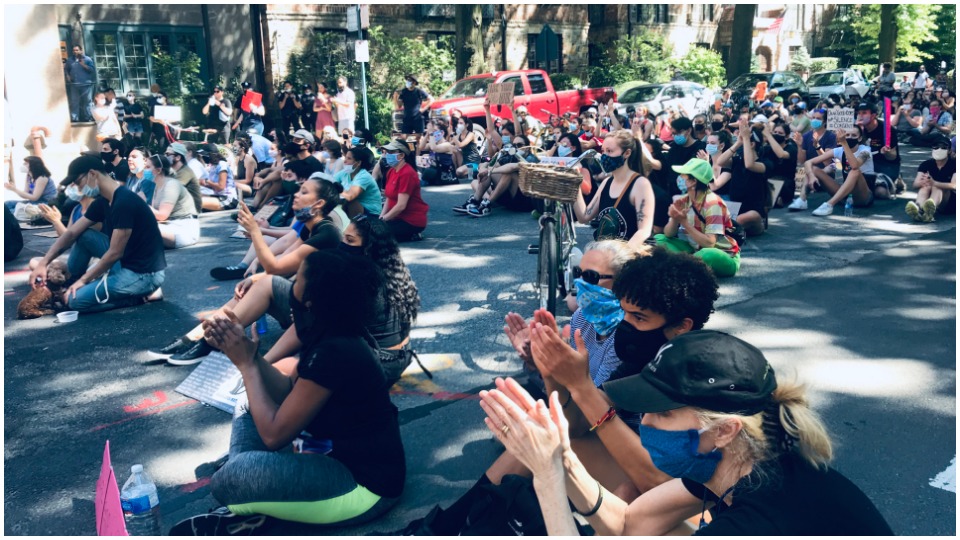 As demonstrations take place around the city, state, and country, Queens has also taken to the streets to demand an end to the racist behavior of the New York Police Department.
Queens, New York City's most ethnically diverse borough, was until recently the epicenter of the coronavirus pandemic.
Last year Queens was the focus of a hard-fought campaign for restorative justice when Tiffany Caban narrowly lost a race for Attorney General to the candidate of the Queens Democratic Machine, Melinda Katz.   So it is no surprise that since the anger over the police killing of George Floyd sparked demonstrations throughout the country, there have been actions throughout Queens.
Every day there are five or more actions all around the borough, each one locally organized and drawing hundreds.   Demonstrations have been held in the Rockaways, Richmond Hill, Long Island City, Astoria, Woodside, Ridgewood, Jamaica, Flushing, Rosedale, Corona, Jackson Heights, and Forest Hills.
There has been a demonstration every weekend and mostly every day in neighborhoods all around Queens. They have been well attended; overwhelmingly young; many people of color and white but also a wonderful mix of races.
These demonstrations are peaceful but powerfully passionate. The slogans are militant and reflect the demands of the people.
One slogan which has been a standard, "The people united with never be defeated," has been changed to "The people united with never be divided," reflecting a more unified message.
Trish from Forest Hills, an animator who is currently staying home with her newborn son said, "Enough is enough, this has been happening for centuries now. People are waking up."
Sheeba, also from Forest Hills, said, "I'm here because it has come to the point where me believing in equal rights and practicing it in my personal life is not enough, we have to actively do the right thing."
The Forest Hills demonstration was organized by recent graduates from Kew-Forest High School (Trump attended and was expelled from Kew-Forest).
Sebastian Gordon-Somers-Archer, one of the organizers said, "These protests started with me, Lexi and Saolo realizing that we needed to do something more for our neighborhood…. we started our organization called OccupyFoHi."
The crowd marched to Ascan and Metropolitan Avenue, where they knelt as the organizer's younger brother spoke, "Millions of students are in schools with cops but no counselors…cops but no nurses…cops but no psychologists.
"They may have promised to make reforms…placating us so that we will be satisfied and go back home so that they can continue manipulating us but those small victories are not enough."
The march continued down Austin Street to the 112th Precinct where the crowd again knelt while names of some of those murdered by police were read.
One demonstration at the Queens Criminal Courthouse was organized by Queens Public Defenders; Another, held in Juniper Valley Park in Middle Village—a very conservative working-class neighborhood—was organized by neighborhood mothers. A highlight of the demonstration was children showing off their homemade signs. They led a march around the park.
Another march, this time in Flushing, home of the largest Chinatown in New York, was led by Asian and Black youth.
On Friday, June 12, Gov. Cuomo signed bills repealing 50-a (a bill on police transparency); making chokeholds a criminal act, statewide and other reform bills. He then had the audacity to say, "You don't need to protest, you won. You accomplished your goal."  The Black Lives Matter movement doesn't see it that way.  Protesters are calling for cutting the NYPD budget and re-imagining public safety.