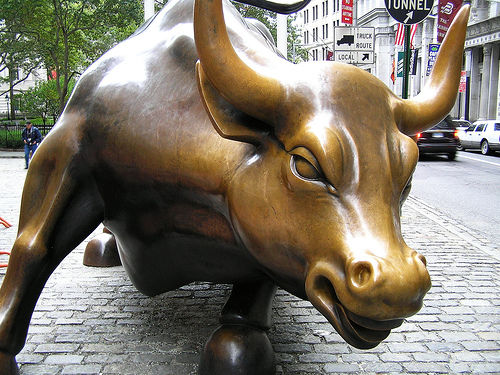 WASHINGTON (PAI)–Union allies, led by the Americans for Financial Reform, urged lawmakers to quickly approve the comprehensive Wall Street reform bill that congressional negotiators produced in late June.
The financial lobby — including derivative dealers and hedge fund traders whose activities would, for the first time, be forced into daylight and regulation — mounted a last-ditch effort to derail the measure.
Both sides focused, as usual, on the Senate, as votes of the four Republicans who backed reform before are now in doubt.
Meanwhile, Sen. Russell Feingold, D-Wis. restated his opposition to the bill as not strong enough. Sen. Maria Cantwell, D-Wash., says it lacks a specific provision she demands.
Supporting Sen. Robert Byrd, D-W. Va., died. Democrats and their allies need 60 votes to halt yet another GOP filibuster threat. They have 57 at most. The Senate showdown will be after its July 4 recess.
The legislation is designed to try to prevent a repeat of the financial crash that sent the U.S. and the world into the current Great Recession. Financiers' speculation and the subsequent disaster cost millions of people their jobs and their homes.
"This bill represents meaningful progress from the depths of our financial crisis – reforms that were unthinkable three years ago. The forces of the big banks were all aligned against Americans, yet Main Street was able to win important battles," said veteran activist Heather Booth, director of Americans for Financial Reform. She urged unionists and others interested in financial reform to actively lobby lawmakers to pass it.
"We see landmark legislation when it comes to consumer protection, offering all of us an independent watchdog on our side. For the first time, the $600 trillion derivatives market will be transparent and have to maintain capital to back up its bets — a move that was once inconceivable," she added. The legislation also increases capital requirements for all financial institutions, or has the Federal Reserve do so.
An Obama administration proposal, called the Volcker plan and also in the bill, "stops banks from using insured deposits to support speculative activity," Booth added. "And we see big steps in the right directions when it comes to hedge funds and private equity, as well as improvements for investors to have a voice," such as giving shareholders an advisory vote on "say-on-pay" and on corporate golden parachutes.
The 2008 financial crash forced Congress, prodded by what then-GOP President George W. Bush called an emergency, to rush through a widely hated $750 billion bank bailout law. The new legislation promises in writing that there will be no more bailouts, and that failing financial institutions will be wound down by a government-run orderly process — where the investors will lose their money — or sent to bankruptcy.
Photo: Wall Street bull. CC