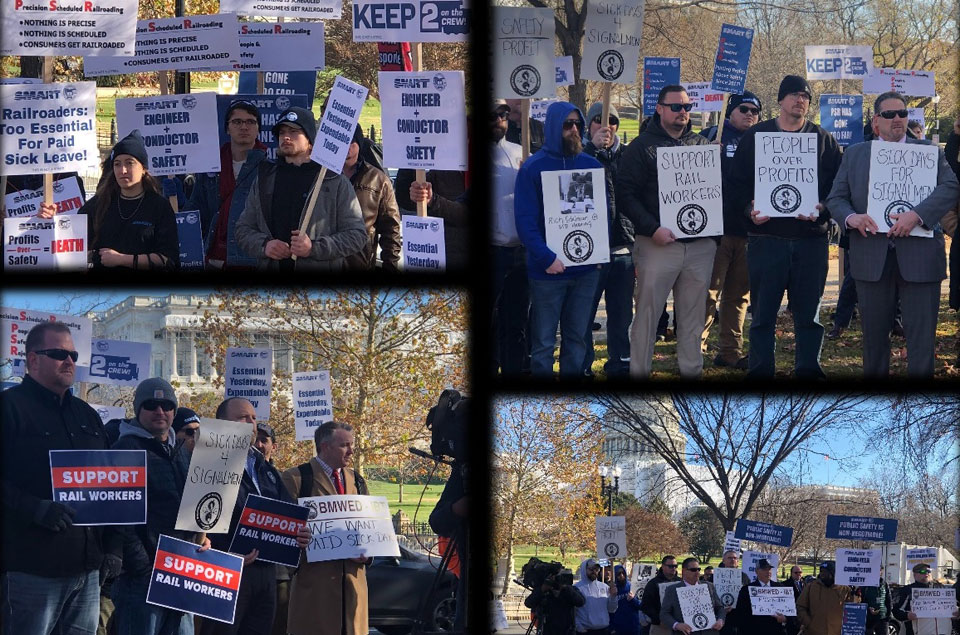 WASHINGTON—Approximately 100 rail workers and their union and congressional allies vowed at a Capitol Hill rally Dec. 13 to continue fighting for paid sick leave, and more broadly against the corporate greed that denied it to them in the contract Congress imposed on workers just days ago.
The D.C. event was one of dozens nationwide, including in Galesburg, Ill., Northern Nevada, Minneapolis and Denver, to protest the corporate greed that imposes bad working conditions on the 115,000 remaining rail workers—down 30,000 in eight years as management cut people to satisfy Wall Street's demands for profits and dividends.
That same corporate greed, enacted in rail legislation starting in 1877 and continuing in 1926 and 1946, one speaker said, also deprives workers of their ultimate weapon against such corporate capitalists: The right to strike.
"That's our single most-powerful tool to achieve justice" for all workers, not just rail workers, Rep. Rashida Tlaib, D-Mich., told the D.C. crowd. "We cannot allow corporate greed to continue to kill workers and families. No industry should have this amount of power," she declared.
Tlaib also advocated extending the right to strike, unencumbered, to all workers. Besides the rail workers, whose right to strike Congress can override, federal workers lack the right to strike, as do many if not all state and local government workers.
By law, nurses and other health care workers must give institutions a 10-day advance notice of a strike's start, allowing the bosses to hire "traveling nurses" to substitute. Often the bosses pay those "travelers" more than they pay regular unionized nurses. And in contract talks, bosses often strongarm individual private sector union locals into giving up the right to strike.
All speakers in D.C., including Sen. Bernie Sanders, Ind-Vt., Postal Workers President Mark Dimondstein, Painters President Jimmy Williams and Rep., Donald Payne, D-N.J.—who led the pro-sick days drive in the House—emphasized it was the railroad honchos who refused to bargain on sick days. Sanders particularly denounced their greed in that case.
"Does it make any sense to have an industry making $20 billion in profits" every year "that spent $6 billion in stock buybacks? And that says you get penalized if you get Covid (the coronavirus) and can't come to work, or if your wife has a baby? We have to put an end to this!"
"We're going to create an economy that works for all, not just for Warren Buffett," he said.
"Dignity and respect is what we demand. We are not going anywhere," declared Smart-TD Alternate National Legislative Director Jared Cassity. His union, one of the two largest among the nation's 13 rail unions, was split almost right down the middle over the proposed contract, before Congress passed it.
A majority of workers who voted—some small unions did not have rank-and-file balloting—had rejected the proposed pact.
But it was 43 Republican senators who blocked the House-passed paid sick days bill, which Sanders pushed. "Congress was wrong to put their finger on the scale for these billion-dollar corporations and their CEOs," said Dimondstein, referring to the contract, minus sick days, which lawmakers and Democratic President Joe Biden imposed, legally, on the workers.
Working conditions on the nation's freight railroads are so bad that workers who are "veterans can't even take Veteran's Day off!" said Bill Attig, president of the AFL-CIO's Veterans Caucus. Indeed, the only paid holiday in the imposed contract is Independence Day.
Speakers said the rail workers are leading the labor movement, and proved to the rest of the country of the need for paid sick leave for all workers. Signs often demanded "People Over Profits" or denounced other bosses' brainstorms, such as one worker, the engineer, per freight train.
Make the rich pay!
One big red bedsheet banner, held by five members of the D.C. chapter of the Young Communists League, declared: "Make the rich pay." Two D.C. co-chairs also attended the rally.
"Paid sick leave should be a right, not a negotiation," said Rep. Jesus "Chuy" Garcia, D-Ill., whose Chicago district is crisscrossed by rail tracks and includes a big  chunk of the city's sprawling yards.
Several speakers, including Rep. Andy Levin, D-Mich., a former union organizer, demanded Democratic President Joe Biden step in and use his executive powers to force the rail barons to yield seven days of paid sick and/or family leave to the 115,000 rail workers—the exact opposite of what Biden did just days before.
That's when he pushed a railroad settlement through Congress, derailing a potential forced national railroad strike  over the issue. The settlement gives workers a substantial raise for the first time in years, but did nothing about the quality of life issues that drove the workers and their unions to plan to walk.
Sick days were prime among the flash points. The railroads dock workers for being sick, or even having doctors' appointments. They also force workers to toil two or three weeks straight, and can call them back, on their days off, to work some more. If the workers refuse, they lose points. Too many negative points and the immensely profitable rail carriers can fire the workers.
Demands on Biden were mild, that he issue an executive order requiring the rail carriers to provide the seven paid sick days the workers, Sanders, Payne and other lawmakers demanded. The carriers refused to even discuss the subject. The 13 rail unions, in stonewalled bargaining, had demanded 15 days.
Biden, fearing breakdowns in the nation's shaky supply chains during the holiday season, bought the bosses' argument for banning a strike and pushed that legislation through Congress, angering rank-and-file workers from coast to coast.
They also demanded changes in other onerous working conditions, including sudden callbacks to the job on their days off after two consecutive weeks on the rails, erratic scheduling and railroads' imposition, thanks to the former Republican Trump regime, of Precision Scheduled Railroading (PSR), which is meant to speed up trains, and cuts in freight rail crews from two workers—the engineer and the conductor—to one.
The working conditions are also unsafe for consumers and communities, said Tom Cahill, a CSX Locomotive Engineer and assistant Maryland legislative director for Smart-TD.
"They're running five-mile long trains from Cumberland, Md., to Culpeper, Va.," he said in an interview during the D.C. rally. If there's an accident or delay, it cuts off all major rail traffic in the Metro D.C. area by jamming up the Long Bridge over the Potomac River and the single-track-each-way route within D.C. Cars and trucks also can't get around a stuck five-mile train, he noted—unless the conductor, whom railroads want to eliminate, can figure out detours.
"This is our fight because they're never going to stop doing this," Cahill said of railroad management. "Corporate greed and PSR have destroyed our industry."