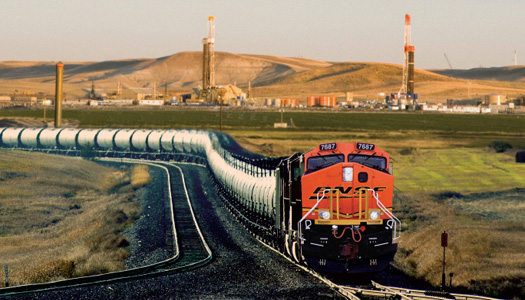 TACOMA, Wash. (PAI) – Six years ago, Curtis Rookaird, a Burlington Northern Santa Fe (BNSF) conductor, blew the whistle about unsafe airbrakes on BNSF tank cars in Blaine, Washington that were headed from Canada to Seattle.
His supervisor told him to skip airbrake safety tests. He refused. The results? Rookaird, for putting safety first, was fired. And after a multi-year struggle, he and his family lost their house, his wife has told the Occupational Safety and Health Administration (OSHA).
"My husband is a conscientious worker, and he should have been promoted, not fired," Kelly Rookaird told OSHA's committee that oversees treatment of whistleblower complaints. And BNSF, she said, should have faced much more than just a $250,000 fine.
The catch is that Curtis and Kelly Rookaird are not alone – and BNSF isn't the only railroad, or only company for that matter, that punishes whistleblowers with retaliation, putting them into economic straits and stress while inciting fear into other workers, too.
All that led Kelly Rookaird and two railroad colleagues, both BLE members, to D.C.
Data gathered by federal and private sources show 65 percent of workers surveyed witnessed company wrongdoing of various varieties, and that firms retaliated against 22 percent of all workers who stood up. Another 44 percent of workers decided not to report wrongdoing, for fear of retribution. Under federal law, such retaliation and retribution is illegal.
"A company cannot retaliate by taking 'adverse action' against workers who report injuries, safety concerns or other protected activity," OSHA, which oversees 22 whistleblower protection statutes, says on its website. But they do.
The sorry record of corporate treatment of whistleblowers brought Kelly Rookaird, retired BNSF engineer Jeff Kurtz and longtime BNSF switchman, brakeman, and engineer Michael Elliott on April 26 to tell personal stories about how U.S. companies treat workers who put safety first. Over the last eight years, two railroads, BNSF and Union Pacific, led all U.S. firms in whistleblower complaints, federal data show.
Kurtz, Elliott, and Curtis Rookaird are Brotherhood of Locomotive Engineers-Teamsters members and also members of Railway Workers United, a rank-and-file organization which has led a long fight for improved safety standards on the nation's freight railroads.
RWU first came to prominence by exposing the lack of safety around railroads' long campaigns for 1-person freight train crews, after the sole crewmember – the engineer – left his oil freight in Lac-Mégantic, Quebec, two years ago, only to see its brakes fail and the train roar into town, derail, catch fire, explode, destroy downtown Lac-Mégantic and kill 47 people.
But another part of safety is protecting workers who blow the whistle on company malpractice. That protection is one of OSHA's primary jobs, and it's hamstrung in doing it, the three told the agency's committee.
OSHA's role needs strengthening, because "even as a union officer, I'm not that well-protected," adds Kurtz, a 41-year veteran from Fort Madison, Iowa, and former Brotherhood of Locomotive Engineers Local 391 official and Iowa BLE legislative director. Union prominence, as Washington state BLE legislative director, didn't protect Elliott from retaliation, either.
One problem OSHA has, they said, is low penalties: A maximum fine of $250,000 against errant firms, and no jail time for company managers who break job safety rules and laws, or order workers to do so. The company manager who arranged a fight that BNSF used as a pretext to arrest and then fire Elliott has since been promoted, for example.
"There needs to be damages, and criminal action against criminal behavior," by company officials, Kelly Rookaird testified. Instead, all three said afterwards, there's nothing. Elliott suggested starting company fines at $5 million. "They understand that kind of take," he said of corporate America.
Another is staffing. All three said OSHA investigators of whistleblower persecutions have too many cases to handle, and must also take care of routine paperwork themselves. OSHA is spending $17.5 million this year on 135 staffers nationwide to probe whistleblower complaints. President Obama wants to add $4.1 million and 22 staffers to that for the fiscal year starting Oct. 1. Despite short-staffing, whistleblower complaints and settlements went up almost 7 percent from 2014 to 2015, rising to more than 3,100 in each category.
And a third is lack of power to force firms to divulge information. Unlike courts, OSHA cannot subpoena company records to find out what really went on after a whistleblower filed a complaint. OSHA investigators "must have subpoena power and they must be able to interview all the parties involved" – including workers – "without those parties having fear of retaliation," Kelly Rookaird told the agency's panel.
When Elliott, an engineer from Tacoma, took his complaint about track defects in 130 miles of BNSF right-of-way between Seattle and Tacoma to the Federal Railroad Administration (FRA) years ago, the agency was so far behind in addressing railroad problems that it never got to it. So Elliott yanked it from FRA and went to OSHA.
BNSF retaliated by ordering a supervisor to stage a confrontation with Elliott, then using that conflict as an excuse to fire and arrest Elliott. Elliott sued, and eventually won $1.25 million in federal court – after a trial which, thanks to the subpoenas, disclosed far more wrongdoing at the railroad. But Elliott hasn't gotten a cent yet, because BNSF has appealed the verdict.
And that brought up one more problem the testifying whistleblowers told the panel about: A corporate culture that, as Kelly Rookaird put it afterwards, "puts velocity" -moving freight quickly and profitably – "over safety."
Kurtz and Elliott added some firms settle with OSHA, promising to improve, and then break those pledges. That's what BNSF did in 2012. "But it's worse there now," Kurtz testified.
Retaliation's impact can go farther than losing your job, Kurtz said. It affects your family and your future, and can even threaten lives.
After the hearing, Kurtz recalled an incident seven years ago, in July 2009, when conductor Josh Osborne and engineer Andy Reed of the small Dakota, Minnesota & Eastern Railroad were killed in an accident when "someone forgot to turn the switch on the main line" and they were crushed between two trains.
A woman BNSF conductor was called in to be an impartial investigator, Kurtz said. The whole scenario was so upsetting that she was on a suicide watch for days and could not return to work. BNSF's reaction? "If you're going to refuse service, you're terminated," Kurtz reported.
Committee members were sympathetic to the complaints from the three railroaders and from others, but they had to point out that sometimes their hands are tied: Congress approves OSHA's budget and sets limits on its personnel. Until last December, lawmakers increased OSHA's fines only once since the Occupational Safety and Health Act passed in 1970.
Dr. David Michaels, the OSHA administrator who testified later in the afternoon, has repeatedly made those same points to lawmakers, while seeking more funds and staff. So has the AFL-CIO. But Congress, especially under the GOP, has turned a deaf ear.
Photo: conbio.info