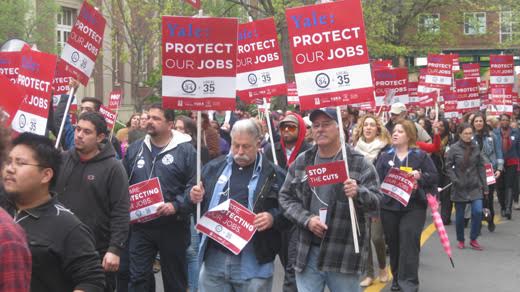 NEW HAVEN — Up to 2,000 union members and community allies filled Cedar Street at the Yale Medical School May 5 to support 986 union members whose jobs are threatened. Clerical and technical workers are concerned that their jobs will be transferred to Yale-New Haven Hospital, which is non-union.
The rally took place as negotiations for new union contracts, which expire at the end of this year, at Yale are getting underway. UNITE-HERE locals 34 (clerical/technical) and 35 (service/maintenance) represent about 5,000 workers at the university. Over 100 union workers have already received layoff notices.
"We felt good about the turnout," said one worker after the rally. "Yale will see we are united," she said, echoing the point Local 34 President Laurie Kennington made at the rally. Surveying the huge crowd, she said "If [Yale] ever needed an incentive to settle early and settle peacefully, you are that incentive"
Job security was on the minds of workers from all over campus, not only the Medical School. A library worker from the other side of campus told of continuing job consolidation. "The work isn't going away – those who are left have to pick up the pieces. We are all wondering when the next shoe will drop." There has been a steady trend of work that had been done by union members, now being done by contractors or management.
Local 35 Chief Steward Tyisha Walker warned Yale, "We are not turning back… You might have money but we got people." Walker is also President of the New Haven Board of Alders, one of 10 union member/leaders on the 30-member board.
The city's stake in the jobs fight at Yale was underscored by a large contingent from community organization New Haven Rising and youth group New Elm City Dream. Also present were members of Local 33, the graduate teachers' union that is fighting for recognition at Yale. Local 35 President Bob Proto made the connections when he said the struggle will continue until more jobs were created for the local community, until Yale graduate students have a union recognized by the university, and until job security is guaranteed for Local 34 and 35 union members.
U.S. Sen. Chris Murphy also made connections: "Any time good jobs are at stake, that matters to me," he said. "You are fighting for everyone in the state at risk of layoffs." Or, as one union member said, "All over the state and country, working people are getting a raw deal. Struggles like the fight for $15 are all connected with our struggle. Each victory helps the other."
Photo: Union members filled the street in a rally for job security at Yale University, where layoffs are threatened. Art Perlo | PW