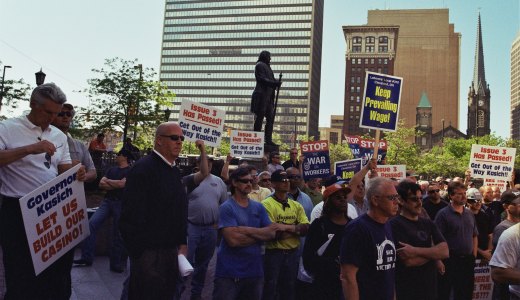 With a petition drive to repeal his union-busting law in full swing and angry protests continuing against other extremist programs, Republican Gov. John Kasich faces growing isolation and sharply declining support.
A survey by Public Policy Polling released last week found that Kasich's approval had fallen to 33 percent of Ohio voters, putting him in a tie with Florida Gov. Rick Scott as the most unpopular governor in the country.
We Are Ohio, the coalition coordinating the effort to repeal the law, known as Senate Bill 5, that abolishes collective bargaining for public employees, reported overwhelming support for placing the measure as a referendum on the November ballot. In May, well over the minimum number of 231,149 signatures were collected and the campaign is on schedule to reach two to three times that number by the June 30 deadline.
The poll found that 55 percent of Ohio voters support repeal and only 35 percent support the law. This includes 27 percent of Republican voters opposed to the law, reflecting a sharp decline of support from Kasich's own base. His overall approval rating by Republicans fell from 71 percent to 58 percent in the past two months.
Last week, construction workers, teachers and environmentalists held actions around the state.
Some 300 electricians, plumbers, laborers and other building trades workers rallied in Cleveland's Public Square May 24, denouncing the governor for "pulling the plug" on the construction of the city's first casino. Since January, tradesmen were in the process of renovating a former department store building for the $350 million project, but Kasich suddenly demanded a change in the terms of the agreement with the developer, bringing the project to a halt.
The project involves thousands of jobs in construction, casino employment and ancillary industries and is seen as "the cornerstone" of downtown renovation, which would include hotels, a convention center, a medical mart and an aquarium.
"This threatens millions in tax revenues and billions in overall economic impact," said Loree Soggs, executive secretary of the Cleveland Building and Construction Trades Council. The Cleveland NAACP also denounced the action, saying it threatened jobs desperately needed by Cleveland residents, especially minorities.
Trades workers at the rally, holding signs reading "Governor Kasich – Where Are the Jobs?" and "Recall Kasich," said they believed the governor's action was retaliation for the developer's financial contributions to Democratic candidates. They also held signs denouncing a measure to drastically reduce requirements to pay prevailing (union-scale) wages on construction projects that Kasich put into his budget proposal.
At the same time, teachers held televised town hall meetings in districts of four Republican state senators to protest Kasich's proposed $3 billion in cuts to the hard-pressed public education system, while quadrupling funds for private school vouchers and privately run charter schools. Kasich is also seeking to replace seniority as a basis for teacher pay increases and layoff rights with some undefined "merit" system, a measure included in the budget proposal approved by the House but not in the Senate version. Both proposals drastically slash funds for local government, senior and disabled programs while maintaining and expanding tax giveaways to the rich and big business.
Environmentalists filled the House gallery last week as the Republican majority approved a bill to allow natural gas companies to drill in state parks and Lake Erie using the horizontal hydro-fracking technology, which permanently damages aquifers and releases toxic and radioactive chemicals into the air and water.
Protests are also continually expressed, especially in churches in the black community, against a voter ID bill that passed the House as well as other measures to suppress voter participation. The measures are directed primarily against minorities, youth and retirees who tend to vote for Democrats.
Photo: May 24 Cleveland building trades demonstration. Bill Obbagy/PW